An Indian celebration or festive occasion is never complete without a bowlful of Indian sweets. Well, can you resist a giant rasgulla or a bowl of heart-warming halwa? Even the simplest of sweets such as barfi or ladoo bring joy to a table. But there's one Indian dessert that surpasses every occasion and can be relished post any meal - phirni. Loaded with sweetness and enriched with broken rice cooked in the goodness of milk, nuts, fruits and aromatic agents like kewra or saffron, phirni can easily be called the undisputed queen of Indian desserts.


Creamy, rich, and full of textures, phirni is a mass favourite and the best part is that it is super easy and quick to make at home while you can even experiment with the flavours. Don't like raisins? Keep them out. If you love biting into chunky nuts, go ahead and add as many as you want to the pudding. You can even use coconut milk if you wish to keep it vegan. Here we have 5 of the best phirni recipes that you can try at home with simple ingredients and little time.


(Also Read: 11 Best Indian Dessert Recipes | Popular Indian Dessert Recipes)
5 Quick And Easy Phirni Recipes:
Packed with the goodness of rose, here is a phirni recipe complete with the crunch of walnuts. Prepare this post dinner or for a dinner party to impress your loved ones across all age groups.
Give a three-way twist to the classic phirni! Trio of phirni has lovely flavours of mango, raspberry and blueberry, generously flavoured on top along with mango chunks.
A phirni with the goodness of both pista and rose essence yet absolutely free of refined sugar! With a layer of pista phirni alternating with rose phirni, this two-in-one phirni is an absolute delight to try at home.
Added essence of gulabjal makes this crunchy delight a must-try at home! Badam ki phirni can be your quick go-to dessert for any celebratory occasion or a dinner party.
This one has to be the crowd pleaser! Thandai is a popular beverage around the festival of Holi and the whole of summer season, but did you know you can make much more from it? In this phirni recipe, thandai masala powder is added to the drink along with rice cooked in milk with almonds, saffron and cardamoms. Serve it in traditional earthen pots for the best flavour!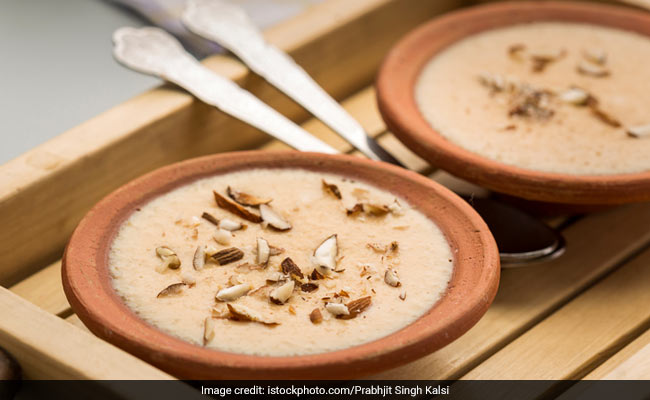 Try these irresistibly amazing phirni recipes at home and do let us know your experience in the comments section below.
About Aanchal MathurAanchal doesn't share food. A cake in her vicinity is sure to disappear in a record time of 10 seconds. Besides loading up on sugar, she loves bingeing on FRIENDS with a plate of momos. Most likely to find her soulmate on a food app.