Story Progress
Back to home
Trio Of Phirni Recipe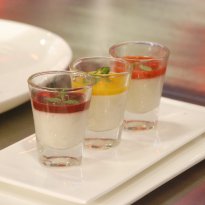 Classic phirni with three different fruit flavorings: Mango, raspberries and blueberries.

Ingredients of Trio Of Phirni
100 gm broken basmati
50 gm semolina (sooji)
100 gm rice powder
2 ltr milk
1 tin condensed milk
100 gm sugar
500 ml cream, chilled
1 tsp green cardamom powder
3 Tbsp raspberry, preserved
3 Tbsp blueberry, preserved
3 Tbsp mango chunks
3 Tbsp almond flakes
1.
In a bowl, soak the broken basmati rice for 15-20 minutes.
2.
Make granule size paste with semolina and keep aside.
3.
Make a paste with the rice powder and keep aside.
4.
Heat milk in a heavy bottom pan and reduce it a little bit, adding condensed milk as well.
5.
Add the soaked rice, semolina paste and rice powder paste slowly into the milk. Keep stirring to avoid lumps.
6.
Cook on a slow flame for 15-20 minutes, or till the time the rice is cooked properly, along with sugar.
7.
Once the rice is cooked, keep phirni aside to cool down. Add chilled cream and cardamom powder. Mix well.
8.
Once the phirni is chilled properly, divide equally into three parts and flavor it with different berries and mango chunks.