When we say chicken recipes, we all instantly think of those crispy snacks, or cooked chicken dipped in gravy. Over the years, we all have become so accustomed to having chicken drenched in masalas and oil that we may not know how to cook it any other way. However, if you look around, there are many healthy and delightful chicken recipes too! Of course, these recipes have a much milder and lighter taste than regular ones. Plus, they are also easy to make. So, if you also want to try it, here we bring you some healthy chicken recipes that can be enjoyed for breakfast! Take a look at these recipes below:


(Also Read: Looking For Easy Breakfast Ideas? These 7 South Indian Dishes Can Be Made In Just 15 Minutes)
Here Are 7 Healthy Chicken Recipes For Breakfast
Our go-to meal during all those lazy mornings has been an omelette. This dish completely transforms a regular egg omelette by adding juicy chicken bits and various masalas to make it more appealing. This will be a sure hit among your family members!
Porridge is generally associated with being sweet, but we bring you a different recipe today. This savoury porridge, which includes chicken, oats, browned onions, and a ton of spices, will show you porridge in a brand-new way that is sure to impress.


This salad uses grilled chicken, vegetables, and a delightful dipping as its main ingredients. Making this salad at home is quite simple. Plus, you can elevate the taste of this salad by adding more spices and vegetables to it. This recipe can also be packed for lunch and enjoyed!


(Also Read: 6 Scrumptious Breakfast Ideas for Busy Mornings)


This sandwich is a hit every time, whether it is for breakfast, lunch, or a special event! All you have to do to make your chicken stuffing is boil it. Cook the chicken and stir fry it with some spices and vegetables. Then sandwich it between pieces of bread and enjoy.


Looking for something different and delicious? Here we bring you a recipe of creamy scrambled eggs with well-done chicken sausages. This recipe overall has a light taste but is super indulgent to have. This combination, paired with a refreshing cup of coffee is simply delightful. Do try it out!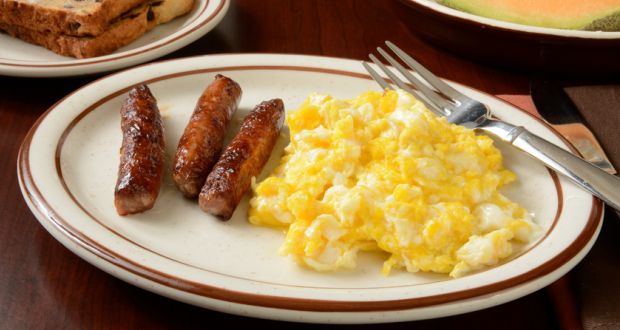 Here is a newer, tastier, and healthier daliya recipe. Oats and chicken bits are added to this dish to make it. We're sure that once you try making this chicken daliya, you'll want to make it again and again. It is a comforting recipe when you wish to have something nutritious and delicious.
This classic American breakfast has found its way in many households. As the name suggests, this recipe is crispy fried chicken with soft waffles. This recipe has a heavier and fulfilling taste. To make it healthier, you can air fry the chicken instead of deep frying it.


So, the next time you look for ways to use chicken in your breakfast, try these fantastic recipes. Let us know in the comments below which one was your favourite!