If you live on your toes, you would know how hard it is to maintain a healthy diet. When you are too busy with your clamorous routines to prepare and eat nutritious meals the whole day, snacks are your ally. To get your fill of nutrients, you can try keeping healthy snacks handy. Proteins are essential to cope up with the active lifestyle you lead. Get your protein fix from your snacks that you can eat anytime, anywhere. Avoid picking snacks from the shelves of stores; they are loaded with carbs and sugar and preservatives. Invest some time to prepare healthy, protein-rich snacks that you can carry around and gobble in whenever hunger strikes.
Here are 7 snacks that are portable and rich in protein -
1. Trail Mix
As the name suggests, this snack is nothing but a balanced mix of nuts, dried fruits and seeds. You can choose the foods as per your choice and increase the amount of protein-rich foods like almonds and pumpkin seeds.


(Also Read: 6 Easy-To-Make Protein-Rich Snacks You Can Have At Work)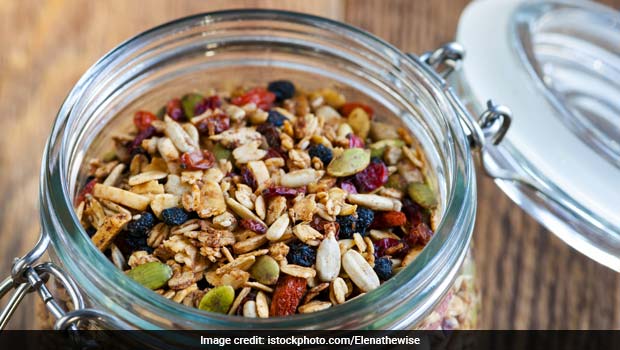 2. Peanut Butter Toast
Peanut butter is a comfort food for many. The dense, nutty spread makes a perfect bread toast that you can carry anywhere and enjoy its nutritious offerings and yummy taste.

3. Roasted Chickpeas
The ever-so-popular roasted chana has always been there and made for an addictive snack. It's a light, nutritious and delicious snack that you can never go wrong with.


4. Yogurt/Parfait
A cup filled with low-fat yogurt and suffused with fruits, nuts and seeds; makes for a wholesome small meal. Make one for yourself at home and pack it in a tight container to have it later in the day.


5. Protein Bars
This one is quite common. But, did you know that these granola bars are super easy to make at home? Remember to prepare them with whole-wheat flour or oats or any other healthy flour and fill it up with good sources of proteins like almonds and pistachios.

6. Hummus And Veggie Sticks
Hummus is a healthier alternative to mayonnaise or other sandwich spreads, and is made with protein-rich chickpeas. Prepare hummus in a large quantity on a weekend and store it in a glass jar. Whenever required, slice carrots or cucumbers or both, and dip them in hummus and pack them for a quick, healthy bite.


(Also Read: 10 Delicious and Healthy Protein Snacks to Up Your Energy Levels)
7. Spiced Cottage Cheese
This is the easiest to make and pack. Just cut the brick of cottage cheese (paneer) into bite-sized cubes and sprinkle them with salt, chaat masala or other spices of your choice.

These protein-rich snacks are fuss-free and easy-to-carry for all those of you who eat on-the-go. If you have any more ideas of portable protein-rich snacks, please share with us in the comments section below.

About Neha GroverLove for reading roused her writing instincts. Neha is guilty of having a deep-set fixation with anything caffeinated. When she is not pouring out her nest of thoughts onto the screen, you can see her reading while sipping on coffee.