A Lamb Curry That Conjures Jamaica
Melissa Clark, The New York Times | Updated: July 13, 2017 13:34 IST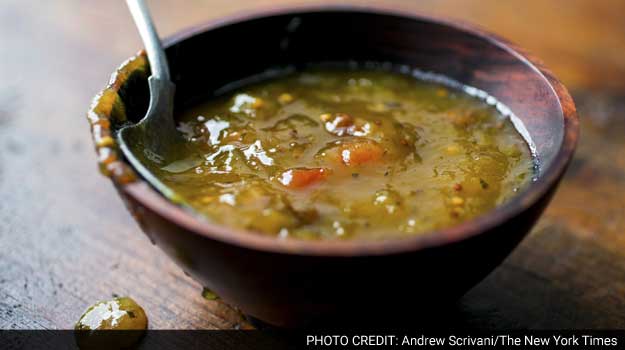 We didn't go to a resort in Jamaica for our daughter's spring break last March expecting much Caribbean authenticity on the dinner menu. Maybe jerk chicken, but not the cow tripe and beans or the goat curry I had been reading about in various travelogues before the trip.

I was wrong. At the Round Hill resort in Montego Bay, I loved the smokiness of the chicken and the brawny, rich flavor of the tripe. But it was the goat curry that stayed with me when I returned to blustery Brooklyn.

Simmering up a pot of it wouldn't bring that balmy turquoise sea to my door. But a bowl of goat curry — with tender chunks of meat suffused with a dark, fragrant curry sauce laced with chilies, fresh ginger and garlic — might help make up for the lack.

So I emailed the resort's chef, Martin Maginley, for the recipe.

It confused me at first. Why was there pimento in a curry?

It turns out that what Jamaicans call pimento we call allspice berries, and they are used extensively all over the island to add a woodsy perfume to jerks, curries and marinated escovitch fish. I already had some in my pantry.

All of the other ingredients for the curry were easy to find in my neighborhood with one gaping exception: It was no go on the goat. I picked up some lamb instead.

Maginley warned me to wear gloves when I cut up the shockingly fiery Scotch bonnet peppers, advice I approximated with a couple of heavy plastic bags. Unwieldy, but they got the job done.
Other than that tip, the recipe was straightforward. After marinating the meat to allow it to really soak up the flavors of the aromatics, herbs and spices, I browned it until it was deeply mahogany all over. The darker you brown the meat, the richer the sauce will be.

Then, when the meat was cooked and nearly collapsed, I removed it from the pot and simmered the curry sauce until it was thick and velvety. This made the shiny, heady sauce cling to the lamb when I stirred it back in.

The lamb was milder than the goat, not as gamy, but still earthy enough to hold its own against the complex and piquant curry sauce.

The colder weather is creeping in, but daydreams of Jamaica are warming my mind.

West Indian Lamb Curry

Time: 2 hours, plus marinating

Yield: 6 to 8 servings

Ingredients:

3 pounds boneless lamb (or goat) stew meat, cut into 2-inch chunks

1 tablespoon plus 2 teaspoons curry powder

1 tablespoon kosher salt, more to taste

1 teaspoon ground ginger

1 teaspoon black pepper

1 large white onion, coarsely chopped

2 scallions, coarsely chopped

4 garlic cloves, smashed and peeled

1/2 inch fresh ginger, peeled if desired and coarsely chopped

4 whole allspice berries

2 thyme sprigs

4 tablespoons extra-virgin olive oil, more as needed

1 1/2 cups diced potato

1 cup diced carrots

1 to 2 small Scotch bonnet peppers, seeded and chopped

Cooked white rice or coconut rice, for serving (see note)

Lime wedges, for serving

Mango chutney or mango pickle, for serving

Fresh cilantro leaves, for serving

Preparation:

1. Pat lamb dry with paper towels and place in a large bowl. In a small bowl, combine 1 tablespoon curry powder with salt, ground ginger and black pepper. Add spice mix to large bowl and toss with lamb.

2. Combine onion, scallion, garlic, fresh ginger, allspice, thyme and 2 tablespoons oil in a blender; purée until smooth. Scrape mixture over lamb and toss to combine. Cover with plastic wrap and refrigerate at least 2 hours or overnight.

3. Heat 2 tablespoons oil in a large Dutch oven over medium-high heat. Stir in 2 teaspoons curry powder and heat until fragrant, about 30 seconds. Working in batches to avoid overcrowding the pot, brown the meat on all sides. Drizzle in additional oil, if needed, to prevent meat from sticking to the bottom of the pot. Transfer browned meat to a plate as it browns.

4. Once all the meat has been browned, return it to the pot, along with any juices on the plate. Add enough water to just cover meat. Bring liquid to a simmer, covered, then uncover the pot and cook gently for 45 minutes.

5. Stir potato, carrot and pepper into pot. Simmer until vegetables are fork tender and meat is cooked through, about 30 to 45 minutes longer.

6. Using a slotted spoon, transfer meat and vegetables to a bowl. Simmer cooking liquid until it has reduced and thickened to a saucy consistency (to taste), about 15 minutes. Taste sauce and add more salt if needed. Pour sauce over meat. Serve over rice, topped with a squeeze of lime, a dollop of mango chutney or pickle and fresh cilantro.

Tip: To make coconut rice, substitute coconut milk for half the water in your favorite rice recipe.

|And to Drink ...

Piquant spicing, especially heat-inducing chilies like Scotch bonnet peppers, can be the enemy of wine. You have to choose carefully, otherwise the flavors of the wine will be obliterated by spices while the heat of the alcohol will be amplified by the chilies. For this dish, the obvious answer is riesling with residual sugar from Germany, which is often the best wine to go with healthy spicing and chili heat. The sweetness in the wine seems to meld well with the spices, while its lively acidity will keep it refreshing. A lightly sweet kabinett riesling will get the job done, though a sweeter spaetlese riesling will do even better. Intrepid palates may try an even sweeter auslese riesling, perhaps the most thrilling wine in the world that almost nobody drinks. Here's your opportunity.

— ERIC ASIMOV





© 2015 The New York Times News Service





(This story has not been edited by NDTV staff and is auto-generated from a syndicated feed.)