Healthy and gluten-free flours are gaining traction lately, with more and more people becoming aware of the disadvantages of traditional and processed grains. However, certain illnesses and diseases necessitate a major change in diet and an overhaul of the ingredients used in cooking meals. Diabetes is one of those diseases, where eating wrong or consuming unhealthy meals can be potentially fatal. A sudden spike or fall in blood sugar levels can lead to a number of complications in the body of a diabetic person. Diabetics are therefore, generally advised to get rid of breads, pasta, pizza and other foods made from processed grains and processed flours. Consuming a low-carb and grain-free diet becomes important for losing weight and maintaining healthy blood sugar levels. This is because these grains contain easily digestible starch, which can trigger spikes in blood sugar and even lead to weight gain.


This is why it's recommended for people with diabetes to get a diet chart made from a dietitian or nutritionist. Experts take a note of the severity of the illness and prescribe a diet accordingly. There are some healthy flours, often recommended by dietitians to people suffering from erratic blood sugar levels. These flours are not only nutritious, but can be especially good in regulating blood sugar levels by ensuring slow release of sugar into the blood stream and preventing weight gain. Amaranth flour is one of those flours that are considered healthier than wheat flour. Also known as rajgira, amaranth is an ancient pseudo-grain that has come into focus all over again, for being a healthy alternative to refined flours. Moreover, the steady rise of the gluten-free diet is another reason for amaranth being in the limelight.


Also Read:8 Best Amaranth Recipes For Healthy Lifestyle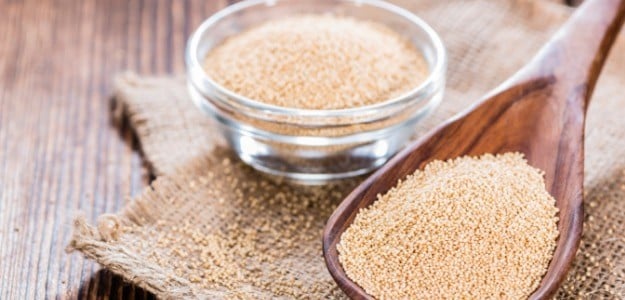 Amaranth is often recommended to diabetics
Amaranth For Diabetes: Is This Ancient Grain Good For You?
Amaranth, just like buckwheat and quinoa, is not a true grain. However, it has enhanced nutritional value and its uses are similar to that of regular flour. Amaranth is a whole grain, which means that it contains the bran, the endosperm and the germ. Processed grains lack the bran and germ, both of which are removed during the refining process that gives the grain a fine texture and a longer shelf life, but strips the grain of most of its nutrients. But whole grains, like amaranth are different and provide your body with a whole lot of nutrition.


Also Read: Amaranth Leaves: A Powerhouse of Iron, Vitamins and Minerals


Here's why amaranth is good for you:


1. Rich in Calcium: Did you know that amaranth contains more calcium than what is present in milk? A 100 gm serving of amaranth contains 47 mg of calcium, as per the data given by United States Department of Agriculture.


2. Rich in Protein: With 3.8 gm of protein per 100 gm serving (as per USDA data), amaranth is extremely rich in proteins. Protein is a satiating nutrient, which keeps away hunger pangs.


3. Rich in Fibre: Every 100 gm serving of amaranth contains 2 gm of fibre, along with a whole range of essentials minerals and vitamins. Fibre is one of the most important nutrients in a diabetic diet, as it promotes satiety and regulates blood sugar levels.


Also Read: Fibre-Rich Foods For Diabetes: 5 Foods That Manage Blood Sugar Levels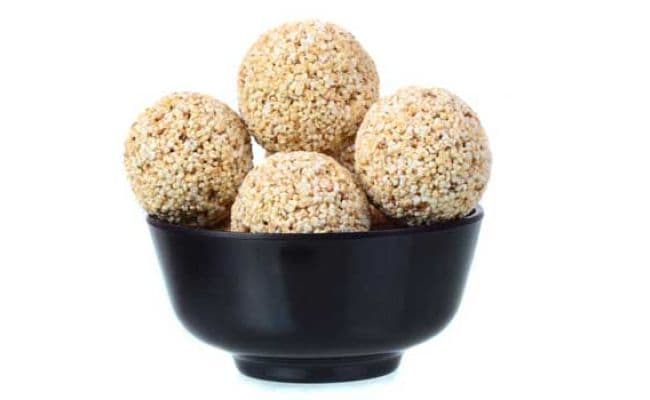 Amaranth is a pseudo-grain but has similar uses to regular grains


4. Rich In Magnesium: Multiple studies have shown that diabetics tend to be deficient in magnesium, which is often lost in the urine. Therefore, it's important for a diabetic person to consume foods rich in magnesium. Amaranth contains 65 mg of magnesium, per 100 gm (as per USDA data).


There have been studies and cautionary research warning diabetics to consume amaranth in limited portions as it has a high glycaemic load. Some other studies have suggested consuming amaranth in combination with some other low GI grains to lower the glycaemic load of the meal. So if you do want to include amaranth grain in your diet, make sure to first consult a dietitian or a nutritionist before you do so.


Disclaimer: This content including advice provides generic information only. It is in no way a substitute for qualified medical opinion. Always consult a specialist or your own doctor for more information. NDTV does not claim responsibility for this information.