Saag
, the Indian moniker for green leafy vegetables, forms an integral part of various regional cuisines in the country. Loaded with vitamins and essential minerals, it is the best way of fueling up on the season's best offerings. While
palak
(spinach),
methi
(fenugreek),
hari piyaj
(spring onions) et al top the popularity chart, there are a few that stay far away from the spotlight but are as nutritious and flavourful. A perfect case in point – amaranth leaves (
chaulai
).Resembling spinach in appearance, amaranth leaves come in a few varieties ranging from purple and red to green or gold in colour and are found in the foothills of The Himalayas to the coasts of south India. A few years back, the seeds of the plant had gained much popularity for their health benefiting properties because of which they were caped under the superfood segment. But tracing back history, amaranth seeds were the staple food of the Aztecs and have been used for centuries to make many dishes.
Gluten-Free Amaranth: Why is it a Superfood?
The leaves too don't fall behind in terms of nutritional value. According to Ayurveda, the juice extracted from amaranth leaves help in treating diarrhoea and haemorrhage conditions. It is packed with carbohydrates, proteins, minerals and vitamins, and regular consumption helps in easing digestion, excessive menstruation and weight management. Since it is high in iron content and dietary fibre, it is good for anaemic patients, and reduces cholesterol and risks of cardiovascular diseases. The presence of an essential amino acids called lysine along with other elements are said to help fight against free radicals that result in aging or the formation of malignant cells.The leaves are also deemed to be an effective measure against hair loss and premature greying. They act as a natural astringent and work wonders for skin problems like eczema and acne. It also contributes significantly to dental care and works as an effective mouthwash for treating mouth and gum related conditions.
Cooking with Amaranth
In India, the red variety is most commonly used in cooking. In the north, it is locally known as
chaulai
or
lal saag
and a quick dish called
chaulai saag
is made by sautéing the leaves with onions, garlic and a few spices. Another popular dish is
dal saag
, where the leaves are cooked with the lentils and served with rice or
rotis
. In Andhra too, a similar lentil dish called
thotakura pappu
is prepared mostly with
toor dal
or even
moong dal
. A variation to
dal saag
is replacing the lentils with gram flour and making a curry.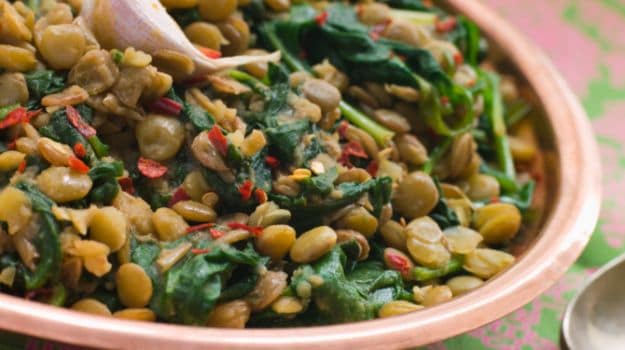 In Kerala, where it is known as
cheera
, it is used in preparing a dish called
cheera thoran
. Here, the leaves are finely chopped and sautéed with spices, grated coconut, chillies and curry leaves. Similar cooking style is seen across India but with different mix of spices, and the stir-fry is then served as a side with rice. In Tamil Nadu, the leaves are also steamed, mashed and sautéed with a few spices to make a dish called
keerai masial
.Sanjeeta KK in her blog
Lite Bite
lists numerous was of cooking the greens – red amaranth in assorted lentils, beans and grain sprouts; amaranth in coconut gravy; amaranth leaves in green gram; etc. She says, "Amaranth leaves is a regular feature in my kitchen now and I make good use of all the recipes handed over by my mom (west India) and my mother-in-law (south India) with a few changes now and then to suit both, my cooking time and taste."Sailaja Gudivada in her popular blog
Sailu's Kitchen
uses the leaves to make an interesting snack called
thotakura undalu
, which are crispy balls tempered with sesame seeds, curry leaves, chillies, hing and mustard seeds; and a mustard flavoured, tangy stew called
thotakura ava pulusu
.She says, "Amaranth leaves are much loved in our home and take the form of stir fry, dal and stew in our daily meals. In recent past, I have used these nutritious greens along with chick pea flour (besan) to prepare fritters. They are easy to make, work great as appetizers for parties and also make for a wonderful tea time snack."Chinmayie Bhat in her recipe blog
Love Food Eat
posts a popular summer recipe from her hometown Bangalore where she uses the greens in a yoghurt sauce along with grated coconut and a few spices to make a dish resembling raita but called
harive hashi
.She says, "Most vegetables are simply steamed, boiled or stir-fried and added to a yoghurt coconut sauce. The sauce is raw with very little spice and flavor which lets the actual vegetable shine through. The ingredient which gives this dish a unique nutty flavor is a spoonful of sesame seeds."The characteristics of the leaves are similar to that of spinach and you can use them in the same manner. Chose the fresh bunches and for a healthy treat, lightly steam them, sprinkle a few spices and a drizzle of your favourite oil. You could also top your sandwiches with these leaves for a little crunch and flavour, but consume immediately as they are quite brittle.