One of the most exhilarating consequences of travel is the discovery of food - fresh ingredients, intriguing food markets, quaint restaurants, and of course, delicious new dishes. Most recently, I journeyed through Japan, and found myself falling desperately for ramen. Knowing that it would be hard to replicate the complex shio (salt-based), shoyu (soy based), miso and the exquisite, thickly porcine tonkotsu ramen here, I found myself seeking them out no matter where in Japan I travelled to.
Back home, thirsty for more noodle soups, I hunted through books to find Indian versions, but the only thing that stood out was thukpa. And so I was forced to stir myself into action, and try to create my own noodle soups at home; they turned out to be perfect for stormy, cool weather, perfect for assuaging the miseries of flu and fever, both of which I went through last month. I used nothing more exotic than various types of noodles, my many dabbas of spice, and whatever I could find at my local bhaji gali, chopping, adding and hewing ingredients as dictated by my taste-buds.
My cooking pointed me towards my culinary predilections - coconut, for instance, which I pour lavishly into as many dishes as possible, garlic (plain or melded with ginger), and plain old chicken soup. What I don't like is egg, but there's no denying that it is extremely comforting in the egg drop soup that I make when I am ill - it helps unclog the sinuses and soothes sore throats almost at once.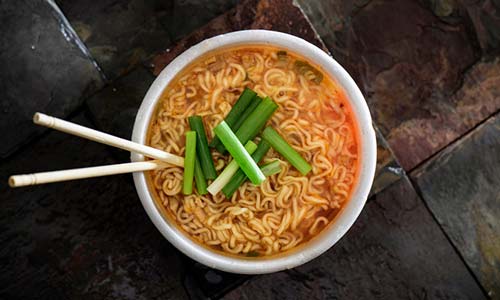 And as much as I love ramen, and pho, and khauswey, and all the other noodle soups, I discovered that you don't really need fancy, exotic spices and herbs to make a satisfying soup. Ginger, garlic, and onions make an excellent base, that can then be layered with chilli or chilli sauce (avoidable if you have a sore throat), even garam masala, and a touch of soy sauce. I'm not terribly fond of pepper, but they elevate all these soups. If you like, you can further enrich it with fish sauce, wakame, shio tare, miso, katsuobashi salt, or whatever, but it isn't necessary.
In the recipes below, please feel free to add or subtract the vegetables of your choice. You can also exchange chicken stock for vegetable, but I find chicken lends a depth of flavour that vegetable stock doesn't have. Any noodles will do, but I prefer egg noodles, because they tend to hold their shape better here.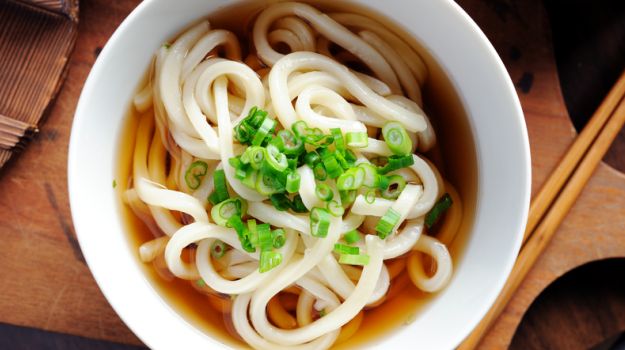 Chicken and Peanut Soup
Ingredients:Chicken stock 4 cups
Coconut milk 1/2 cup, at room temperature
Light soy sauce 1/4 cup
Peanuts 1 cup
Oil, for cooking
Onion 1
Maggi seasoning 1 packet (you can do away with this, if you like)
Garlic paste 3 tbsp
Ginger paste 2 tbsp
Vegetables of your choice (I sliced up 1 carrot, a handful of bean sprouts and 1/2 cup mushrooms)
Noodles (Maggi or ramen or hakka noodles, cooked)
Slices of lemon, to serve
Bean sprouts, washed and dried thoroughly
A handful of peanuts, halved
Coriander, to serve
Salt and pepper, to season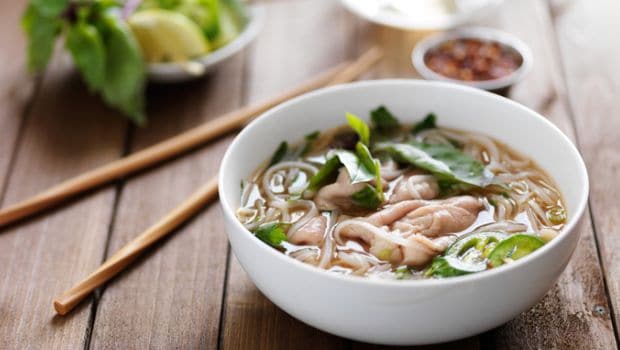 Method:
Chop up the onions and whatever vegetables you are going to use, and set them aside.
Heat up 2 tbsp of oil in a kadhai, then add in the onion, garlic and ginger, frying until the onion softens. Meanwhile, blitz the peanuts into a paste, about two-three whirls in the mixer. Stir this thoroughly into the onion-ginger-garlic. Next, pour the chicken stock, Maggi seasoning and soy sauce into the kadhai. Allow the liquid to reduce and thicken a little. Throw in your vegetables, cooking for another 3-4 minutes (vegetables should retain their crispness). Turn off the heat, and gently stir in the coconut milk, and the noodles. Season.
You can serve this with the slices of lime, bean sprouts, peanuts, and coriander.
Vegetable Noodle Soup
Ingredients:Oil for cooking
Garlic cloves 8, finely chopped
Vegetable stock 1/2 l
Capsicum 1/4
Broccoli 5 florets
Mushrooms 1/2 cup
Spring onions 1
Firm tofu 2 tbsp
Chilli sauce 1 tbsp
Light soy sauce 2 tbsp
Noodles, boiled
Salt and pepper, to taste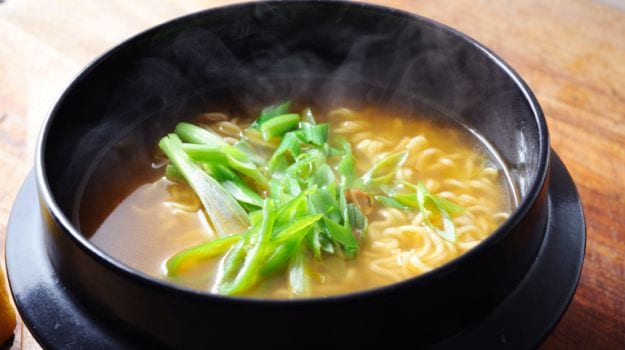 Image credit: Istock
Method:
Thinly slice the tofu, and keep aside. Finely chop the capsicum, and spring onions, and also keep them to one side.
Heat oil in a pan. Sauté the garlic lightly until pale brown, then pour in the stock, the capsicum, broccoli, mushrooms and spring onions, simmering for at least ten minutes. Stir in the soy sauce, salt, and chilli sauce, and allow to come to a boil. Turn off the heat, and then add in the noodles and tofu. Season.
(The addition of roast pulled pork in the stock, can lift this dish immeasurably, especially if you are using a pork broth.)
Egg Drop Noodle Soup
Ingredients:Chicken stock 4 cups
Soy sauce 1 tbsp
Ginger paste 1 tsp
Garlic paste 1 tsp
Eggs, 2 small or 1 large
Spring onions 3
Chicken breasts 2, deboned and steamed (you can use the bones for the stock)
Salt and pepper, to season
Method:
Pan fry the chicken breasts, until golden, then shred them. Thinly slice the spring onions, and set aside. Beat the egg, and set that aside too.
In a big pan, bring together the soy sauce, stock, the ginger and garlic pastes, and allow them to come to a boil. Next, turn down the heat and add in the noodles, and keep on until the noodles are cooked.
Now pour in your beaten eggs, in a thin, gentle stream, just a little bit at a time, stirring the soup very lightly as you go. They will cook in less than two minutes, so keep your eye on them. Once cooked, add in the spring onions and chicken breasts.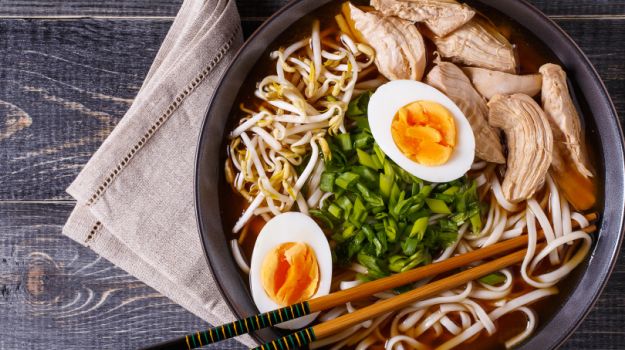 Image credit: IstockAbout the Author:
Meher Mirza is an independent writer and editor, with a focus on food and travel. Formerly with BBC Good Food India, she loves anime, animals and artsy things but also comics, technology and death metal.
Disclaimer:
The opinions expressed within this article are the personal opinions of the author. NDTV is not responsible for the accuracy, completeness, suitability, or validity of any information on this article. All information is provided on an as-is basis. The information, facts or opinions appearing in the article do not reflect the views of NDTV and NDTV does not assume any responsibility or liability for the same.