Can Regular Exercise Help You Quit Tobacco?
IANS | Updated: June 03, 2014 11:29 IST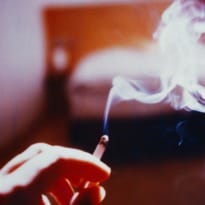 If you are looking to ditch tobacco, make sure you include at least 15-20 minutes of physical exercise each day to maintain unwavering focus on quitting, a fitness expert said Saturday on the occasion of World No Tobacco Day.

According to WHO estimates, tobacco use kills someone every six seconds, while nearly six million people die from tobacco-related illness each year.

Scientific findings have indicated resistance training can help tackle the effects of quitting, such as cravings and the reported weight gain.

"Regular exercise can increase mental concentration and that could help in quitting and maintaining discipline," Soumen Das, owner of a fitness centre, told IANS on the sidelines of a walk with college and school students to raise awareness about the harmful effects of tobacco use.

Das said the first step towards quitting should be to introduce light exercise every day, followed by counselling sessions to monitor progress.

"The first changes are lifestyle alterations, like exercising, that should be introduced when one wants to quit," he said.

There are over 4,000 chemicals in tobacco smoke, of which at least 250 are known to be harmful, and over 50 are known to cause cancer.

Tobacco-related diseases often strike people in the prime of their working lives, leading to fall in productivity and income, according to WHO.