Lohri 2018 is just a week away and we can't wait to celebrate it. Celebrated with great joy and fervor, Lohri marks the harvest of rabi
crops
in Punjab. Celebrations include a range of traditional activities like lighting the ritualistic bonfire, dancing to the beats of a dhol, singing popular folklore, and enjoying a scrumptious feast of
winter foods
. The festival is all about getting together with family, exchanging gifts and greetings with your loved ones.The festival is usually incomplete without gajak, rewri,
popcorn
and makki-ki-roti. However, this Lohri, combine the best of tradition with good health by including
almonds
in your celebrations. Traditionally, during festivals and special occasions, almonds have been gifted as a an auspicious sign. Gifting of almonds signifies gifting good health as it embodies the care and concern of the gift giver. However, since Lohri is more about food than gifting, you can greet your guests with delicious almonds served in a variety of ways: crunchy, plain, roasted or flavored. They can also be used to prepare various
snacks
that you can serve during the festival.Almonds are a source of 15 nutrients such as
vitamin E
, dietary fiber, protein etc. Almonds contain certain essential nutrients that help ensure a wholesome and healthy life. In fact, research suggests that adding almonds to your daily diet may contribute to maintaining healthy cholesterol levels by lowering total and LDL (bad) cholesterol and reducing levels of heart damaging inflammation.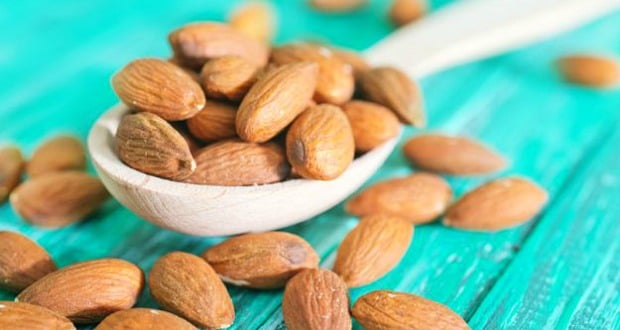 We tend to indulge on high carbohydrate, heavy
calorie
delights, especially around festivities, and end up facing the weighing scale tipping to the wrong side. To make this auspicious day more special and yet healthy, we bring to you a lip-smacking, easy-to-make, healthy recipe for you to try this year!
Pepper Garlic Almonds
Serves 4
Preparation Time: 15-18 mins
Cooking Time: 10-12 mins
Ingredients:
110g whole almonds
30g blanched and peeled almonds
1 egg white
10g salt
3g garlic peeled
3g crushed black pepper
5g extra virgin olive oil
Method:
1. Make a fine paste (not too thick and not too thin) of the blanched and peeled almonds.
2. Roast the garlic with olive oil, till brown and blend into a paste.
3. Mix the almond paste, garlic paste, egg white, salt and pepper.
4. Roll the almonds evenly in the above mixture.
5. Roast the rolled almonds in a preheated oven at 180 degrees for 7-8 minutes.
6. Cool and consume
Nutritional Information (per serving):
Calories: 249.25Cal, Protein: 8.1g, Total fat: 22.5g, Carbohydrates: 3.625g, Fiber: 4.2g, Sodium: 348.75mg, Calcium: 84.25mg, Magnesium: 137mg, Potassium: 282.75mg, Vitamin E: 9.225mg