Indians and their love for tea needs no recognition. As soon as the clock hits 4, our stomach naturally starts growling for some delectable tea-time snacks to pair up with our evening cuppa. These snacks not only satiate our taste palettes but also boosts our energy level to perform the remaining tasks of the day. If you are a real tea lover, you know the options of snacks are never-ending, from bondas to pakoras, namkeen, chips and many more. But do you know? Consuming these snacks frequently can be hazardous to health, especially for the ones who are struggling to shed some extra kilos as most of these snacks are deep fried and made with refined flour (maida). So, what should we do now? Should we quit having snacks with tea? Well, no! That's not the solution. The smart solution is to swap these snacks with healthy and protein-rich snacks.


Also Read: 7 Healthy Snacks You Can Enjoy With Your Evening Tea


To help you in choosing the right kind of evening snacks, we are here to help. We have shortlisted some of the healthiest snacks to pair up with your tea. However, some people think healthy snacks are not synonymous to the taste factor. Well, if you are one among them then we are here to prove you wrong as these snacks are not only healthy but super delicious as well. So, what are we waiting for? Let's kickstart the list.
Here's A List Of 7 Protein-Rich Snacks You Must Pair With Your Evening Tea. Take A Look:
Our Recommendations:
1. Chana Chaat
Let's hit the list with our favourite one. Kala chana, also known as garbanzo beans is a legume that is deemed to be an ideal option to add to your daily diet. It is not just a healthy food with high-protein and high-fiber content but also a super versatile ingredient that can be used in creating a number of delicacies. One such delicacy is this super delicious kala chana chaat. This chaat creates a perfect balance with taste and health. Click here for the recipe.
2. Ragi samosa
Next up is this samosa recipe made with ragi flour. Now is the time to get your samosa cravings fulfilled without compromising on your health and taste. This healthy, tea-time snack is perfect for your tea-time affair. Click here for the detailed recipe.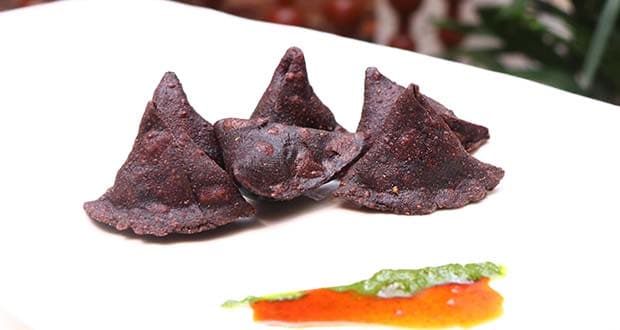 3. Oats Idli
Time to ditch the greasy pakoras for chai time. This idli recipe has suji replaced with healthy oats which is a delicious protein-rich snack option you can have with your sham ki chai. For the full recipe, click here.
4. Mixed Millet Bhel Puri
A low fat, protein-rich, easy and healthy snack with the goodness of millets and ragi. Prepare this mixed millet bhel puri at home with a generous squeeze of lime and enjoy. Find the complete recipe here.
Other Protein-Rich Snacks Recipes You Must Try:
5. Moong Dal And Paneer Balls
From cheelas to pakodas, to halwa, khichdi and more, dal can be fashioned into a gamut of recipes. One such recipe is this super crispy and delectable moong dal and paneer balls. These bite-sized snacks can be tossed in oil, steamed or air-fried thus helping you to cut back on calories. Click here for the recipe.
6. Moong Dal Chaat
This moong dal chaat with just a dash of masalas and lemon is definitely a show stealer! Light, healthy and utterly delicious, this chaat is perhaps the quickest way to load up on protein and aid your weight loss diet. Click here for the complete recipe.
7. Chilli Soya Nuggets
Chilli soya nuggets are easy to prepare and make a protein-packed meal for all. All you need to do is spare 15 minutes to put together a wholesome bowl of chilli soya nuggets. Click here for the detailed recipe.


For more healthy snacks recipes, click here.


Now is the time to ditch oily and greasy snacks and replace them with these healthy ones. Try them out and let us know your experience in the comment section below. We wish you happy and healthy snacking!