Name a soul-soothing combination - tea and snacks would be the one to top the list. No matter what the season or mood is, a cup of kadak chai along with some snacks can instantly uplift our mood and the day; Isn't it?! If you ask us, this combination is a magical treat for us. From bhajis to pakoras, kachoris and chips, you will find a wide range of tea-time snacks. No doubt, these snacks are super delicious and indulging to the core. But consuming them daily can harm our overall health as most of these snacks are deep-fried and made with refined flour. Now you must be thinking about quitting tea-time snacks? No, that's not the solution. The solution is to replace these snacks with healthier ones. Yes, you heard us!


Also Read: 13 Best Healthy Snacks Recipes
Here we bring you 7 tea-time snacks that are considered to be a combination of both health and taste. And the best part is they are super easy and quick to make. So, what are we waiting for? Let's get started with the recipes.
Here's A List Of 7 Healthy Tea-Time Snacks To Try
1. Oats Cutlet
Let's hit the list with this one. Oats cutlet is a healthy recipe made with roasted oats, cottage cheese and veggies followed by some tangy spices. This snack is a perfect combination of both health and taste. Click here for the complete recipe.
2. Ragi Cookies
Now enjoy your favourite snack, guilt-free. Here we bring you calcium-rich cookies with the goodness of ragi. Trust us; these cookies are just what you need to pair with your next cup of tea. Click here for the full recipe.
3. Sooji Besan Cheela
This wholesome and yummy cheela recipe made with sooji (semolina), besan (gram flour), chillies and spices, is perhaps the best pick! Pair it up with your favourite chutney and enjoy! Click here for the recipe.
4. Whole Grain Crackers
Wholesome and delicious - these whole-grain crackers are a must-have. They are made with super healthy ingredients that include whole wheat flour, ground oats and flax seeds. Pair them with a healthy hung curd or mint yogurt dip along with a cup of chai. Here's the recipe for you.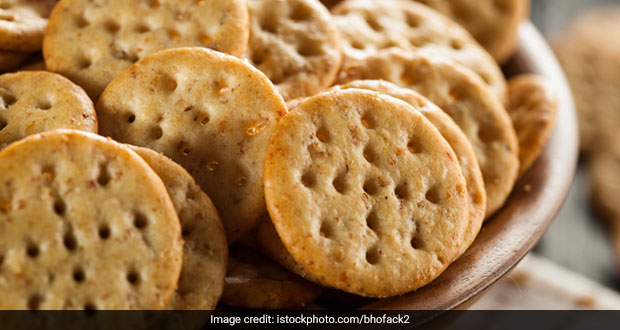 5. Moong Dal Chaat
Rich in protein, light and super delicious, this moong dal chaat is the perfect snacking option. The best part is this chaat is quite easy to rustle up. All you need is common and healthy foods like cucumber, onion and tomatoes. Click here for the recipe.
6. Roasted Chilli Makhana
Keeping the numerous health benefits of fox nuts in mind, here we bring you an easy roasted chilli makhana recipe that includes fox nuts coated with a flavourful spice-mix including chilli flakes, olive oil, jeera and salt. Click here for the complete recipe.
7. Sooji Tikka Bites
Here comes another delectable healthy snack! This is a spicy, flavourful and crispy snack recipe that will go perfectly with your evening tea. Add rice flour to bind properly, mix everything well, and also add pav bhaji masala for some eclectic flavours. Click here for the recipe.
So, now is the time you take your snacking game up a notch with these healthy and easy-peasy recipes. Try them out and let us know how you liked them in the comment section below. Happy Snacking!