One of the most essential building blocks of our body, protein is a key ingredient in a healthy, balanced diet. Protein helps build lean muscle, repair damaged cells and fuels energy by carrying oxygen throughout the body. This macronutrient is also useful in regulating the production of the hunger hormone ghrelin. Those who are trying to lose weight often try and include more protein in their diet to stay full for longer and keep hunger pangs at bay. In a nutshell, we all could use a bit more protein in our diet. Apart from our usual meals, snacks are a great way to stock up on some additional protein and eat our way to good health.


Vegetarians often struggle to think of protein sources in their diet, especially non-meat ones. We have soybean, tofu, paneer, nuts, seeds and so many more plant-based foods that are rich in protein. If you are a vegetarian and are thinking about how to add more protein to your diet, we have just what you need. These healthy and delicious snack recipes are enriched with protein and make an excellent addition to a balanced diet. Take a look at these protein-rich snack recipes for vegetarians, and trust us, these will soon become your favourites.
Here Are 7 Protein-Rich Snack Recipes For Vegetarians:
1. Paneer Tikka Sandwich
When it comes to paneer tikka, nobody can resist. And luckily, paneer is also a great vegetarian source of protein. Replace your usual sandwich filling with a tantalising paneer tikka one, and enjoy the goodness of taste paired with health. Click here for the full recipe for paneer tikka sandwich.
(Also Read: High-Protein Diet: How To Make Vegetarian Indian Thali Rich In Protein)
2. Bean Sprouts Salad
Lentils, beans and sprouts too are excellent sources of vegetarian protein. With this bean sprouts salad, you just can't go wrong. Just a small 200 gram portion of bean sprouts is enough to keep you satiated for the rest of the day. Find the full recipe of bean sprouts salad here.
3. Roasted Chana
If you are in no mood to cook but still want to get enough protein in your vegetarian diet, this roasted chana recipe is for you. Simply roast a batch of this, store in an airtight container and snack away whenever you feel hungry. Click here for the full recipe of roasted chana.


(Also Read: 6 Things To Add to Your Own Vegetarian Protein Bowl)
4. Mini Soya Dosa
Soybean or soya is yet another wonderful ingredient that is naturally endowed with plenty of protein. You could add it to your sabzis, make salads with it, or better yet, try this wonderful mini soya dosa recipe. Find the full recipe for mini soya dosa here.
5. Quinoa Crackers
Trust us, there is no better way to enjoy the goodness of quinoa than these quinoa-sesame crackers. The pseudo-grain is made crunchy and crisp, and paired with an orange-flavoured spicy hummus, it is truly a snackable delight. Click here for the full recipe.


(Also Read: 6 Best Non-Meat Sources Of Protein For Vegetarians)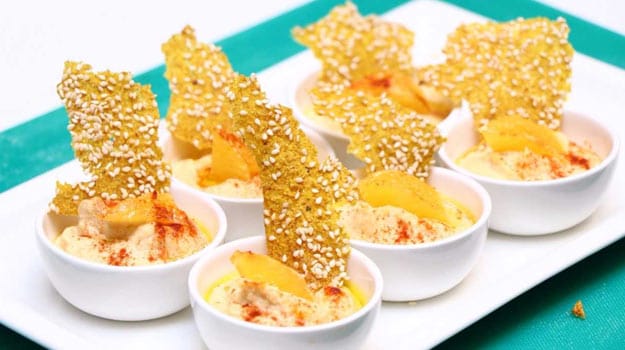 6. Oats Idli
The humble oats or oatmeal is also a great source of protein for vegetarians. While there are plenty of oats recipes out there, this oats idli stands out simply because it is healthy and tasty too. Steamed to perfection, you can pair it with your dip of choice. Find the full recipe for oats idli here.
7. Trail Mix
Last, but not least, a simple trail mix too can be enriched with protein, depending upon the ingredients in it. You can add roasted oats, almonds, peanuts and pumpkin seeds to make a hearty mix that has the goodness of protein in it. Click here to know more.


This list is, of course, in no way exhaustive. There are so many other protein-rich snack recipes out there that vegetarians can enjoy. Which protein-rich vegetarian snack recipe is your favourite? Tell us in the comments.
About Aditi AhujaAditi loves talking to and meeting like-minded foodies (especially the kind who like veg momos). Plus points if you get her bad jokes and sitcom references, or if you recommend a new place to eat at.