While Chennai is underwater experiencing one of the biggest floods in over 100 years, life seems to have come to a standstill. Not stating the obvious, the repercussions are such that almost all aspects of life are affected in the city, from local to public transport, railways, flights to electricity supply. When one of the premier national dailies fails to function and bring out its daily edition after being in service since 1878, you know that the situation can be much more than just grave.
Last week Tamil Nadu Chief Minister J. Jayalalitha opined that loses from heavy downpour are unavoidable, stressing on the fact that the efficacy of a government in such a situation would depend on speedy measures taken when it comes to recovery and relief actions. Many companies and corporate houses have extended a helping help to those suffering in every possible way. While a telecom company has announced free calling and internet data packs in the city, a leading cab service provider has also come forward to provide free of cost service to whoever in need.
When hundreds and thousands of people are suffering, the focus on rescue of course becomes the primary agenda. Another important thing is speedy and smooth supply of food. To ensure speedy supply of free meals, Zomato's CEO Deepinder Goyal announced 'Meal for flood relief' wherein people can order free meals for flood victims.
Help get food to those affected by #ChennaiRains. We buy a meal for each one you buy here: https://t.co/YdkHUShX4wpic.twitter.com/956WZg6GuJ

— Deepinder Goyal (@deepigoyal) December 2, 2015
For every order placed, Zomato will buy the same and the equal from its side. In simpler words, if you buy meals worth Rs. 1000, Zomato will add another batch of meals worth the same from its side.
How does it work?
Go to: https://zoma.to/chennairelief
You will be directed to a page from where you can choose your option and help get some food to flood victims.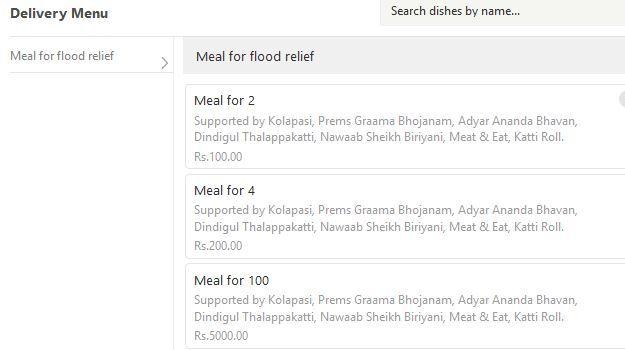 Follow instructions and you will be done.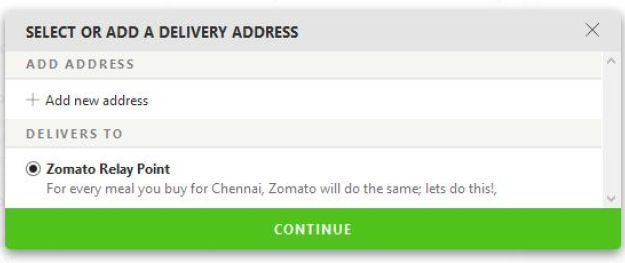 The same can be done via Zomato app as well.
15,000 meals bought by our users for #Chennai. Zomato adds to it to make it 30,000. Let's all help get to 100k – we can do this.

— Deepinder Goyal (@deepigoyal) December 2, 2015
UPDATE: Zomato has currently paused the programme to avoid putting pressure on its restaurant partners. On Wednesday night, Deepinder Goyal tweeted that a total of 55 thousand meals were bought through the relief programme which Zomato doubled to 110 thousand meals. At this Zomato halted the service to ensure not "choking" its restaurants partners.
In the meanwhile Actor, producer Siddharth has also started a micro relief programme of his own wherein rescue and food services are being provided to the needy.
If you can organise food packets in chennai please contact me. We will have it picked up and delivered. Batches of 50-100 packets. #TNflood

— Siddharth (@Actor_Siddharth) December 2, 2015
As it is said, small actions can bring about huge changes, Siddharth's relief programme also aims to bring together local help to help the locals.
It's pouring again. We are losing connectivity. Evening meals are being arranged. We need water. Please contact with leads. #ChennaiMicro

— Siddharth (@Actor_Siddharth) December 2, 2015
Just in case you are in Chennai and want to help or get some relief provided to someone, use #ChennaiMicro on twitter.

Please use hashtag #ChennaiMicro for food parcel pickup information. It will be easier for our team to respond. Thanks. @rj_balaji

— Siddharth (@Actor_Siddharth) December 2, 2015
Praying can help of course, but only a little. If you can help someone in littlest possible way, please step up. Always keep in mind, every bit will count and nothing goes to waste when its needed the most.