Madras Day: Brewing the Perfect Cup of 'Filter Kaapi'
Kriti Malik , NDTV | Updated: August 22, 2014 14:32 IST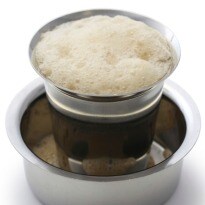 You can pull a Madrasi out of Chennai but you can't keep him away from filter coffee.

Those who fuss over their daily cup of cappuccino have obviously not experienced the kick of kadak filter coffee. This one comes straight from a stainless steel tumbler and smells so strong that it'll make you want to jump-start and embrace the day.

Filter coffee has stood the test of time and advancements in technology only to show how strongly it courses through the veins of every South Indian. It's surpassed competition from a dozen or more coffee shops that offer tall cups of gleaming coffee in branded plastic cups and proved how it represents 'real coffee'.

The story of filter coffee is an old and delicious one. It is said that coffee (along with tea) hit India somewhere in the 19th century and soon after was embraced by the modern class. This triggered a price hike as coffee started to be perceived as a 'premium' product. In most Madrasi Brahmin households tea was considered as a poor man's drink which is why they developed a taste for coffee (the mind-blowing taste obviously had a lot to do with it).

Every Madrasi knows how to brew a cup of perfect filter coffee but you don't need to be a Madrasi to know how to make one.

The Essentials
A traditional percolator made out of stainless steel. The size depends on how many people you prepare coffee for.
A fine grind of filter coffee powder (preferably from a South Indian store)
How to Make Authentic Filter Coffee(Recipe by Niru Gupta)

Ingredients
1/4 cup coffee powder
1 cup water
1 cup milk
Sugar to taste

Method


Place coffee powder in the perforated container that comes on top and place the container on the lower container.
Boil the water and pour immediately over the powder.
Place the press over it, cover and leave to drip into the lower container.
When the entire solution has drained into the lower container, heat he milk and mix into the solution.
Serve with desired amount of sugar.


Now that's some seriously good filter coffee!

Hop over to our recipes section and check out some of the most popular Madrasi food.