For non-veg lovers, chicken is the ultimate treat! We can't keep our hands off a plate of our favourite chicken. Chilli chicken, chicken tikka, butter chicken - just thinking about these delicious delicacies has us salivating. While Indians do enjoy eating spicy chicken, at times we want to refresh our food palate and go for something subtle and sweet. Keeping that in mind, we have shortlisted some of the most delicious and easy honey chicken recipes you can make to excite your taste buds. You can eat these honey chicken recipes as a snack or a main course dish as well, that's how versatile they are.


Also Read: 5 Shahi Curries That'll Make Dinner A Royal Affair
5 Ways To Make Honey Chicken At Home:
1.Honey Chicken
Imagine juicy chicken chunks tossed in delicious honey along with hot and flavourful sauces and many more fiery ingredients. The sweet and sour flavours of this gravy make for a lip-smacking treat! Indo-Chinese lovers shall love this as a snack
Click here for the full recipe of Honey Chicken.
2.Honey Chicken Wings
There is something extra delicious about chicken wings! With this recipe, the classic chicken wings get a sweet and spicy makeover, giving a balance of flavours that shall make you drool. These wings are super easy to make.


Click here for the full recipe of Honey Chicken Wings.
3.Honey Chilli Chicken
The classic chilli chicken gets a sweet zing with this recipe! The spiciness of the chilli gets mellowed by the sweetness. With a dash of honey to the chilli chicken gravy, you shall get this tantalizing snack.


Click here for the full recipe of Honey Chilli Chicken.
4.Honey Garlic Chicken
This juicy and crispy chicken breast will give you a scrumptious meal. The boneless pieces of chicken are bathed in the sweetness of honey and given an extra kick of flavour with the addition of garlic. You can serve this dish with a refreshing salad on the side.


Click here for the full recipe of Honey Garlic Chicken.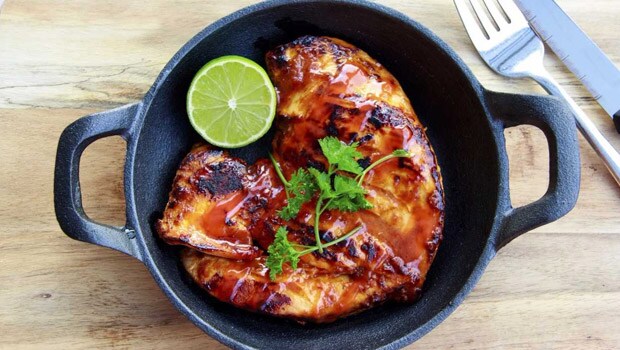 5.Honey Roast Chicken
The beloved roasted chicken has an added sweet twist, thanks to this easy recipe. Just like the roasted chicken recipe we know, the whole chicken is marinated and stuffed with a variety of masalas and roasted. But at the end, the chicken is glazed with honey and roasted again.


Click here for the full recipe of Honey Roast Chicken.


Try out these honey chicken recipes and let us know which one is your favourite in the comments section below.