There is something about festive meals that gets us all excited. It's the celebratory vibe, the getting together of loved ones and a platter of good foods - all come together to make a feast more fun. With Christmas around the corner, many of us are planning get-togethers with our family and friends. There is no party without hors d'oeuvres to lead up to the main meal. Amid all the sweet goodness of gingerbread and plum cake, your guests would look for some snacks to go with their mulled wine. Finger foods are the best to sneak into all those chattering and drinking sessions without making any mess.

So, here is a list of some amazing finger foods you can prepare for your Christmas spread:
Here Are 7 Finger Foods For Christmas 2021:
1. Mutton Kebab
No one can ever go wrong with kebabs. Mutton kebabs are every non-vegetarian's favourite. Juicy and flavourful mutton pieces grilled to perfection are sure a party starter. Click here for the recipe.
2. Fried Onion Rings
Keep it classic and simple with the addition of some fried onion rings that find favour with all palates. This deep fried snack is always a hit when it comes to snacking before the big meal.
Here's the recipe.
3. Chicken Garlic Bread
This one is for the younger lot of the party crew. Kids love garlic bread, so make this chicken-stuffed garlic bread for your Christmas party, which will be liked by kids and adults, alike.
Here's the complete recipe.
4. Christmas Tree Pizza
This will be the star of your Christmas appetiser spread. Looking just like a cute Christmas tree, small pizza slices made with pesto and other veggies will be over in no time.
Click here for the recipe.
5. Turkey Potato Chops
Make these shallow fried chops of minced meat and potatoes for your Christmas spread. The crispiness and robust flavours of this treat will light up the evening.
Click here for the recipe.
6. Bacon Wrapped Stuffed Dates
Also called 'Devils on Horseback', these bacon wrapped stuffed dates are a popular festive snack item, found in almost all Christmas fares. The dates are filled up with cream and chives, and rolled in bacon wraps. Since it is baked, it also makes for a healthier choice.
Click here for the recipe.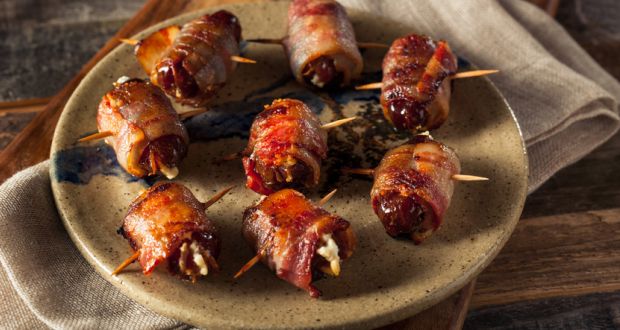 7. Pork Plum Rolls
Pork fillets steamed along with aromatic plum sauce, and other seasonings, is one of the healthiest snacks you can make. Don't forget to drizzle some soy sauce over it for that extra punch. Click here for the recipe.


Welcome your guests with a special entrée spread for these finger-licking snacks. Merry Christmas 2021!


About Neha GroverLove for reading roused her writing instincts. Neha is guilty of having a deep-set fixation with anything caffeinated. When she is not pouring out her nest of thoughts onto the screen, you can see her reading while sipping on coffee.