Deeper into Mexico with Mezcal
Florence Fabricant , The New York Times | Updated: October 30, 2013 11:17 IST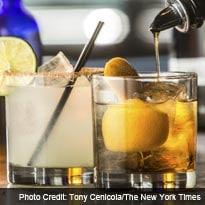 Mezcal, tequila's brash, more rustic cousin, is crashing the cocktail party, showing up in the kind of mixed drinks normally made with more-refined spirits.

Until fairly recently, mezcal was an esoteric choice, but it is becoming more mainstream as drinkers come to appreciate how it gives smoke and swagger to a drink, never retreating to the background no matter how much fruit juice and sugar are piled into the mix.

Even in a margarita, like the one they make at Hecho en Dumbo in Manhattan, it adds the kind of complexity and intrigue that is often lacking when the cocktail is made with many of today's overrefined tequilas.

For those who are new to the spirit, a margarita is a sensible place to start. "Everyone is familiar with a margarita, and it's a good way to showcase mezcal," said Ethan Smith, an owner and the mixologist at the restaurant Hecho en Dumbo.

Brian Van Flandern of Creative Cocktail Consultants has come up with a drink that suggests a margarita, and could serve as a set of training wheels. It's called the Smoking Jacket, and includes both mezcal and tequila. You can adjust the proportions of either spirit depending on how much mezcal personality you want.

"Mezcal has real flavor, and it's much more terroir-driven," Van Flandern said.
Both mezcal and tequila are made from agave, a succulent plant. But unlike tequila, the best of which is made with 100 percent blue agave, mezcal can be made from any of nearly 30 types of agave. The piñas, or cores, are usually smoked in open pits, not steamed as for tequila.
To spread the word about mezcal and educate Americans, the Mexican government has established a "master mezcalier" certification program for amateurs and professionals, with classes in various American cities and in Oaxaca, the heart of mezcal country. And last month, the government of the State of Oaxaca invited several chefs, including Andrew Carmellini, David Burke and Johnny Iuzzini, to visit the fields and distilleries.

Carmellini, a lover of Mexican food, said that after the trip he understood mezcal better. "I'll take it more seriously than I did before," he said. "It's a great cocktail base, but I think it's slightly more difficult as a single spirit."

In his new book, "Craft Cocktails," Van Flandern offers several mezcal concoctions, including the Rum and Smoke, in which he ramps up the smokiness with a splash of peaty Lagavulin Scotch. Mezcal partners well with whiskey, especially Scotch and blended spirits. And certain fruits, notably orange and pineapple, seem tailor-made for it. A whiff of heat, from pepper or chili, is not a mistake, either.

And don't think of these drinks as just a pairing for a plate of tacos, tamales or queso fundido. At Fresh Hamptons - a Bridgehampton, N.Y., restaurant that emphasizes local food and nods toward Asia, not Mexico - the mixologist, Douglas Sheehan, combines reposado mezcal with fresh pineapple juice, honey, chili and lime. His finishing touch is a dusting of crushed pink peppercorns that add fruit and fire to the well-balanced cocktail. He calls it They Didn't Burn Rome in a Day.

© 2013 New York Times News Service