Friendship Day is being celebrated in India on the first Sunday of August that falls on the 7th this year. Friendship is a bond so unique and special, that it demands a celebration of its own with your besties. What better way to bond with friends than with some refreshing cocktails? If you are planning to celebrate Friendship Day with your closest buddies at a boozy brunch, we have just what you need. These seven classic cocktails are not just extremely delicious but can easily be made at home. So, bring out your inner bartender and whip up these drinks to delight your near and dear ones!
Happy Friendship Day 2022: Here Are 7 Classic Cocktails You Can Enjoy With Friends
1. Tom Collins
This Gin-based cocktail is an excellent way to begin your friendship day celebrations. It's best to add soda water for an additional fizz in this tangy drink!


INGREDIENTS:
45ml Monkey 47 Schwarzwald Dry Gin
20ml Lemon Juice
20ml Simple Syrup
Soda water to taste
Lemon for garnish
HOW TO MIX: Build with ice into a collins glass. Stir well and top with Soda Water. Garnish with lemon and orange wheel.


(Also Read: Friendship Day 2022: 7 Street Foods That Taste Better With Friends)
2. Jameson, Ginger and Lime
Another simple recipe, this Jameson, Ginger and Lime recipe is something you just can't go wrong with. The earthy aroma of whisky paired with ginger ale and lime is a combination too good to miss.


INGREDIENTS:
50 ml Jameson Irish Whiskey
150ml Ginger Ale
Large wedge of lime
HOW TO MIX: Fill a high ball glass with ice. Pour in a shot of Jameson. Top up the glass with a good quality bottled ginger ale. Stir to briefly mix. Take a large wedge of lime, give it a squeeze and drop it into the glass. Roughly 1 part Jameson to 3 parts ginger ale, and all parts refreshing!
3. Frozen B&T Twist
We have all tried the classic Gin and Tonic, but how about giving it a twist? This frozen B&T twist has lemon juice, sugar syrup and is topped with a slice of lemon for that additional zing.


INGREDIENTS:
60ml Beefeater London Dry Gin
15ml Lemon Juice
5ml Sugar Syrup
50ml Tonic Water
HOW TO MIX: Blend ingredients with ice. Top with 50ml tonic water. Garnish with orange and lemon.
4. Cosmopolitan
Another classic cocktail on this list, Cosmopolitan is quite beginner-friendly to make too. A handful of ingredients shaken together give the most refreshing and delightful drink you're definitely going to relish on Friendship Day 2022.


INGREDIENTS:
40 ml Absolut Citron Vodka
20 ml Triple Sec
20 ml Lime Juice
20 ml Cranberry Juice
1 Twist Orange Zest
Ice Cubes
HOW TO MIX: Fill a shaker with ice cubes. Add all ingredients. Shake and strain into a cocktail glass. Garnish with an orange zest twist.


(Also Read: Friendship Day 2022: 9 Delicious Snacks For Your Get Together)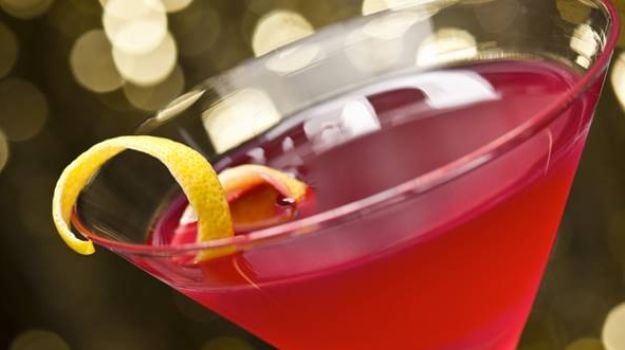 5. SmOaken Tea
Tea-lovers, this one is for you! We all enjoy the pineapple-based Pina Colada, but this SmOaken tea cocktail takes it a notch higher with the addition of tea and honey.


INGREDIENTS:
30ml Oaken Glow Whisky
30ml Pineapple juice
30ml Lapsang Souchang tea
1 bar spoon/teaspoon of honey
HOW TO MIX: Mix this summer cocktail for a party using a shot of Oaken Glow with a shot of Lapsang souchung tea (a Smoky Chinese black tea) and a shot of pineapple juice. Pour/strain over fresh ice and top the finished cocktail with a sprig of mint.
6. Grapefruit and Tonic
For those who like to keep it simple, this Grapefruit and Tonic is the ultimate indulgence. It is made with just three ingredients and still offers a great experience!


INGREDIENTS:
45 ml Absolut Grapefruit Vodka
120 ml Tonic
Grapefruit or lime wedge for garnish
HOW TO MIX IT: Pour Absolut Grapefruit and Tonic into a Copa glass filled with ice cubes. Stir and garnish with a grapefruit or lime wedge.
7. El President
End your Friendship Day 2022 on a high note with the El Presidente cocktail. With two different spirits rolled into one, it's truly fit for royalty!


INGREDIENTS:
40 ML Havana Club 7 Whisky
20 ML Sweet Vermouth Wine
10 ML Triple Sec
5 ML Grenadine Syrup
HOW TO MIX: Throw (Cuban Roll) all ingredients and fine strain in coupett.
Happy Friendship Day 2022!
About Aditi AhujaAditi loves talking to and meeting like-minded foodies (especially the kind who like veg momos). Plus points if you get her bad jokes and sitcom references, or if you recommend a new place to eat at.