I had almost given up on stumbling upon cacao nibs at any Indian
gourmet
store. So imagine my surprise when I discovered this underused ingredient at a well-stocked organic store in Mysuru a year ago. I first sampled cacao nibs in the Philip Island
Chocolate
factory near
Melbourne
, now a regular stop for tourists. Aside from some of the more gimmicky photo opps like a two-metre statue of Michelangelo's David, the factory has a fascinating educative museum that breaks down the
chocolate
making process.
Cacao beans are essentially dried and fermented seeds of Theobroma cacao. These beans are processed to make chocolate and this process begins with the roasting of the cacao beans after which they are broken down into nibs in a routine that includes cracking and deshelling. The cacao nibs are then ground into a paste which starts getting converted into chocolate using different methods and ingredients. It's at this point when sugar and other ingredients are added that the calorie levels start shooting up.
Cacao beans have been acknowledged as a 'super food' by the Aztecs who reigned supreme in Central America for centuries, long before the times of chocolate bars. The first Spanish explorers wrote accounts of Aztec nobles who downed multiple goblets of a chocolate drink with spices like vanilla. The Oaxaca region in Mexico is still famous for Tejate (pronounced texate) a cold beverage that combines maize flour with fermented cacao beans.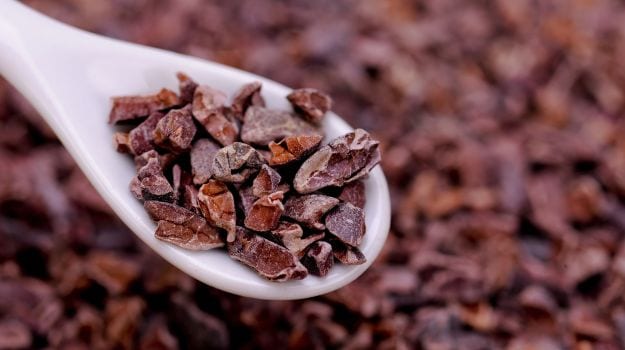 Cacao Nibs Vs Chocolate Bar
There's still a lot of debate about the health benefits of dark chocolate but the jury is out on the health benefits of cacao nibs and it helps that you might actually find these nibs quite tasty. In terms of texture and 'mouthfeel' cacao nibs might remind you of macadamia nuts. The taste is almost inconsistent swinging from 'chocolatey' flavours to a sometimes more bitter taste reminiscent of coffee beans. It almost tastes different every single time; that's the best part!
The cacao nibs that I found in Mysuru are actually produced by an organic chocolate manufacturer in the region. There are quite a few brands that you can find online (a kilo could set you back by about Rs 1000 - Rs 1500). Cacao nibs are in effect the first edible form and closest to cacao in its raw form and probably the only type of chocolate your dietitian might approve of.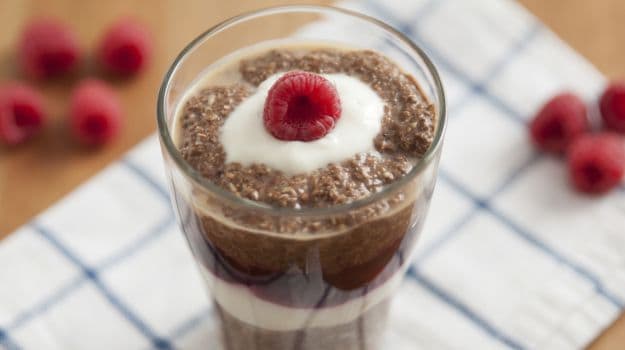 Cacao Nibs - 5 Health Benefits
1.Anandamide (the 'bliss' chemical): It takes its name from 'ananda' (bliss or joy in many Indian languages) and cacao nibs are one of the only natural sources - yes, it's also completely legal, outside the body that promotes serotonin build up that is proven to be a mood enhancer. Anandamide is essentially a neurotransmitter that is also produced naturally in the brain.
2. Magnesium: Cacao nibs is one of the highest known sources of magnesium, sometimes referred to as the 'relaxer mineral' and a 'toxin neutraliser'.
3. Anti-oxidants: Many research studies confirm that cacao beans have more antioxidants than red wine, blueberries, acai, pomegranates or goji berries.
4. Iron: This mineral is essential for red blood cell production in the body and cacao nibs are known to be a good source of it. 100 grams of it gives you 77% of your daily requirement.
5. Fiber: One of the elements that gets lost when cacao beans are converted into chocolate bars but found in large quantities in cacao nibs (almost 10 grams for almost every 30 grams) is fiber. Cacao nibs also have lower fat percentages compared to other nuts.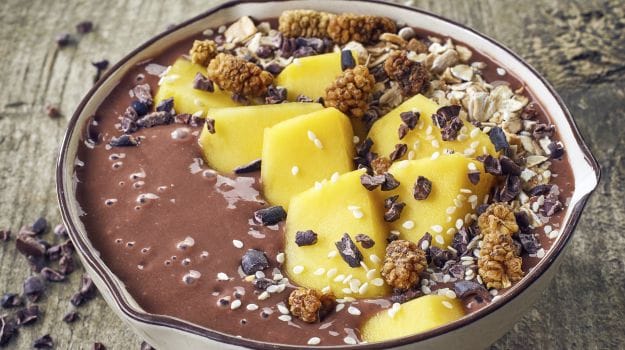 How to Add Cacao Nibs to Your Daily Diet?
As a Snack:Snack on a few handfuls just like you would with almonds or pistachios if you don't mind the slightly bitter taste.
Breakfast Cereal or Trail Mix: adds a great element to your breakfast cereal with its taste and texture, and works well in a multi-ingredient trail mix or muesli bar that you can put together at home.
In desserts: Substitute chocolate chips with cacao nibs - a cacao nib muffin or cookie instead of a chocolate chip muffin or cookie. It doesn't just make it healthier but also adds a great flavour that makes desserts less cloyingly sweet.
Sprinkle on smoothies or ice-cream sundaes: unlike other ingredients that tend to sink to the bottom of your shake, cacao nibs tend to spread evenly within your glass and are also great to sprinkle on an ice cream sundae. It can't rid you of the calories of your ice cream though!
Salads: the taste and texture of cacao nibs add a lovely surprise element in a leafy, crunchy salad.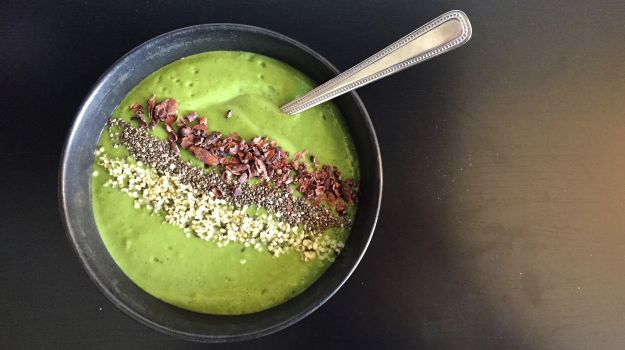 Recipe to Try
:
Spaghetti Aglio E Olio with Cacao Nibs
Serves 2
Certainly not the classic Neapolitan version but I substituted pine nuts (an optional ingredient that is not usually used in the classic Naples version) with cacao nibs and found that it creates a great contrasting element with the chilli.
Ingredients:
200 gm spaghetti
8-10 garlic pods, chopped
1 Tbsp olive oil
2 dried red chillies/ 1 tsp chilli flakes
A handful of cacao nibs
Salt to taste
Sliced olives (optional)
Method:
1. Cook the spaghetti 'al dente' in a large pan. Retain a few spoons of the starchy water.
2. Fry the garlic in olive oil till they become a light golden brown and add the chilli flakes and cacao nibs. Sauté for 1-2 minutes.
3. Add the pasta and a few spoons of the starchy water. Add salt and olives (optional)
4. Toss the pasta for 1-2 minutes and sprinkle some extra virgin oil towards the end. Serve hot.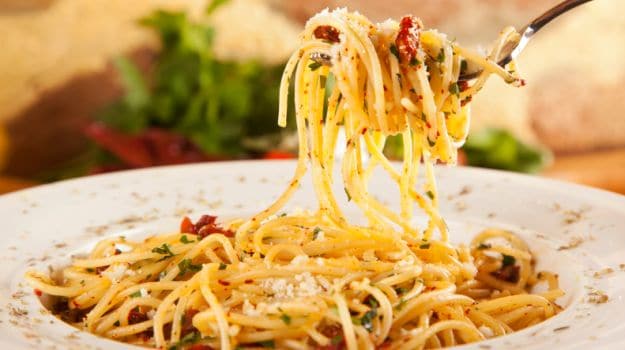 About the Author:
Ashwin Rajagopalan is a cross cultural training expert and lifestyle writer. When he's not writing about food, he thinks about gadgets, trends and travel experiences. He enjoys communicating across cultures and borders in his weekday work avatar as a content and editorial consultant for a global major and one of India's only cross cultural trainers.
Disclaimer:
The opinions expressed within this article are the personal opinions of the author. NDTV is not responsible for the accuracy, completeness, suitability, or validity of any information on this article. All information is provided on an as-is basis. The information, facts or opinions appearing in the article do not reflect the views of NDTV and NDTV does not assume any responsibility or liability for the same.