The cosiness in weather begins at the start of the festival month and Diwali being around the corner, people wait for this day of the year and celebrate this festival with great zest and zeal. Diwali is one of the main Hindu festivals celebrated in India in the month of October or November. This annual festival brings along firecracker pollution too, leaving behind a thick layer of smog in the air post the festival. Although the state governments pose many restrictions every year to prevent air pollution, hardly any are followed, resulting in various respiratory health issues for people post-Diwali. The crackers contain various harmful chemicals such as copper, cadmium, lead, magnesium etc which take a toll on the health of those people who are already suffering from some respiratory ailments and also give new infections and inflammation, may cause burns as well as breathing issues. Coughing and wheezing individuals is a common site these days.
Here Are Some Diet Tips For Keeping Your Lungs Healthy During Diwali:
1. Hydration - As water is essential for all body parts, so it is essential for the lungs for maintaining their mucosal lining and helping in better lung health.


2. Fibre-rich Diet - High-fibre foods such as quinoa, chia seeds, brown rice, oats, whole wheat etc are excellent for the lungs. Research has proven that a high-fibre diet is inversely related to the risk of chronic obstructive pulmonary diseases. Individuals who consume a high-fat and low-fibre diet have increased inflammation of the airway tract and poor lung function.
(Also Read: Air Pollution: 7 Green Herbs And Vegetables You Can Include In Your Diet)
3. Antioxidant-rich Diet - Flavonoids and anthocyanin-rich (anthocyanidins, flavan-3-ols, flavones, flavonols and flavanones) red and blue coloured fruits such as strawberries and blueberries help in stronger lungs by their strong antioxidant effect, anti-mutagenic, anti-proliferative and anti-inflammatory action. Tomatoes are best for asthma as their lycopene reduces sputum neutrophil elastase activity.


4. Green Vegetables - Strengthening of the lungs is caused by green leafy vegetables, as studies have proven carotenoid-rich vegetables to be inversely related to lung cancer risk.


5. Dairy Products - Dairy products such as milk, cheese, yoghurt etc. prevent lung cancer as researched.


(Also Read: 7 Vitamin A-Rich Foods For Lung Health; Fight The Effects Of Pollution With Healthy Diet)
6. Fruits and Vegetables - Fresh fruits and vegetables are loaded with Vitamin C and carotenoids, which are converted to Vitamin A in the body. Vitamin C is the most abundant antioxidant present in the extracellular fluid lining of the lung and has free radical scavenging property. It also has immunological properties. Flavonoids such as quercetin also have antioxidant properties.


7. Fatty Foods - Fatty foods such as butter, eggs, vegetable and seed oil and mayonnaise are rich in vitamin E which breaks the lipid peroxidation chain reaction and is a potent antioxidant. Intake of polyunsaturated fatty acids (PUFA) present in seafood possesses lung protection properties by delaying lung ageing.
There are certain foods that need to be avoided too:
1. Soft drinks damage the respiratory system and cause inflammation. So such beverages is a big no for lung health.


2. It is best to avoid processed or cured meat as the incidence of lung cancer is directly related to high red meat consumption.


(Also Read: Experts Reveal Why Omega-3-Rich Food Is Great For Your Lungs; 5 Amazing Omega-3 Sources)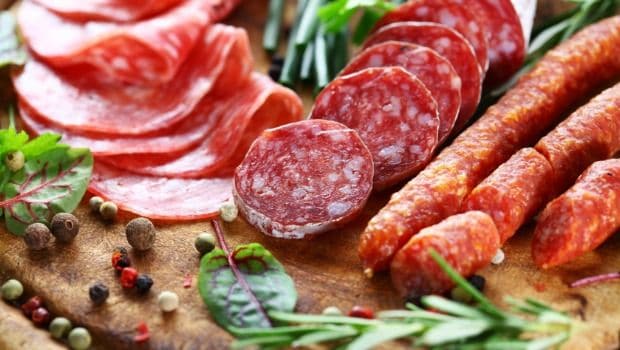 3. High coffee consumption leads to an increased risk of lung cancer, while decaffeinated coffee reduces the risk due to polyphenols in coffee which have an antioxidant effect, but acrylamide has a carcinogenic effect.


4. Sulfites present in alcohol can worsen asthma symptoms and must be avoided by people with lung conditions.
Stay happy, stay healthy this Diwali!
Disclaimer: This content including advice provides generic information only. It is in no way a substitute for qualified medical opinion. Always consult a specialist or your own doctor for more information. NDTV does not claim responsibility for this information.