Diwali, the 'festival of lights', can also be called 'the festival of food'. This festival celebrates food like no other. The almost month-long festive season around Diwali sees families and friends getting together to offer prayers and bond over some delicious foods. Be it for prasad or just for festive binge, sweets or mithais are an important part of the food spread. This time of the year, we all want to gorge on traditional Indian sweets like barfi, laddoo and gulab jamun. Barfi, in different forms, is omnipresent in almost all households during this festival. But, if you are bored of eating the same old kaju, khoya or besan ki barfi, try this delicious chana dal barfi instead.
Rather than opting for the store-bought ones, try making the barfi at home this Diwali so that you can control the sugar content and also use fresh ingredients from your kitchen. Chana dal, also called Bengali gram pulse, is made from split chickpeas. Chana dal is particularly popular in South Asian countries and is used in various dishes like dals, soups and curries. Also, besan flour is made with the chana dal by grinding it. Chana dal has a distinct nutty flavour that makes any dish taste better. This legume is quite rich in proteins – a nutrient that is known to induce satiety and fuel up the body with loads of energy.
(Also Read: 11 Quick And Easy Diwali Sweets Recipes)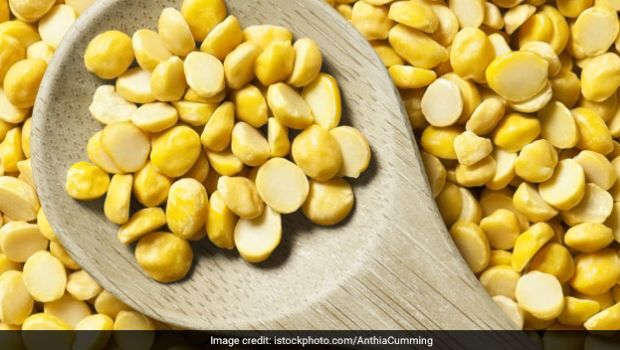 Chana dal is rich in proteins.
Here's the recipe of chana dal barfi you can make at home this Diwali –
Ingredients -
½ cup chana dal
1/2 cup Ghee (clarified butter)
3/4 cup milk
1/4 teaspoon elaichi (cardamom) Powder
5-6 chopped badam (almonds)
5-6 kishmish (raisins)
½ cup grated coconut
(Also Read: 12 Easy Barfi Recipes To Prepare At Home)
Method –
Step 1 - Soak the chana dal in hot water and let it rest for a couple of hours.
Step 2- Drain off the water and grind the dal in a mixer-grinder till it turns into a fine paste.
Step 3 – Now roast the dal mixture in ghee till it changes its colour to light brown. Add milk, half cup water, raisins, almonds, sugar and cardamom powder, and stir well. Cook for another 8 – 10 minutes till the mixture leaves the sides of the pan.
Step 4 – Sprinkle grated coconut over the mixture and turn off the stove.
Step 5 – Grease a large plate with some oil and pour the mixture on it and let it cool.
Step 6 – With the help of a sharp knife, cut it into square-shaped barfi pieces.
Enjoy this protein-rich, delicious barfi this festive season. Happy Diwali 2019!
About Neha GroverLove for reading roused her writing instincts. Neha is guilty of having a deep-set fixation with anything caffeinated. When she is not pouring out her nest of thoughts onto the screen, you can see her reading while sipping on coffee.