Follow these simple rules when travelling to enjoy delicious street food - without side-effects
From Delhi to Singapore many of my most memorable meals have been eaten kerbside. When you're travelling the best food is generally not found in the overpriced restaurants filled with tourists or (surprise!) at your hotel buffet, but instead on the street.
While every second restaurant in Australia now offers a "street-food menu" and there are any number of "hawker" or night markets. Real street food in Asia is likely to be dirty and disorganised but also delicious.
Here's how to find the good stuff and ensure you don't get sick:
Be prepared to take a hike
The good street-food vendors are unlikely to be located in the main tourist drag. Ask around to discover where the best markets and food are. They're often off the central strip and decidedly less picturesque. But that's half the adventure. In Singapore it's worth heading to the Joo Chiat district, while in Hong Kong the street food stalls, known as dai pai dongs, can be found in alleyways - and busy streets - all around the territory.

The longer the queue the better
I'll happily join the longest queue for street food without even knowing what's been served up. If everyone else wants it, it must be good. Think of it as a culinary lucky dip as to what you'll actually be eating.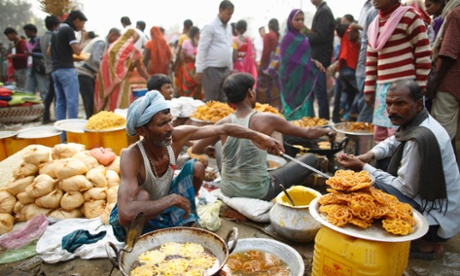 Don't look for the menu
Often there's no menu, or if there is one it's unlikely to be in English. Your best bet is to have a stickybeak at what is being cooked and at what everyone else is eating. "I'll have what she's having" is a handy movie line to use in the local language. Beware of menus with translations in four different languages and coloured flags marking the language. That's your cue to run a mile.

Get your timing right
Often you've got to be up early or late to get the best street food. During the heat of the day many vendors shut down so do some research on the best time to eat before you cross town. It's all about eating where and when the locals eat.

Get some local knowledge
Local knowledge goes a long way when it comes to street food. An online search of local food bloggers is often helpful and I've also had some great experiences by going on street-food tours. In Singapore Tony Tan's walking food tour gave me an intriguing introduction to Singapore's history and politics as well as food while in Delhi a local food writer and blogger, Pamela Timms at Eat and Dust, directed me to her regular rickshaw driver who took me down all sorts of laneways to discover places I would never have found alone.

Keep clean
Personally I suspect when I've had food poisoning travelling a bad "western" meal at a restaurant or hotel has more often been the culprit than the street food I've scoffed along the way. But if you are wary of the Imodium express, going to busy and popular places means the food hasn't been sitting there all day and is likely to be fresh. Avoid salads which may have been washed in tap water, fruit that is already cut up and iced drinks using local water. A small bottle of hand sanitiser or some baby wipes to clean your hands are indispensable. They also come in handy for cleaning eating utensils like the reusable plastic chopsticks used at many Asian street-food stalls.
Cara Waters is a Melbourne journalist who writes the blog Gourmet-Chick.com and tweets at @carawaters

A vendor arranges a display of fresh traditional snacks for sale at a market in Jakarta on November 28, 2014. Photograph: ROMEO GACAD/AFP/Getty Images