Fitness Motivation from Upasana Kamineni-Konidela, South Superstar Ram Charan's Better Half
While South superstar Ram Charan has been inspiring many people with his fit lifestyle, amazing body transformations for various movies and disciplined routine, his better half Upasana Kamineni-Konidela has also been giving us some major fitness goals
NDTV Food | Updated: December 11, 2017 18:24 IST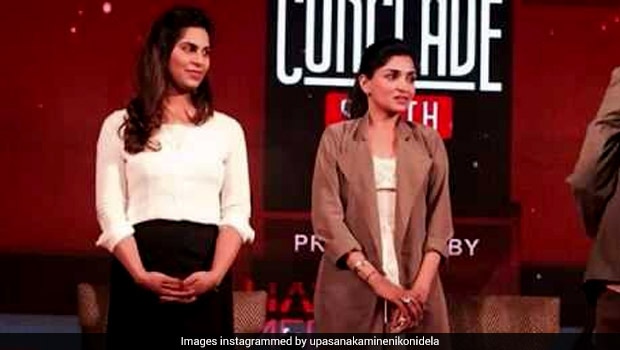 Ram Charan has been inspiring many people with his fit lifestyle, amazing body transformations for various movies and disciplined routine, his better half Upasana Kamineni-Konidela has also been giving us some major fitness goals. Upasana is the grand-daughter of Dr.Pratap C Reddy, the founder and chairman of Appollo Hospitals. A doting wife and a business leader, Upasana knows how to create the work-life balance and make sure she has time for things she wants to do such as maintaining a fit and active lifestyle.

One Week Diet Plan

A look at her Instagram account will tell you how enthusiastic Upasana is about sharing her diet and fitness rules with her friends, family and fans. She trains with Celebrity Stylist Yasmin Karachiwala and recently posted a picture of herself doing pilates along with her mother, Shobana Kamineni.

(Also read: Pilates - Is This Bollywood's New Favourite Workout?)

Last year, after the festive Diwali bingeing, Upasana posted her 'Get Back on Track Diet Plan' on Instagram. The week long diet plan focussed on eating vegetarian meals and having them at the right time. The easy to follow diet chart mentioned what you should be eating at different hours of the day. It was also interspersed with Surya Namaskar (to start your day) and a 40-minute walk every day in the evening. The menu included smoothies, shakes, coconut water and lots of hydrating drinks. The meal portions are fairly small and limited to fruits for breakfast and a bowl of salad along with moong dal for lunch. The last meal of the day should be at 7 pm and rich in protein so your options are paneer, fish or grilled chicken. Here's the menu for Monday, Wednesday and Friday.


Then diet plan is divided into two parts alternating every other day. For Tuesday and Thursday, you can have sprouts of breakfast and vegetable curry for lunch. For dinner, the plan suggests vegetable cutlets made in desi ghee.

Tuesday and Thursday Menu.


Diet and Fitness Mantras

A few months ago, she undertook a 30-day challenge to lose weight and transform her body through the right diet and regular exercise. She trained with a personal trainer, Rowan, who flew from London to help her get fit. Her exercise routine including weight training and strength training but 80% of her transformation program was based on her diet. In some of her videos posted on Instagram, Upasana shares her fitness mantras and rules she followed for a healthy and active lifestyle. We've compiled them all for you to get inspired and chalk out your own fitness plan.

1. Portion control is the key to a healthy diet. Your plate of food should consist of 1/2 of vegetables along with 1/4 portion of grains and the same quantity of protein.

2. Start your day with something alkaline. Maybe hot water with lemon or alkaline juices to kick-start your metabolism. For the 30-day transformation, she started her day with two glasses of water and bullet coffee.

3. She made sure she walked 15,000 steps daily during her transformation program along with her regular workout routine.

4. Upasana works out early morning on an empty stomach and she suggests that it helps in burning fat. Fat burning was her focus during the 30-day transformation.

5. Her Health Coach during the 30-day transformation period was Ishani Vellodi Reddy who suggests that you must include protein rich food in your diet to burn fat and build muscle. These include lentils, spinach and sprouts if you're on a vegetarian diet and lean meat and fish for non-vegetarians.


Upasana's fitness mantra is very simple. She believes that nourishment, movement and mindful wellness have to be in sync for complete well-being. It's just not about weight loss, it's about wholesome health. Well said, Upasana.


While South superstar