Image Credits: Instagram/AliaaBhatt
Bollywood is made up of the fit and fabulous - 'fit' being the word of the moment. I keep coming across Alia Bhatt's enviable pilates skills on
Instagram
with #PilatesMakesMeHappy, and recently saw Deepika Padukone giving her a run for her money in a video uploaded by Yasmin Karachiwala. Even Kriti Sanon just declared today that she loves pilates, and doesn't like skipping it even for a day. And that got me thinking, is pilates
Bollywood
's new favourite workout?
These Instagram posts will motivate you to lock your fridge and hit the gym. Scroll down at your own risk.
8 Bollywood Celebrities Who Love Pilates
These B-town hotties have stolen our hearts with their perfect bodies. And pilates is the secret behind their
fitness
.
1. Alia Bhatt
We've all seen Alia Bhatt's
shandaar
bikini body and her mind blowing transformation from chubby to lean before making her Bollywood debut in
Student of The Year
. Alia trains with Celebrity Trainer Yasmin Karachiwala and it seems like her hard work is paying off. She doesn't like repeating workouts, so Yasmin has her hitting different pilates machines such as the Reformers, Cadillac, Core Align, Wunda Chair, Motor, Step Barrel, Bodhi Suspension System and The Barre in any given week.

2. Deepika PadukoneDeepika Padukone has never had a less-than-perfect-10 figure and according to Yasmin Karichwala, she even has the perfect pilates body. Her workout plan includes different exercise balls like Kettlebell Swings and Kettlebell Press to get sculpted shoulders and slender arms. Deepika seriously makes it look effortless, giving us major #FitnessGoals.

3. Jacqueline Fernandez
The Roy actress loves to workout and is all about the
healthy lifestyle
. Think: wheatgress shots and headstands galore. This fitness freak does pilates three to four times a week at The Pilates Studio in Mumbai with instructor Namrata Purohit, and looks gorgeous while she's at it.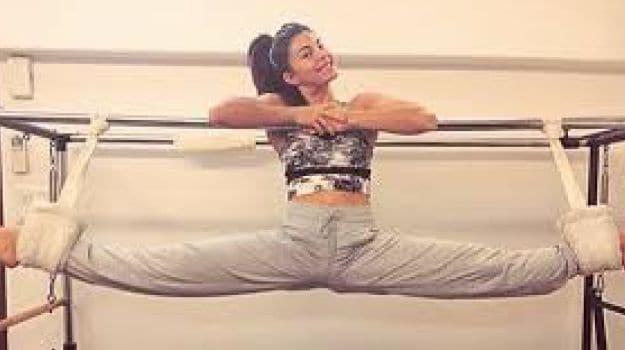 4. Varun Dhawan
No, seriously. Here's a snap of Bollywood's heartthrob Varun Dhawan doing part of the Vinyasa
Yoga Routine
on the Pilates Reformer, super focused and dedicated. Just like trainer Namrata Purohit puts it, "Real men do pilates".
5. Malaika Arora Khan
This mummy can put any young actress to shame, all thanks to her regular pilates workout. She loves challenging her stability and working out at The Pilates Studio focusing on her biceps, gluteus, quadriceps and core. "Pilates Girl", no doubt!
6. Sonam Kapoor
Sonam Kapur shed her
excess weight
while working with fitness trainer Radhika Karle. She strengthened her core with hours and hours of Pilates. Here's a video of the Khubsoorat actress doing a Semi Circle on the Pilates Reformer to open up and stretch the entire back of the body.
7. Katrina Kaif
This Sheela ki Jawani has made us fall for her curvaceous body more than once. She doesn't like working out much but her trainer Yasmin made her fall in love with pilates. Katrina likes to look the part of whichever character she's playing in her upcoming movie, and works with Yasmin to achieve that. The secret to her gorgeous figure? A combination of pilates and
functional training
.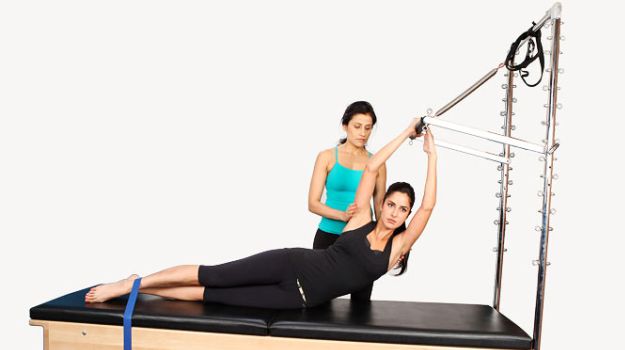 8. Kriti Sannon
Kriti started doing pilates in January 2016, and hasn't been able to stop since. Though she trains with Yasmin in Mumbai, the actress finds herself looking for a pilates trainer wherever she travels - including Budapest where she recently shot Raabta.