Let's admit it! Our earliest and some of the fondest childhood memories of any Poojas and festive occasions had to do more with the delicious halwaand prasad distributed after the Pooja than with the Pooja rituals itself. A bite into the soft and melt-in mouth halwa, bursting with sweet flavours and crunchy nuts, was enough to instantly lift our mood and make us smile. But did you know that the favorite festive delight- halwa is actually of Arab and Turkish origins? The Turkish confection of ground sesame seeds and honey is believed to have travelled towards the eastern countries and became the hit dessert (with its many variations) that it is today. In his book 'A Historical Dictionary of Indian Food' , Food Historian K.T Acharya describes halwa as "a pasty or softly firm dessert made from a range of materials; wheat flour wheat grits, wheat strainings, banana gram flour, fruits like banana and date, vegetables like the carrot and white pumpkin and nuts like the almond."
From the famous Gajar ka Halwa to the festive Sooji ka Halwa, you may have tried several varieties of halwas, but there is still a lot more that is left to be discovered. Here are seven interesting types of halwas that you may have not tried yet.
1.Mirchi Ka Halwa Yes, you read right. What might seem to be the biggest culinary paradox is a reality. Mirchi ka halwa is especially popular in arid and tropical regions the state of Rajasthan . The marvel of Indian cuisine lies in its ingenious use of locally available spices, herbs, vegetables and fruits and transform them into delicious sweet treats. Mirchi ka halwa is a unique and interesting preparation of boiled green chilli paste cooked with khoya and semolina.

2.Haldi Ka HalwaAnother marvel from North India, Haldi ka Halwa is a treat most commonly relished during the winter season as it keep you warm from within and also boosts your immunity. Made with the goodness of raw turmeric (Kacchi haldi ki gaanth), ghee (Clarified Butter) and gur (jaggery), it is the perfect treat that is also good for your health.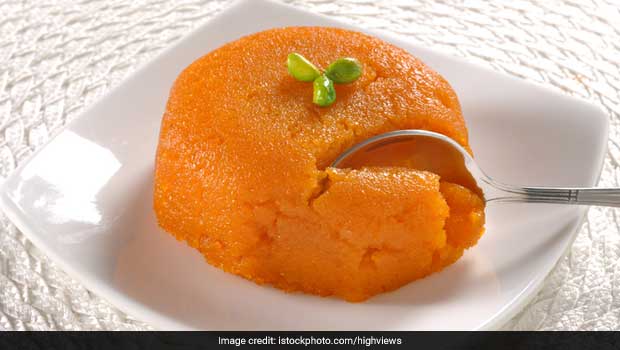 3.Aloo Ka Halwa
It may have been the Portuguese who introduced India to the potatoes, but no one can offer the variety of dishes that we can create with this humble spud. You've probably enjoyed it with
puris
but now try making a dessert with it.
Aloo ka halwa
is a delicious dessert popular in Uttar Pradesh and is usually enjoyed during the festival of Navratri.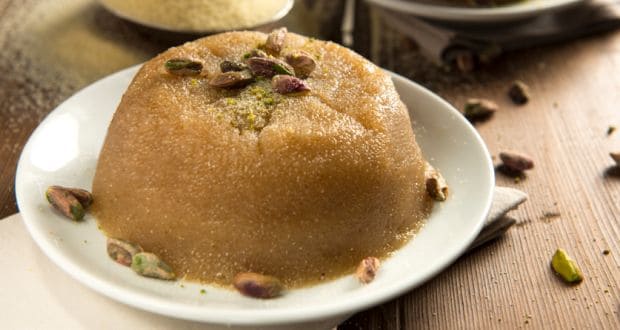 4.Ande Ka HalwaThe versatility of eggs makes it one of our first go-to choices when we are out of ideas. But who would have thought that you can turn them into an Indian dessert? If you're in the mood for something innovative, try this melt-in-mouth halwa with eggs, cottage cheese, lemon curd, saffron and nuts.

5. Kacche Kele Ka HalwaPrepared with raw banana pulp, kache kele ka halwa is a delectable sweet dish you want to miss. Wholesome, delicious and utterly delightful.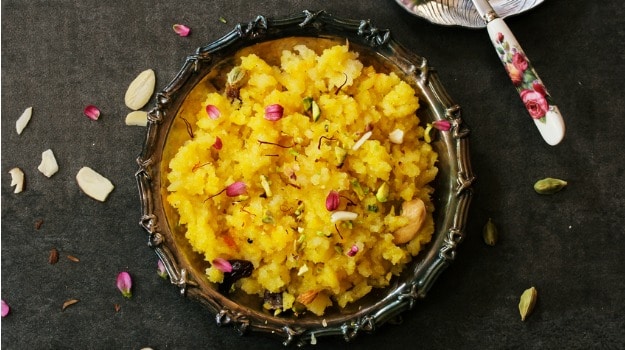 6. Papite ka HalwaBy now, it has probably been established that you hand anything to us and we can use it to make a delicious halwa. With tender papaya mixed in with elaichi, ghee and walnuts, you can make this interesting fruity halwa when you are bored of the usual.

7.Pineapple HalwaEver tried a pineapple halwa? If not, you must. The tasty halwa is made by adding flavourful saffron to a cooked mixture of cottage and sweet pineapple chunks.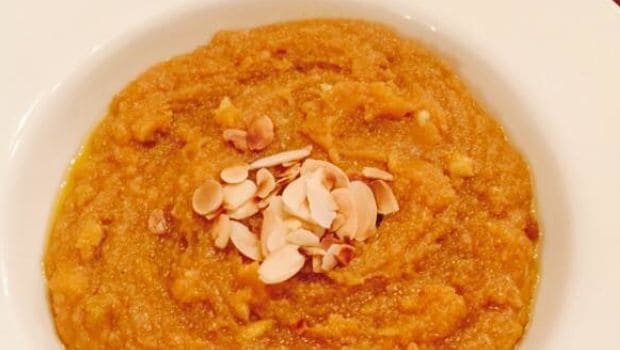 Have you tried any other interesting varieties of halwas? Do let us know.