Navratri is slated to begin from 17th October till 25th October. The nine days of the Hindu calendar are dedicated to the nine incarnations of Goddess Durga. The period of Navratri kickstarts the celebrations of other important Hindu festivals such as Dussehra and Diwali. And what's festive season without some sweet treats? Since many people are fasting during this time and cannot eat pulses or grains, we have some vrat-friendly halwa recipes made with sattvik ingredients.
Here Are 5 Vrat-Special Halwa Recipes To Try This Navratri:
1. Singhare Atte Ka Halwa


Singhare ka atta or water chestnut flour is a quintessential ingredient used during the fasting period. How about making a satisfying dessert with it? Click here for the full recipe.
2. Lauki Ka Halwa


Who knew the humble lauki would undergo such a divine transformation? This Lauki ka Halwa will satiate your sweet tooth with its unbelievable taste. Click here for the full recipe.


(Also Read: Navratri 2020 Special: 6 Unique Vrat Recipes to Make Fasting Fun)
Navratri Recipe: Make this Lauki halwa for a sweet treat.
3. Badam Ka Halwa


A winter classic, Badam ka Halwa is one of the most comforting preparations. All you need for this recipe is three simple ingredients! Click here for the full recipe.


4. Pumpkin and Apple Halwa


This exotic dish brings together the goodness of pumpkin and the fruity taste of apples. The Pumpkin Apple halwa will surely become a Navratri favourite. Click here for the recipe.


(Also Read: Navratri 2020: 5 Delicious Aloo Snacks You Can Have During Your Navratri Vrat)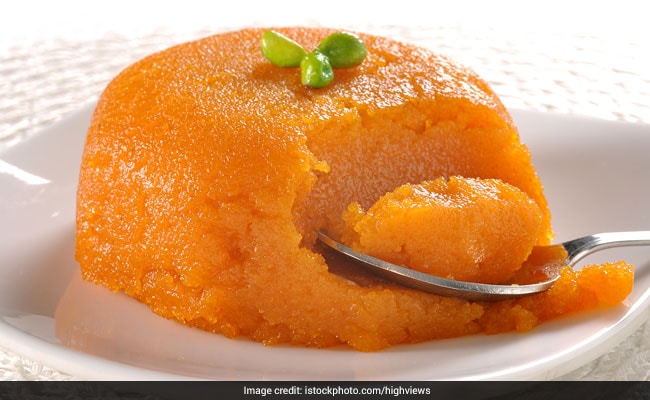 Navratri Recipe: Enjoy the goodness of pumpkin and apple too.
5. Kuttu Ka Halwa


Kuttu ka Atta or buckwheat flour is a great alternative to wheat during Navratri fasts. So simply substitute it in your regular atta halwa recipe and enjoy the satisfying preparation till the very last bite. Click here for atta ka halwa recipe.
Happy Navratri 2020!
About Aditi AhujaAditi loves talking to and meeting like-minded foodies (especially the kind who like veg momos). Plus points if you get her bad jokes and sitcom references, or if you recommend a new place to eat at.