Ganesh Chaturthi: Modak Goes Modern
Mid-Day , Mumbai | Updated: September 17, 2015 17:12 IST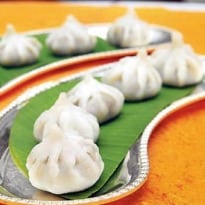 This Ganesh Chaturthi we ask chefs, bloggers and expert home cooks to give traditional recipes their own signature twists. Prawns are finding their way into patoli and modaks are getting cheesy!

Vinayak Chaturthi is just around the corner and at this time of the year most Maharashtrian kitchens are filled with wafts of melting jaggery, coconut, cardamom, sabudana, peanuts and chillies. After all, there is no better way to welcome Ganesha, known to be a lover of good food and therefore, always seen with a modak in his left hand.

According to Deepa Awchat, popular food writer and head chef and CEO of Diva Maharashtracha, it is inevitable that people will experiment with traditional dishes. "People are exposed to various kinds of cuisines and tastes, they appreciate innovative dishes and surprises and they've become health conscious," she says.

For example, people want to avoid eating refined flour (maida) so I use a recipe that involves three parts wheat flour and one part refined flour to make modaks." However, for Awchat, experimentation doesn't stop there. Her restaurant in Matunga offers modaks filled with creamy mushrooms, green peas and cashews, mixed vegetables and even kheema and prawns. She also has her own version of the traditional kheer made with sago (sabudana) and sweet potato.

Rajdeep Kapoor, executive chef of ITC Maratha, says that the fare made for festivals is very traditional and one needs to be very careful while tweaking it to make sure one does not hurt religious sentiments. "When one thinks of Ganesh Chaturthi and food, the first thing that comes to mind is modak. Modaks are traditionally stuffed with jaggery and coconut but one can do savoury versions with cottage cheese and another sweet version with khoya and nuts. The same filling can be used for making Poli (which normally has a filling of puran -- chana dal and jaggery), which is traditionally eaten on the Gauri-Ganpati puja day," says Kapoor.

Cottage Cheese Modaks
Executive chef, ITC Maratha, Rajdeep Kapoor
Steamed modak stuffed with cottage cheese
Pic/Sameer Sayed Abedi

Ingredients:
1 cup chopped paneer
1 chopped onion
1 chopped tomato
2 chopped chillies
Few sprigs of coriander, chopped
1/2 tsp cumin seeds
Pinch of red chilli powder
Pinch of red turmeric powder
Pinch of garam masala
1 Tbsp oil
1 cup rice flour
Salt to taste
2 cups water

Method:
Heat the water and salt together. Mix the rice flour to make a firm and smooth dough.
For the filling mixture, heat the oil, crackle the cumin seeds.
Lightly sweat the onion and chilles together, add tomato and cook for two minutes on a low flame.
Add all the powdered masalas, paneer and chopped corriander to make an even mixture.
Cool the mixture.
For the modak, make evenly shaped rice flour balls and roll them in three-inch diametre circles.
Place 1 Tbsp mixture in the centre and start closing from six sides to form a tip on the top and make the modak shape.
You can also use readymade moulds available in the market
Steam the modaks for 10 minutes and serve hot.



Baklava Modak
Deepti Manoj Thete
Steamed rice flour modak stuffed with Baklava filling mixture of nuts, sugar, cinnamon and orange zest

Ingredients:
1 cup water
1 cup rice flour (heaped)
1/4 tsp salt
1 tsp ghee
1/4 cup each of almonds, cashews, walnuts and pistachios
5 tbsp sugar
1/2 tsp ground cinnamon
1 tsp vanilla essence
1/4 tsp salt
Zest of 1 orange
1/2 cup water
1/4 cup sugar
2 tbsp Honey

Method:
Preheat the oven to 350F (180 C).
Spread the nuts on a cooking sheet and bake for seven minutes till fragrant and slightly toasted.
For the Baklava, after cooling, coarsely grind the nuts, sugar, orange zest, cinnamon powder, vanilla and salt in a blender.
For the syrup, in a small saucepan over medium heat add the water, 1/4 cup sugar and honey and bring to a boil.
Reduce heat to a simmer and cook until the mixture reduces and slightly thickens in about 10 minutes.
For the modak covering, bring 1 cup water to a boil. Add 1 tsp ghee and salt; add the rice flour and mix. Turn off the heat immediately.
Cover the pan and let it stand for 10-15 minutes.
Apply oil to your hands and knead the mixture into a smooth dough. Cover the dough with a moist cloth.
Keep a large vessel ready with some water to steam the modak and line a sieve/ strainer/ shallow vessel with a thin cloth
Make small round balls with the dough. Press each ball with your fingers to make flat rounds like puris. The flat rounds should be thin and without any cracks.
Place 2 tsp Baklava filling in the centre of the flat rounds.
Add a tsp of sugar-honey syrup. Mould the dough into modak shape.
Place these modak into the cloth-lined vessel and steam without any pressure for 15-20 minutes.
Garnish with orange zest and serve with Ghee.



Sago and Sweet Potato Kheer
Food writer and head chef and CEO of Diva Maharashtrachya, Deepa Awchat

Ingredients:
500 g sweet potatoes 2 tbsp sago
1 Tbsp g
1 liter milk
1 and 1/4 cup sugar
1/2 teaspoon cardamom powder
2 Tbsp raisins
20 cashew nuts

Method:
Boil, peel and cut the sweet potatoes into small half-inch thick pieces. Wash and soak sago in one cup of water for 45 minutes.
Heat the ghee in a pan, add the boiled potatoes and sauté for two minutes and set aside.
Boil the milk in a pan till reduced to ¾ its original quantity. Add the soaked sago and cook for about five minutes till transparent.
Add the sugar, sweet potatoes, cardamom powder, raisins and cashew nuts and cook, stirring, for two minutes. Serve hot.


Spicy Patoli
Trupti Gokarn
Rice paste is replaced with urad dal paste and jaggery and coconut are replaced with shrimps, onions, tomatoes and spices.

Ingredients:
1 cup soaked urad dal
1 cup cleaned and deveined shrimps
2 onions, finely chopped
1/2 Tbsp turmeric
1 Tbsp red chilli powder
1 tbsp garam masala
2 tomatoes, finely chopped
2 Tbsp oil
2 leaves of the
Turmeric plant

Method:
Finely grind the urad dal with very little water.
Clean the turmeric leaves and brush them with a little oil.
Heat the oil in a pan, add the chopped onions and cook them till they soften and change color. Add the tomatoes, turmeric and chilli powder.
Fry this mixture till the oil leaves the sides then add the shrimps. Keep the flame on low till the shrimp is properly cooked.
Add the garam masala and mix thoroughly. Let the mixture cool.
Take a turmeric leaf and place a dollop of the urad dal batter in the center and spread it just a little.
Place a little shrimp mixture in the centre of the batter on the leaf. Cover the shrimp mixture with another thin layer of batter.
Fold the leaf like an envelope with the tip on the top.
Steam the turmeric leaf packages for 20 minutes.
Serve with chilli sauce or ketchup.



Traditional Trail

Prakash
Order: Deep-fried Sabudana Vadas. These home-made vadas are served with a spicy peanut chutney
At: Shiv Sena Bhavan, Next to Kithe Hall, Gokhale Road, Shivaji Park, Dadar (West)
Call: 24304921

Vinay Health Home
Order: The missal and the best Kothimbir Vadi in town. Moderation is the mantra of this 62 year-old establishment. If you prefer less spice in your food, go for Puneri Missal, or Dahi Missal
At: Jawahar Mansion, Fanaswadi Corner, CP Tank, Girgaum
Call: 22081211

B Tambe
Order: Puran Poli and ukadiche modak, steamed modak stuffed with a filling of coconut and jaggery. The light chana dal expertly mixed with warm jaggery and stuffed in dough made of flour, milk and ghee is served warm with a helping of ghee
At: 277, Mapla House, JSS Road, Thakurdwar, Girgaum
Call: 23864223

Aaswad
Order: Pithla (spiced gram flour and buttermilk) with bhakri (roasted flatbread made from millet flour) and khaarda (garlic and chilli chutney)
At: 252, Wavda Building, Gadkari Chowk, L J Road, Dadar (West)
Call: 2445 1876

Madhavashram
Order: Batata Vada dunked in a spicy Usal laced with coconut. Follow it up with Solkadi, but make sure you are at the 103 year-old eatery by noon.
At: 18 Parekh Street, Prarthana Samaj, Girgaum
Call: 2382 2764

Kolhapuri Chiwda
Order: Thalipeeth apart from a wide range of chivdas
At: 237 JSS Road, Mangal Wadi, Girgaum
Call: 23893912