Aglaia Kremezi has no problem making phyllo dough at home in Greece whenever she makes anything pie-like. And she makes a lot of pies.But these are pies in the Mediterranean sense: something thin and crisp, with a smear of savory feta cheese and herbs, rather like a tender pizza with the filling on the inside.Kremezi, an eminent cooking instructor and a friend of mine, calls them skillet pies and recommends cooking them on a stovetop ridged pan, griddle or cast-iron pan. They can even be grilled on a grate over medium-hot coals. This Greek approach gives new meaning to the term "grilled pizza."These simple pies are featured in "Mediterranean Vegetarian Feasts," Kremezi's newest cookbook, which includes dishes from southern France, North Africa and the Middle East, though all seem to have a bit of an inventive Greek cook's spin.So while the book refers to these skillet pies as Turkish, the filling's traditional combination of feta, greens, herbs and olive oil is, to me, more essentially Greek. But why quibble? These pies are easy to make and delicious, whatever they are called.You can use ordinary spinach for the filling, along with parsley and dill, or any number of other types of cooking green. I used a combination of amaranth, fava greens, lambs' quarters and nettles, reminiscent of the Greek mixture of wild greens called horta.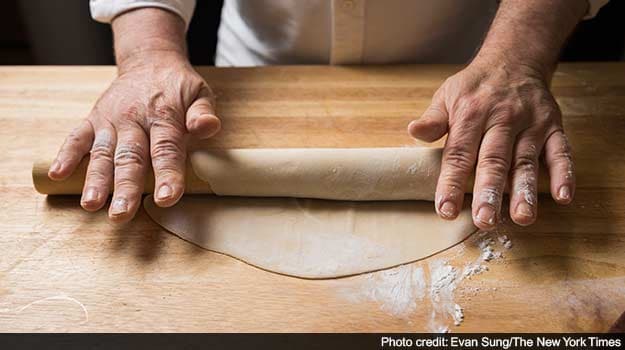 There is but one caveat: You must make your own phyllo dough. Don't let it be a stumbling block; if you don't want to roll it by hand, you can use a pasta machine.But it's actually fun to accept the challenge of transforming a small blob of dough into a 16-inch-diameter circle. Kremezi employs a long thin dowel (and a lifetime of experience) to roll her phyllo. I used a small Indian rolling pin and a standard baker's pin. The trick is to stretch the dough, then give it a few seconds to rest before stretching it again.The goal, as with the similar dough used for making strudel, is a sheet of pastry so thin you can read a newspaper through it.When you are rolling the dough, be warned: It will seem impossible to ever achieve the requisite thinness. Persevere, though, because it really does work. With a little practice, anyone can do it.Recipe:Greek Cheese Pies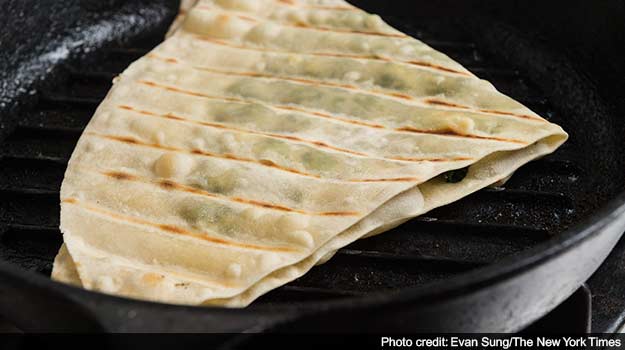 Adapted from "Mediterranean Vegetarian Feasts" by Aglaia Kremezi (Stewart, Tabori & Chang, 2014)Time: 1 hour
Yield: 6 to 8 servingsFOR THE PHYLLO DOUGH:3 cups all-purpose flour
1 teaspoon kosher salt
1/4 cup olive oil
1 1/2 tablespoons wine vinegar
Cornstarch or rice flour, for dustingFOR THE FILLING:8 ounces spinach or mustard greens, or a combination of cooking greens
1/2 cup finely chopped fresh dill
1 teaspoon dried Greek oregano
Salt and pepper
Maras pepper or crushed red pepper
1 cup crumbled feta cheese
Olive oil, for brushing1. Make the phyllo dough: combine flour and salt in the work bowl of a stand mixer fitted with dough hook. Add olive oil, vinegar and 1/2 cup cold water. Mix at medium speed for about 5 minutes to obtain a smooth soft dough. If the dough seems dry add up to 3 tablespoons more water. Cover dough and let rest for 15 minutes.2. Meanwhile, make the filling: Blanch greens in salted boiling water for 30 seconds. Drain, rinse with cool water, squeeze dry and chop fine. In a small bowl put chopped greens, oregano, black pepper to taste, a pinch of crushed chili and feta. Mix with a fork to combine.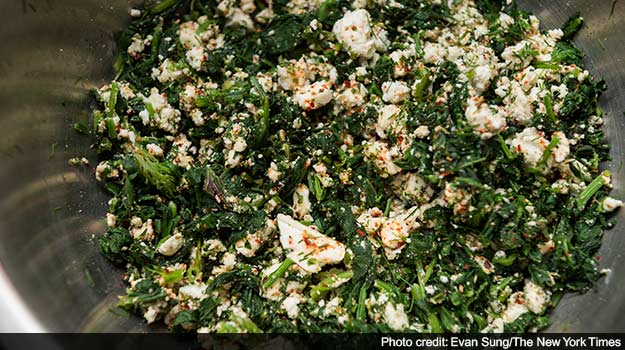 3. Give dough a quick knead and divide into 6 pieces. Dusting with cornstarch or rice flour, roll each piece of dough as thinly as possible, to a diameter of 16 inches. Alternatively, roll dough to the thinnest possible setting of a pasta machine. Cut each circle in half and dust pieces with cornstarch or rice flour and stack off to the side.4. Assemble the pies: Put a ridged stovetop grill or cast iron skillet over medium high heat. For each pie, lay one sheet phyllo on work surface and brush with olive oil. Cover half the sheet lightly with filling, using about 2 tablespoons mixture per pie. Fold over the other side and press down to seal pie. It will be a rough, very flat triangle shape.5. Brush both exterior sides with olive oil, carefully lay pie on the grill and cook for 3 to 4 minutes, until golden and crisp (reduce heat as necessary). Flip pie and cook the other side for 3 to 4 minutes, until golden and crisp. Remove and serve warm, cut into smaller pieces if desired. Continue to make pies with remaining ingredients.Note: You may employ more than one pan, or use a large griddle. Alternatively, cook pies on a rack over coals. If desired, pies may be baked at 375 degrees for about 15 minutes instead.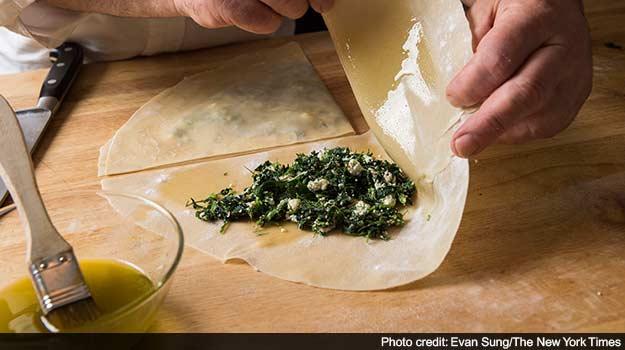 Sidebar:PICKING THE WINEAdd together the brisk bitterness of the greens, the sharp bite of the feta and the flaky texture of the phyllo dough, and the sum demands a dry, lively white or rosé.
Greece is a good place to start: Assyrtikos from Santorini and moschofileros from the Peloponnese are natural partners. So are island whites from Sicily, Corsica and Sardinia, or whites and rosés from the Provençal appellation of Cassis. You wouldn't go wrong with Sancerre or other dry sauvignon blancs from around the world, as long as they're made in a leaner style. Nor would a straight-ahead Chablis be out of place. Same goes for tangy rosés from all over.
If you insist on a red, perhaps a light, vibrant frappato from Sicily will work. And as is so often the case, fino sherry will do wonders.- ERIC ASIMOV© 2015 New York Times News Service