Get Your Foodie Fix at The Grub Fest, Delhi This Weekend
NDTV Food | Updated: March 17, 2016 23:07 IST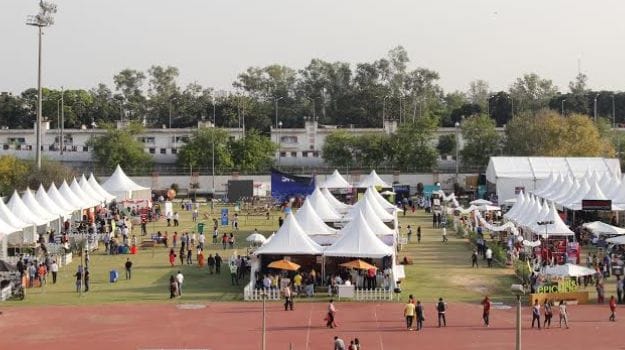 Photo Credit: Facebook/The Grub Fest

After all these years, it seems like the concept of the great Indian mela is back but with a contemporary twist. Food festivals are the new ways to spend a day filled with fun. For those who thought it is a fleeting fad, the trend is here to stay. Let's admit it, we're hungry for new options, yet always busy to try them (read: lazy) and so to have it all under one roof is definitely an attraction.

2015 was the year of many festivals that brought passionate foodies together. Before touching the hearts, palates and plates of food lovers in other cities, The Grub Fest, a brainchild of young entrepreneurs - Aman Kumar, Arjun Jain, Chaitanya Mathur & Mani Singh Cheema, is all set to head back to its base camp – JLN Stadium in Delhi, where it was unveiled for the first time. Last year, foodies got to witness two successful editions of the festival in April and October, at the Jawaharlal Nehru Stadium in New Delhi and the Ambience Lawns in Gurgaon. This time, they promise that the show will be bigger, tastier and even more entertaining. Here's all that you can look forward to at The Grub Fest Delhi -

What to Eat - You'll be spoilt for choice. Some of the best restaurants in Delhi and NCR like Social, ATM-PCO, Indigo Deli, Kylin, Depot 29, Holy Smoke, Big Fat Sandwich, Dao, Big Wong, Asian Haus, and Eggjactly will offer their signature delicacies. Hit the Bar - There's always something unique that the Grub Fest offers. Last year, it was the Grub Stories, Asia's first high end multi storey traveling restaurant. This time, you can enjoy your drink at 'SANASUNU', first of its kind Ship Bar will be curated by Imperfecto and Informal at the festival. Photo Credit: Facebook/The Grub Fest

For a Cause: The Grub Fest has tied up with the Breast Cancer Patients Benefit Foundation (BCPBF). They will have a fund raising kiosk at the festival, wherein they will also curate a few dishes of their own. The Grub Fest will also be contributing a percentage of their revenue from ticket sales to BCPBF.

Entertainment and More: The Grub Arena will have live performances by artists like Nucleya - the Electronic king, Barmer Boys - seasoned performers, who carry forward the centuries-old musical tradition of the Manganiyars and are leading examples of Rajasthani folk and Sufi music, and other renowned names. 'Living Foodz' is curating the Grub Theatre, wherein renowned chefs like Ranveer Brar, Maria Goretti, Ajay Chopra, Vicky Ratnani, Rakhee Vaswani, Vaibhav Mahajan would be showcasing much awaited culinary sessions, share secret recipes and conduct cook-offs for all. Day well spent!

Grub Market: For the health conscious, there's a range of fresh farm produces and organic, pro-environmental preparations in beautiful bazaar set ups, The Grub Market will exhibit fresh and organically produced vegetables to salads home-made jams, namkeen, wine ice-creams, waffles, cupcakes, honey, aam papad, gluten free cakes and biscuits, and much more.


Psst...Here's a piece of news you wouldn't want to miss!

NDTV Food has something new for you. We love that our tables are piled high with organic groceries, low calorie snacks and natural beauty products. We're selecting, tasting and hoping you'll love them too. Coming soon, our online superstore will change the way you shop. If you love cooking, this could be your chance to get featured here. Watch out for us at The Grub Fest to know more about our new venture and grab an opportunity to be the next big chef. We'll all be there!

When: JLN Stadium
Where: 18th, 19th and 20th March, 2016
Entry Ticket: Rs. 250
Timings: 12pm till 10pm