Vicky Ratnani
is not only a household name, but a face that almost every urban Indian recognises. His show '
Vicky Goes Veg
' was one of the most iconic shows in the culinary space. What is interesting, is that he is just as affable in person, as he is on screen. With absolutely no airs around him, he is warm and genuine. Punctuality as a trait is slowly becoming extinct in India but I was absolutely delighted that our 9:30am meeting began exactly at 9:30am, even though Chef Ratnani had 10 things to do and hadn't even managed to grab breakfast yet. Professional to the hilt, a conversation with him reveals that his work is something he takes very seriously.
Here's a glimpse into the person behind the persona of Chef Vicky Ratnani:
1) At what age did you start cooking?
I always was a champ at making tea, I started with that. Perhaps when I was 9 years old. But I wasn't really into cooking as such, I was more into eating. My mom was a fantastic cook, which is where my interest stemmed from. My mom came from a completely vegetarian Sindhi community and my father loves non-vegetarian food. The food in my house was both vegetarian and non-vegetarian as mom had to learn how to cook the latter.

2) How did hotel management happen to you?
I had a commerce background so the obvious progression was to get into marketing or something similar. But I did not want to join my father's textile business. My best friend's mother was the General Manager of Holiday Hotel in Mumbai and we used to go there a lot. I loved the concept of taking care of people and from there stemmed my desire to join the hospitality industry. I got into IHM Mumbai but it was only in the second year that I discovered my love for cooking and I haven't looked back since.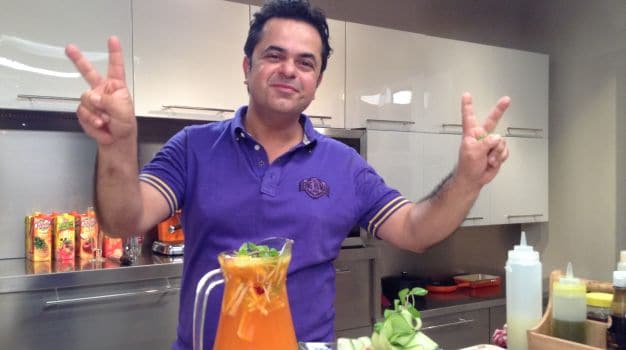 3) What was the first dish you wowed people with?
The first time someone ate my food and said wow was in college when I made an outstanding Meat Lasagna. When chef tasted that, he asked me why don't you pursue cooking, you're fabulous at it.

4) Who's the primary chef in your family?
My wife (though she doesn't cook much) and my cook at home though I do whip up meals on weekends. My wife has started eating healthy food like minimal grilled fish on a bed of roasted vegetables or a stir fry so that's what we make at home these days. My daughter loves pastas and smoothies.

5) What gives you greater contentment - running restaurants and cooking behind the scenes or hosting shows and cooking in front of the camera?
My most memorable show was my first one, Do it Sweet, with Maria Goretti. A show which is very close to my heart is Vicky Goes Veg, it was a life changing experience for me because for a chef to do a show which is only vegetarian is very challenging. But the part of my professional life that gave me an immense sense of satisfaction was being the Executive Chef on Queen Mary 2 (the largest ocean liner in the world), the epitome of luxury cruises. I was with the fleet for 16 years and made some incredible global fare. The best part of my profession is that there is so much happening that it's impossible to get bored. There's an array of things you can do in this field. I came back to India 9 years back and it's been a roller coaster ride since. India's food scene is super exciting now and there is so much happening here.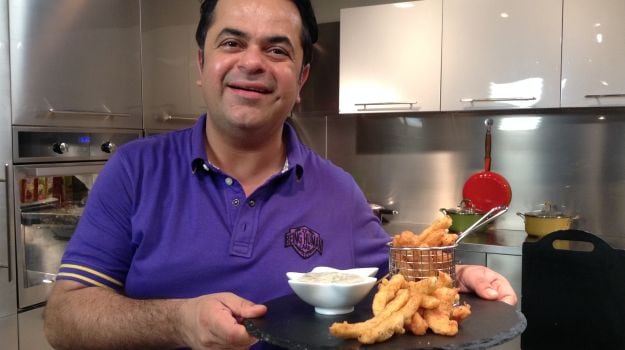 6) Who's your 'Food God' globally?
There are so many great chefs whom people don't know about only because of lack of marketing. Some Japanese chefs take their art very seriously. For example, just see the movie 'Juno dreams of Sushi'. The man blows your mind away. I like Charlie Trotter, Thomas Keller, Morimoto, Dan Barber, René Redzepi whom I'm doing a show with next month in Australia... I have quite a few people I really look up to.

7) The worst dish you have ever tasted?
The first time I cooked rice. It was horrible! Burnt at the bottom and absolutely uncooked on top.

8) Your favourite restaurants in India besides your own?
Wasabi for sure. I love the food in Lucknow and Amritsar, especially on the streets. You get some fantastic fare there. And I love food in Kerala, or even South India in general. There is so much variety in flavours, from Coorgi cuisine to Chettinad, Andhra, Malabari, Moplas and the food of the Syrian Catholics. South India by itself is a continent of food.

9) What's your comfort food?
Sindhi kadhi- chawal, Rajma Chawal and biryani.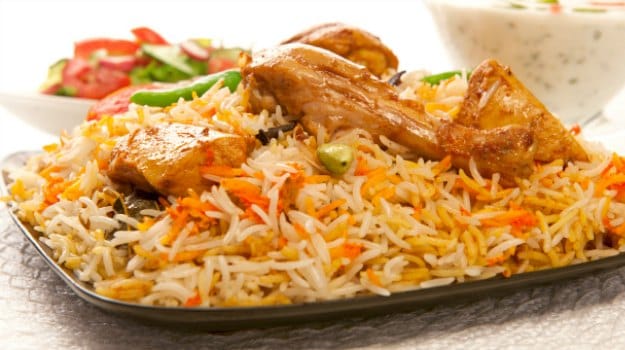 10) Vicky Ratnani the persona or Vicky Ratnani the person, how are they both different?
They aren't. I am exactly the same person at home or with my friends as I am on camera. I am jovial, sociable and love a good laugh. But I also have a side which is very serious, especially when it comes to my work and my food. I never have a script, even while I'm cooking on a show. I talk to the camera as I'm talking to you right now, there is no difference. It's just who I am.

11) Delhi or Mumbai
(Answers instinctively) Mumbai. I'm from Mumbai, Mumbai meri jaan. And that's where my heart lies. I love the food in Delhi but Bombay also has its own underbelly.

12) The one food trend you wish would go away
(After deep thought) Molecular Gastronomy. I think it's done to death. It's around 6 years old and people need to stop with the drama around food. People have forgotten 'real' and good food, minus the frills. They need to focus more on the produce and the incredible variety of ingredients you get in India and make them the hero of the dish.