There are many vegetables that don't enjoy a very good reputation; no prizes for guessing – these are the likes of lauki, tori and kaddu. No matter how hard you try, you cannot get yourself to eat kaddu or sitaphal or pumpkin if you almost loathe it. The irony of the situation is that this vegetable is also immensely nutritious and is recommended to be included in your regular diet. Pumpkin is highly regarded for its antioxidant properties. It is a great source of vitamin A and beta-carotenes. These qualities make pumpkin an impactful immunity-boosting food, which also protects the body from harmful infections and diseases. It is a low-calorie food that is rich in fibre, making it a must-have food for weight loss.


Pumpkin is one food that levels up the healthfulness of your meal and benefits you in ways more than one. But, if you just can't enjoy it in its savoury form, why not make a dessert with it? If you don't like pumpkin in your curries, that's probably because of the sweetness of this veggie. So, use this sweet vegetable and make desserts!
Pumpkin-Based Desserts –
Pumpkin Halwa
You favourite halwa just got better and healthier with the addition of pumpkin. Mashed pumpkin is used in place of roasted flour to make this decadent dessert. Cinnamon lends in its deep piquant flavour and a smattering of grated coconut, almonds and raisins revs up this halwa further.
(Also Read: 11 Most Cooked Pumpkin Recipes That You'll Love)
Pumpkin halwa
Pumpkin and Feta Muffins


Get over chocolate, vanilla and fruit muffins and give your palate a change with this sweet plus salty pumpkin muffin that will perfectly go with your evening cup of tea. It's not only pumpkin that makes this dish healthful, there is spinach, sunflower seeds, cilantro and whole-grain mustard to add up the healthy qualities of this muffin. Feta and parmesan cheese makes it cheesier and spongier.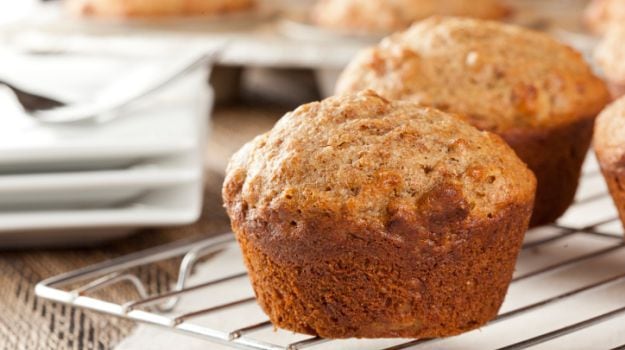 Pumpkin Oats Cake
This is the perfect dish for those looking to lose weight or want to have healthy, sugar-free dessert. Pumpkin and oats pack in a whole lot of nutrients like vitamin A, fibre and iron. The recipe uses semolina (suji) and wheat flour (atta) in place of refined flour (maida) and gets its sweetness from jaggery (gur) instead of refined sugar. Can it get any better?


(Also Read: Health Benefits And 5 Yummy Kaddu Recipes To Lose Weight Fast)
So, keep your aversion for pumpkin aside and make these delicious desserts with this healthy food to reap the various health benefits that it provides.
About Neha GroverLove for reading roused her writing instincts. Neha is guilty of having a deep-set fixation with anything caffeinated. When she is not pouring out her nest of thoughts onto the screen, you can see her reading while sipping on coffee.