No matter what the season, weather, climate or occasion is, a cup of chai along with some snacks can make us slurp at the very sight and make us want to indulge as soon as possible, right? Tea-time in India is perhaps the only time where we want to just sit, unwind, relax and eat our favourite munchies. Infact, this quick meal rejuvenates and refuels us to perform the remaining tasks of the day. So, what's better than enjoying this time with some healthy, high-protein snacks tossed in with yummy spices. We guess nothing! Here we bring you 5 snacks made up of oats, spices and cooked until perfection. The best part is all these snacks get ready in just a few minutes. Let's get started with the list.
Here's A List Of 5 Oats Snacks To Pair Up With Your Evening
Our Recommendations:
1. Oats Tikki
Let's start with our favourite one. This oats tikki recipe is full of nutrition, and you can even add your leftover veggies to it. Packed with delicious masalas, serve this Tikki with green chutney and enjoy. Find the complete recipe here.
2. Oats Cutlet
Our other favourite recipe is this oats cutlet! It is a healthy recipe made with roasted oats, cottage cheese, veggies followed by some tangy spices. This snack is a perfect combination of both health and taste. Find the recipe here.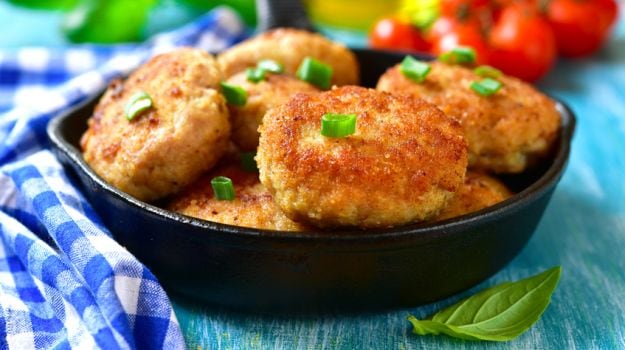 3. Oats Masala Vada
As the name suggests, this masala vada is made with oats and spices that give a zing in taste instantaneously. The best part about this recipe is that these vadas don't require any overnight preparation. They will be ready in just a few minutes. Try it out! Click here.
Other Recipes You Must Try:
4. Oats And Mushroom Cutlet
This non-oily, non-fried oats and mushroom cutlet is exactly what you want to enjoy your teatime and move towards your weight loss journey without any bump in the road. Wondering how to make it? Click here.
5. Protein-Rich Chana And Oats Pakoda
This pakoda requires very less oil as it is not deep-fried, unlike the regular pakoras. Just shape the mixture how you like and shallow fry it in a pan. Find the detailed recipe here.


Now you know what to do, try out these recipes and let us know how you liked them in the comment section below. Happy Snacking!