Luscious custards, decadent puddings or a creamy cheesecake, if you slurped at the mere mention of these sweet treats, welcome to the club! You have a sweet tooth that you just cannot resist and we can relate with it too. But if you are following a diet then bingeing on chocolate desserts might be a problem and you might have to give it away. As much as your favourite, tempting piece of cake, brimming with sweetness might be a delight to relish, it would be harder to steer clear of it. But what if you could satiate your sugar cravings with a delicious and healthier dessert?


With the increase in health problems and diseases, more and more people are moving away from refined sugar and opting for healthier and more nutritious options that can be easily prepared at home. Parfait is one such frozen dessert that is simply irresistible with its luscious creamy texture packed with fruits and yogurt. What if we tell you that you can make a parfait that won't make you feel guilty, and is also packed with proteins along with the goodness of nuts like pistachios?
Oats: The Wonder Ingredient
Oats and yogurt porridge parfait is a scrumptious dessert dish that is simple and quick to prepare with minimal ingredient and no refined sugar. With the presence of oats, this parfait recipe is high on proteins and fibre and helps in keeping you full for long besides promoting digestion. Oats also help in maintaining heart health since they are rich in soluble fibre that helps in lowering cholesterol.
(Also Read: Oats Porridge: Four Exciting Recipes to Spruce Up Your Breakfast)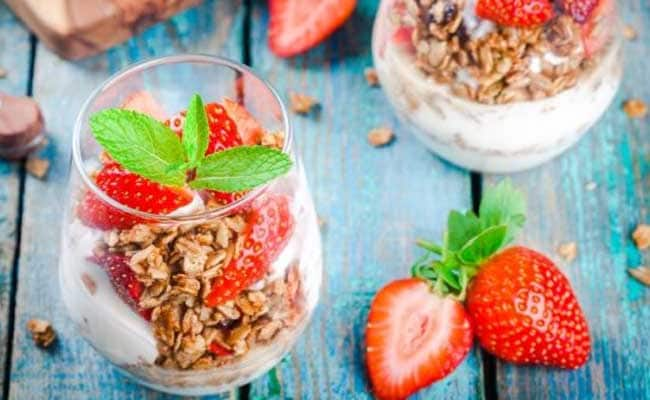 Oats and yogurt porridge parfait s just the perfect indulgence for your hunger pangs.
Besides everything, oats help in promoting weight loss due to the presence of soluble fibre in it that breaks down the food faster, leading to easy and smooth digestion. The extra calories lost in this process result in weight loss. This parfait is loaded with pomegranate that is replete with antioxidants and vitamin C and is known to have anti-inflammatory properties.


You can prepare a bowl of healthy and delicious parfait at home for a delightful dessert post any meal. All you need is some milk, oats, honey, pomegranate, yogurt and pistachios layered together and topped with nuts. From bananas, strawberries to almonds and walnuts, you can also experiment with the fruits and nuts of your choice. Find the recipe of oats and yogurt porridge parfait here.
About Aanchal MathurAanchal doesn't share food. A cake in her vicinity is sure to disappear in a record time of 10 seconds. Besides loading up on sugar, she loves bingeing on FRIENDS with a plate of momos. Most likely to find her soulmate on a food app.