Protein-Rich Diet: Dal is a quintessential part of every Indian kitchen pantry. It is made every other day in some form or the other and eaten with rice or chapatti. Besides being an intrinsic part of our meals, dal is quite a versatile ingredient as well. From dal pakoras to cheela for breakfast, halwas and soups, or the classic and comforting dal-chawal, there's so much you can do with this high-protein wonder ingredient. Take any dal of your choice and you'll find at least five different ways to cook it. We all know how lentils are a great source of protein. But do you know proteins are enriched with various other health benefits that include weight-loss-friendly fibres too?


(Also Read: High Protein Diet: 5 Protein And Fibre-Rich Dal Recipes You Can Try)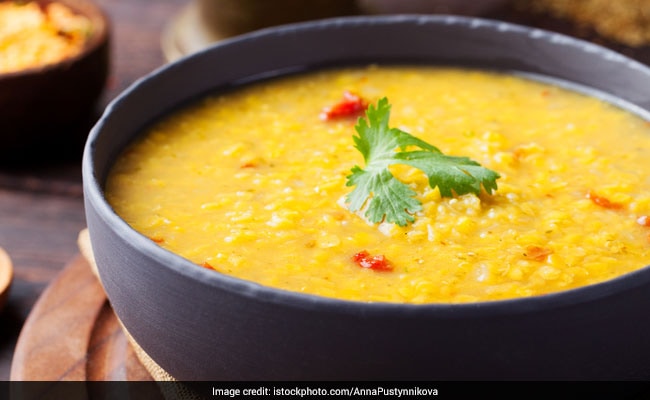 High-Protein Rich Dal Recipe: Dal is an indispensable part of an Indian household.
Health Benefits Of Lentils
Protein plays an important role in the growth and maintenance of our body muscles, boost digestion, helps satiate us for long, which in turn promotes weight loss and thus aids in healthy weight management. According to many experts, protein also plays a crucial role in regulating hunger hormone ghrelin that controls untimely cravings.
While there are many ways to cook dal at home, the best way to make the most of its benefits is through the classic dal-roti combination. And when it comes to cooking dal at home, panchratna dal, a mix of five amazing dals is truly a delicious option to go for. But before we go on and share with you an easy recipe of panchratna dal, let's look at the many benefits of lentils:


1. Urad dal, besides being high on protein is known to improve digestion and control cholesterol.


2. Chana dal or Bengal gram has anti-inflammatory qualities and is packed with folate, copper, fibre, iron, protein and zinc.


3. Green gram or moong is high on dietary fibre and is a rich source of, magnesium, manganese, folate, vitamin B and potassium.


4. One of the most common pulses, masoor dal is a good source of protein along with potassium, essential amino acids, iron, fibre and vitamin B1. It helps control the sugar levels and lower cholesterol.


5. Arhar or toor dal is a rich source of calcium, vitamin B, iron, folic acid and potassium.


Now that we know the many benefits of five most amazing lentils, let us take you through a delicious blend of these five lentils that make a yummy bowl of high-protein rich dal recipe of panchratna dal. It is a Rajasthani dish made with five lentils; urad, chana, moong, masoor and toor. We've got you an easy and quick panchratna dal recipe packed with soaked lentils cooked with spices like turmeric, cumin and coriander along with chillies, asafoetida, tomatoes and onions. A creamy, mouth-watering, high-protein dal that is perfect to serve with parathas or rice with a side of your favourite pickle!


Click here for the recipe, prepare it at home and let us know how you liked it in the comments section below.
About Aanchal MathurAanchal doesn't share food. A cake in her vicinity is sure to disappear in a record time of 10 seconds. Besides loading up on sugar, she loves bingeing on FRIENDS with a plate of momos. Most likely to find her soulmate on a food app.