How do you get it creamy yet fluffy, have you made the original River Café chocolate nemesis recipe, and which other gluten-free desserts are worth a go?
This week has been a learning curve for me. I'd naively assumed that a flourless chocolate cake was the kind of thing you might make when a coeliac friend was coming for tea, possibly involving some sort of ground nuts or cornflour.
But after looking at a few recipes, it dawned on me that I was barking up completely the wrong tree. Though such cakes certainly exist, the classic flourless variety doesn't just eschew wheat, but any sort of starchy meal, giving it a rich flavour and a dense, fudgy or creamy texture that puts it firmly in the dessert, rather than the teatime, category. (Though, of course, there's nothing to stop you inviting that coeliac friend for dinner.)
Flourless chocolate cakes don't tend to vary much in the ingredient department: there is chocolate, obviously, plus eggs, sugar and some sort of fat, usually butter but occasionally cream. The difference, as I discovered, comes in how they are combined and baked.
The chocolate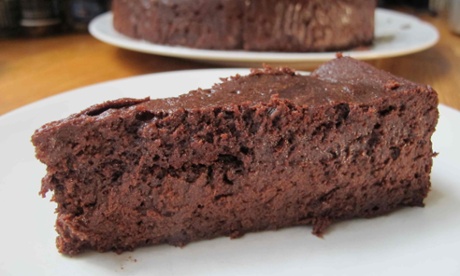 Most recipes use just melted chocolate, but ex-St John pastry chef Justin Gellatly's excellently named Bread, Cake, Doughnut, Pudding sifts in some cocoa powder as well. Having used a combination of the two with great success in my brownie and my teatime chocolate cake recipes, I know that cocoa comes in useful when you want a concentrated chocolate flavour without making the cake itself too sickly, and so it proves here. Though undeniably rich, Gellatly's cake manages to be intensely flavoured but less cloying than the infamous River Café chocolate nemesis (the easy version, obviously; I'm not in the market for the "kind of cowpat" reported by those unfortunates who trialled the original recipe).
Gellatly and the River Café both use a relatively small amount of chocolate and cocoa in proportion to the other ingredients, which proves wise: I find both David Lebovitz's Racines cake, from his book Ready for Dessert, and San Francisco's Zuni Café's signature gateau victoire a little too bitter for my taste, though those with more sophisticated palates may disagree. I do like Lebovitz's cocoa nibs, though - these crunchy shards of roasted cocoa bean add texture and a hit of bitterness to each mouthful. If you can't find them, however, they're not essential.
The sugar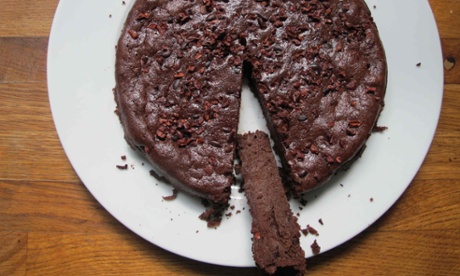 Everyone except Lebovitz uses caster sugar - he goes for granulated, but it doesn't seem to make much difference as far as I can tell. The River Café adds most of the sugar in the form of a syrup, for reasons I don't entirely understand, but which someone better at kitchen chemistry than me might be able to explain - syrups are often used to keep cakes soft and moist, but without flour, this seems less likely. None of the recipes I try have quite the right amount of sugar for my liking. Annie Bell's French and flourless, from her Baking Bible, is closest, while Lebovitz and Zuni are too bitter, and the River Café and Gellatly a smidgen too sweet. As well as striking a balance with quantity, I'm going to sub in a proportion of soft brown sugar too, for a hint of caramel flavour. I'm surprised that Lebovitz and Gellatly are the only bakers to make mention of a balancing pinch of salt, which is helpful for rounding out the flavour of most sweet dishes, but absolutely essential in a rich dish like this.
The eggs and fats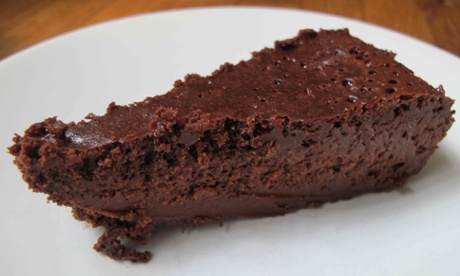 Eggs are usually separated and whisked up independently to give the cake a moussey consistency, which saves it from overwhelming heaviness. The River Café and Zuni use whole eggs instead, the latter with two extra yolks as well, which explains why their cakes have the smoothest, densest texture. Gellatly's cake contains a far higher proportion of eggs than any other recipe - 11 as opposed to only four in the Zuni version - which I suspect is why it is incredibly rich yet surprisingly light. Butter is the fat of choice here; only Zuni chooses whipped cream instead, diluting the chocolate flavour.
Extras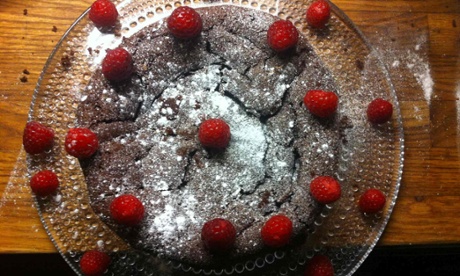 Lebovitz flavours his cake with vanilla essence and espresso, while Zuni uses just the coffee. Though I can't pick up much in the way of vanilla, I'm surprised by how much difference even a little coffee makes - though I'd be hard-pressed to identify it as a flavour, the bitterness works brilliantly with that of the chocolate, giving the whole thing greater depth.
Cooking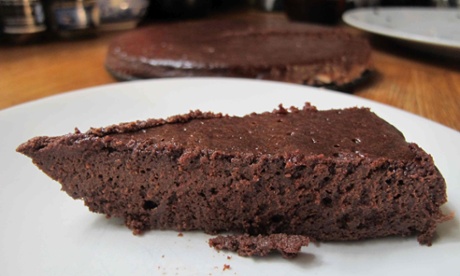 The River Café and Zuni both bake their versions in a water bath to moderate the temperature for a creamier result, but as this is still a cake rather than a mousse, I prefer it to have a little bit of fluffiness to it. Gellatly manages to achieve both textures in the same dish by baking two-thirds of his mixture for 30 minutes, cooling it for 20, adding the remainder and putting it back in the oven for another 20 minutes, so the bottom is drier and lighter and the top creamy and dense. It's a really nice idea, but a bit of a faff. Instead, I'm plumping for something in between the two - a rich, dense chocolate cake with just enough fluff to make it worthy of the name.
(Serves 8-10)
260g dark chocolate, broken into pieces
260g butter
1 tbsp strong coffee
8 eggs, separated
100g soft light brown sugar
160g golden caster sugar
85g cocoa powder
½ tsp salt
2 tbsp cocoa nibs (optional)
Grease a 23cm cake tin and line with greaseproof paper. Melt the chocolate and butter together in a heatproof bowl set over, but not touching, a pan of simmering water. Stir until smooth, then stir in the coffee and set aside to cool slightly. Heat the oven to 160C/320F/gas mark three.
Put the egg yolks and sugars in a food processor and whisk until doubled in volume. Turn the machine off and sift the cocoa powder on top of the egg mixture (don't just dump it in or you'll get lumps). Add the salt, then mix on a low speed until the cocoa is well combined.
Put the egg whites in another large bowl and whisk to the soft-peak stage.
Gently fold the melted chocolate mixture into the egg yolk mixture. Fold a third of the egg white into the mixture to loosen it before very carefully folding the rest in, until the mixture is no longer streaky but an even, rich brown. Sprinkle the cocoa nibs on top, if using.
Spoon into the tin and bake for 40-50 minutes until just set on top, then allow to cool in the tin on a wire rack. Serve with something tart, such as creme fraiche.
The flourless chocolate cake: best dessert ever or too much of a good thing? Which other gluten-free desserts are worth a go, and has anyone ever mastered the original River Café chocolate nemesis recipe?

Felicity Cloake's perfect flourless chocolate cake. Photograph: Felicity Cloake/Guardian