No eggs? No problem! Gram flour made from ground chickpeas provides a delicious, crispy alternative
My children love pancakes. Sweet or savoury, they will wolf them at an insatiable rate. The call for them one recent lunchtime was loud and clear, just as I had run out of eggs. That's where the gram flour came in - made from ground chickpeas and mixed with water, it makes a great batter to fry or bake into thin, crispy pancakes. And the chickpeas bring a crisp texture and a lovely earthy flavour to that batter.
My stock method of cooking the batter is in the Italian style of farinata or socca, and I experimented by spicing the batter a little. Dressed with olive oil, a squeeze of lemon, piled high with cooked vegetables (green beans or broccoli are a favourite) and a blizzard of grated hard cheese such as parmesan, these have the kids in raptures when they are served.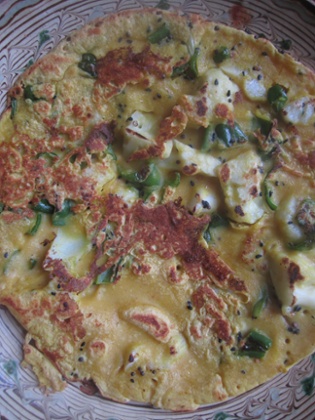 (Makes 6)
250g gram flour - sifted
450ml cold water
1 tsp salt and more to taste
½ cauliflower - broken into even-sized florets
1 bunch spring onion - trimmed and sliced
3 green chillies - deseeded and sliced - omit or replace with green peppers if you'd prefer
1 tsp turmeric
1 tsp garam masala
2 tsp onion seeds
2 tsp mustard seeds
3 tbsp vegetable oil
Lemon or lime to serve
Whisk the cold water into the flour and beat until smooth, then allow to rest for at least 30 minutes while you prepare the rest of the ingredients.
Bring a pan of water to the boil and blanch the cauliflower for 2 minutes, then drain and set aside. Once cool enough to handle chop into fingertip-sized pieces.
Add 1 tsp salt, the turmeric and garam marsala to the batter.
Heat ½ tbsp of oil in a non stick pan over a high heat and add a sixth of the cauliflower, green chillies, spring onion and the onion and mustard seeds. Give the pan a quick toss, then spread the ingredients out and pour over a sixth of the batter.
Allow to cook and colour for about two minutes, then gently flip over to cook the other side. You want the pancake to be golden brown. They can be quite fragile but, if they break, just reassemble once they have been turned over.
Serve as soon as possible, with wedges of lime or lemon and Indian pickles.
• Follow Claire Thomson on Twitter or get more recipes at 5o'clockapron.com.

Cauliflower, turmeric and gram flour pancakes. Photograph: Claire Thomson