Is London particular the ultimate winter soup, or do you have something even more warming up your woolly sleeve? And what else can you do with cheap and nutritious split peas?

This is comfort food of the old school - the very old school, in fact. Peas have been grown in this country since Anglo-Saxon times, and pease pottage was a staple of the medieval table. Both rich and poor were partial to a mess of pottage, whether made with white wine and spices for the rich, or, according to food historian Colin Spencer, peasant-style with salt and garlic or raw onion, "so thick it could be eaten with the fingers". Instructions for the appetising-sounding "old peas with bacon", included in a 1790 collection of Receipts in Ancient Cookery, sounds very similar to what we know today as London particular, a thick pea and ham soup named after the thick, greenish fogs that choked the capital until the 1950s. Not a terribly auspicious omen, perhaps, but trust me, this is one dish that won't choke you or your wallet.
Peas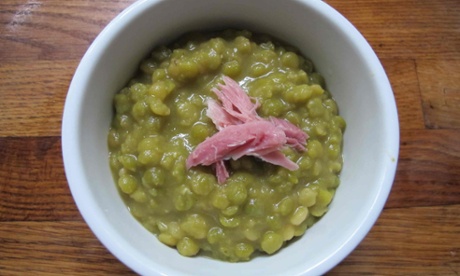 The bulk of the soup is, of course, its peas. I suspect, from the description of dried peas in Peter Brears' Cooking and Dining in Medieval England as "old or white", that the varieties grown then were somewhat different to those available today. As I'm not planning to recreate a medieval banquet, this fact doesn't particularly trouble me.
What does is the difficulty Mark Hix describes in getting hold of the things in his British Regional Food - "I tried three multiples and several Turkish shops in my part of town, which sell every pulse you can imagine - but not dried green peas." He eventually found them in an Indian butcher's, so, having drawn a blank in health food shops and the Asian sections of several supermarkets, I was surprised to find them next to the dried chickpeas in my local Sainsbury's. They're also, of course, available online.
If you can't find them, however, Paul Gayler suggests in Great Homemade Soups that you can use the more widely stocked yellow variety, also deployed by Jassy Davis of the Gin and Crumpets food blog. These have the benefit of cooking more quickly and being easier to source, but I'd urge you to seek out the green sort; they have a sweeter, earthier flavour and thicken the soup better.
Hix, Gayler and Lindsey Bareham's A Celebration of Soup all recommend soaking the peas overnight, while Davis gives them a mere half hour and Tom Norrington-Davies doesn't bother in his book, Just Like Mother Used to Make. In fact, dried peas don't really need soaking at all, but doing so while you make the stock will speed up the cooking time somewhat. (More important in this regard is the age of the peas concerned, but as the usual rules about buying from somewhere with a high turnover of stock probably doesn't apply in this case, you'll just have to cross your fingers and hope for the best.)
Ham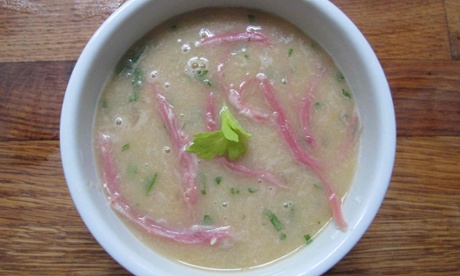 Norrington-Davis and Gayler's recipes both start by making a stock from a smoked ham hock which is then used to cook the peas. Hix just starts with a ham stock, Bareham uses smoked streaky bacon plus a pork knuckle or two trotters, and Davis, lamenting the wider availability of said hocks, makes it easier for her readers by going for bacon lardons on the basis they're "cheap, nicely fatty ... easy to cook with [and] give the soup a smokey savouriness". (Why must it be so hard to find the two main ingredients of such a simple British classic?)
Lardons do indeed work well, however, and if you're hoping to make this soup for dinner tonight, then I'd recommend them as a quick shortcut, but you can't beat the depth of porky flavour yielded by a proper stock. I've never seen the fresh stuff for sale, and a ham stock cube I use for Hix's recipe (almost certainly not what he had in mind, but I'll leave no stone unturned), though not unpleasant, has too much in the way of dried herbs for my liking.
No, this is one recipe where you're going to have to do the hard work yourself. Not that it is hard work really, once you've found yourself a ham hock (butchers will be able to source one for you). The pig's trotters I use in Bareham's version give the soup a rich, fatty creaminess, but little in the way of savoury flavour, and there is barely enough meat on them as garnish, let alone to flavour the soup. Bareham also cooks the meat with the peas, which sounds neat, but as the peas cook faster than the ham, isn't an ideal method for this particular recipe. Many recipes call for soaking the hock overnight; I find that the extra salt proves an excellent seasoning for the soup, but do check what your butcher recommends.
Base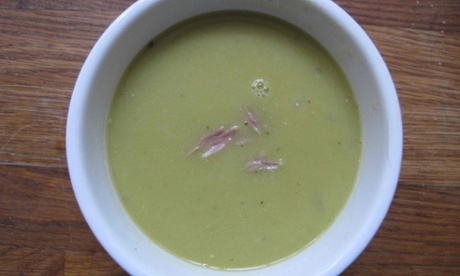 The ham stock is flavoured with onion, carrot and celery, with a couple of cloves for sweetness and some thyme and bay leaves as aromatics. Although peas and ham are pretty good on their own, I like the extra layer of flavour supplied by the onion, fried in butter, that Bareham, Gayler, Davis and Hix all use to start their soup. I'm also keen on Davis's carrot, which provides flavour, texture, and a flash of colour too. Gayler adds mint and parsley to his soup before serving, which, oddly enough, makes it taste a little bit too fresh for my liking - though Brears assures me that pottages "made from various mixtures of green herbs were very popular" with medieval gourmands, I'm not sold. Feel free to chuck some in if the idea takes your fancy though.
Method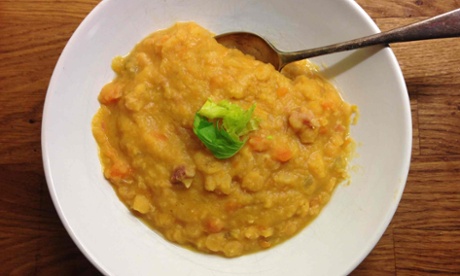 If you've cooked the peas long enough, until they break down and thicken the soup, then there shouldn't be any need to puree the soup as Hix, Bareham and Davis suggest. You can, like Gayler, whiz half to a puree if you'd prefer a more elegant texture. (This is not a soup, however, that can ever aspire to that fashionable silky texture so decried by the cliche brigade.) Personally, I like my soup thick enough to slay a spoon - indeed, almost thick enough to spread on bread (you can take the girl out of the medieval peasant farmstead ...), but many of the soups are much looser, particularly Bareham's version. The recipe below starts thick, and can then be adjusted according to personal preference. Raw onion relish entirely optional.
(Serves 6)
For the ham (or use 1.5l ham stock, plus some shredded ham):
1 smallish smoked ham hock
1 onion
4 cloves
1 celery stick
1 carrot
1 bay leaf
2 sprigs of thyme
500g split peas, preferably green
2 tbsp butter
1 onion, peeled and diced
1 carrot, peeled and diced
Cover the peas in cold water and leave to soak while you prepare the ham.
Put the ham in a largish pan. Cut the onion in half (no need to peel unless it's filthy) and stud with the cloves. Very roughly chop the celery and carrot (again, no need to peel) into a few pieces and add to the pan along with the herbs. Barely cover with cold water and bring to the boil. Skim the top, then turn the heat down and simmer for about two and a half to three hours, until the ham is tender. Allow to cool in the liquid.
Drain the ham, reserving the cooking liquid but discarding the vegetables. Heat the butter in a large pan and add the diced onion. Soften for about five minutes, then add the carrot and cook for another five minutes.
Drain and stir in the split peas to coat with butter, then add one litre of the ham stock, retaining the rest. Bring to the boil, then turn down the heat and cook until the peas are breaking down and beginning to thicken the soup (this may take from 30 minutes to over an hour, depending on the age of your peas). Meanwhile, strip the ham from the bone and shred.
Use the remaining stock to thin the soup to your desired consistency. Stir most of the shredded ham into the soup (you may well not need it all, depending on the size of your joint) and season to taste.
Is London particular the ultimate winter soup, or do you have something even more warming up your woolly sleeve? And what else can you do with the cheap and nutritious split pea - all ideas welcome!

The perfect pea and ham soup. Photograph: Felicity Cloake/Guardian