Picture Courtesy: AFPPrince William and
Kate Middleton
, the Duke and Duchess of Cambridge, who commenced their maiden visit to India on 10
th
April 2016, got a taste of
desi
flavours at a lavish Indian feast arranged for them at the Taj Mahal Palace Hotel in Mumbai. On Sunday evening, Taj Hotels Resorts and Palace partnered with the British Asian Trust to raise awareness and funds for a sustainable future. The charity event aimed to raise funds for partner organizations of the British Asian Trust (Prince Charles' Charity) who work with disadvantaged communities in Mumbai and across India.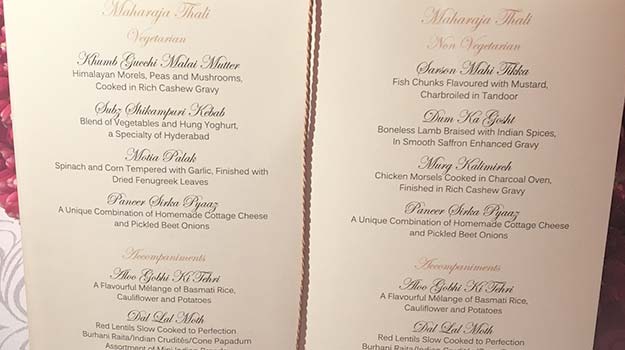 This reception witnessed the crème de la crème of Mumbai's film, sport and business society come together for a glittering evening with the Royal couple. The entertainment was arranged to provide a true Indian flavour including a performance by an Indian dance company on a medley from Bollywood films and also a fashion show. But the highlight of the night was the dinner menu that featured some of the most popular non-vegetarian and
vegetarian Indian delicacies
from all across the country.
The menu has taken inspiration from the Royal Dinners that were served to our Maharaja's in the past. It started with an amuse-bouche which was pre-placed on the table - a molecular Pakodi Chaat with blood orange caviar. The next course was a Maharaja Thali for vegetarians and non-vegetarians followed by some classic desserts.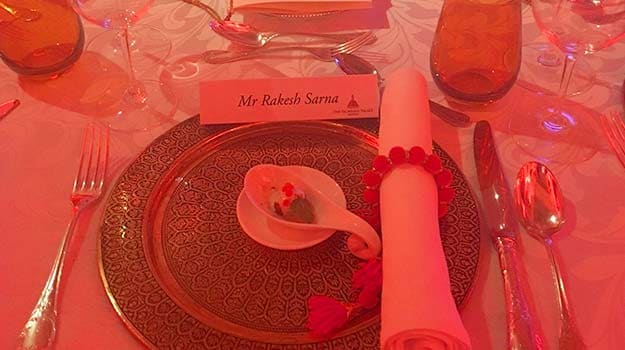 For non-vegetarians, it was a feast like no other. To add a regal touch, dishes like Ajwaini Macchli (fish chunks marinated with hung yoghurt and bishops weed, charbroiled in tandoor), Kundan Kalia (boneless lamb cooked with spices and topped with gold varq) and Shahi Murg ka Soyota (chicken morsels cooked in a
rich saffron
, cashew and corn-based gravy) were served. These were accompanied by
Awadhi Gosht Biryani
, Boondi and Mint Raita and Lucknowi Vegetarian Biryani (basmati rice and vegetables cooked together with panadanus extract).
The Ballroom is all dressed up for the Charity Dinner. What an evening it promises to be! #RoyalVisitIndiapic.twitter.com/Ap6MiOBXDp

— The Taj Mahal Palace (@TajMahalMumbai) April 10, 2016
With most of Northern India celebrating
Navratris
, the vegetarian menu was as glamourous as it could get. There was Dal Langarwali (black urad and channa dal cooked to perfection tempered with
pure ghee
),
Lakhnavi delicacy
Paneer Shahi Korma, Subz Gandheri Kebab (a blend of vegetables on a sugarcane stick, a specialty of Hyderabad), Khumb Makhana Mattar (
mushrooms
, peas and fox nuts, cooked in rich tomato gravy), chhonka palak (
spinach
tempered with garlic, finished with dried fenugreek leaves). The meal ended on a sweet note with traditional delights like Dodha with Rabdi, Chhenna Payesh and Sharifa Kulfi.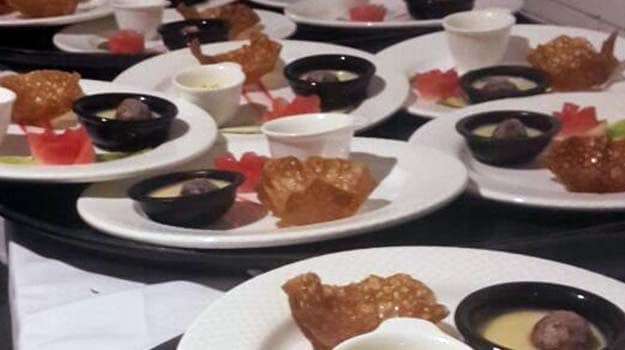 "We wanted them to experience a royal Indian dinner and give them a taste of our rich legacy. The menu had specialties from Lucknow and Hyderabad showcasing dishes that our Nawabs ate back in the day. The Duke and Duchess are vegetarian, so the vegetarian
thali
was created keeping that in mind. The preparation was absolutely authentic, but we choose dishes that were high on flavour and moderately spiced to suit their palate. When we met them, her Highness shared that she loved the fact that the food was so flavourful," Executive Chef Amit Chowdhury tells us.A team of 228 people worked behind the scenes to make sure that everything, from ingredients to presentation, was spot on. It was a small menu, limited to main course and desserts but one where every dish stood out. The dinner was served on silver platters with silver cutlery to complete the experience of enjoying a true Royal meal.The event was attended by the who's who of Bollywood.
Shah Rukh Khan
, Aishwarya Rai Bachchan, Anil Kapoor, Sonam Kapoor, Rishi Kapoor,
Karan Johar
and many more celebrated names were on the guest list. "The Taj Mahal Palace is delighted to be hosting their Royal Highnesses The Duke and Duchess of Cambridge while they are in Mumbai, and to be delivering this special event. The hotel is working towards making their visit to India memorable by offering Taj's legendary Indian hospitality," said Taljinder Singh, Area Director Mumbai and General Manager, The Taj Mahal Palace in a statement.
The Duke and Duchess at tonight's @TajMahalMumbai reception #RoyalVisitIndiapic.twitter.com/Qu3TKVSuro

— Kensington Palace (@KensingtonRoyal) April 10, 2016
The
Duke and Duchess of Cambridge
are on a seven-day tour of India and Bhutan. The landed in Mumbai on 10
th
April 2016 and met and played cricket with Indian street children and Sachin Tendulkar at Mumbai Oval Maidan ground and in the evening attended the charity dinner. Social, a collaborative workspace, café and bar played host to the Duke and Duchess on 11th April 2016 as they met with young aspiring entrepreneurs to kickstart 'GREAT for Collaboration' - a campaign launched by the UK government to celebrate and inspire collaborations between UK and India.What's next for the royal couple? They're headed to New Delhi and will be attending a lunch hosted by Prime Minister Narendra Modi on 12th April 2016. From there on, they will travel to Assam to visit the Kaziranga National Park. They plan to break for a trip to Bhutan and finally return to Agra in
Uttar Pradesh
to view the Taj Mahal.