You know what I love most about a fresh
Greek salad
, besides the finely cut cubes of soft and dreamy feta cheese of course; is how fresh, light and summer-y it really is. Picture this: you, a comfy couch- the kind that sinks in as soon as you sit on it, a glass of chilled white wine and a big bowl of fresh Greek Salad. Now, doesn't that just sound perfect!One look at a Greek Salad and you'll think it's all chopping and tossing. And in all honesty, it probably really is: Chunky
tomatoes
,
cucumber
, feta, onions, some tangy salad dressing, a few spices, some
mint
, dil and
parsley
. But as Felicity Cloake put it "Anyone can make an OK Greek salad, but how do you do this classic justice?'
The Essentials: Veggies
Use ripe but firm tomatoes and not the flimsy ones which turn into mush as soon as you slice into them. If you can't find ripe tomatoes then cut them into small pieces, throw on some salt and let them be for a few minutes. Grab some cucumber, red onions (if you don't like the taste of raw onions then toss them in a non-stick pan on low heat for a few minutes). Nigel Slater gives a great suggestion for how to make the onions taste less onion-y: dice them fine and soak them in vinegar. Now, grab some fresh cucumber and make sure it's not bitter. I absolutely love Jamie Oliver's method of cutting the cucumber. He suggests you 'take a fork and run it down the sides of the cucumber so it leaves deep grooves in the skin and then cut into thick pieces'. Then comes the lettuce: Most recipes suggest you pick Romaine lettuce but in India that costs a bomb, so use Iceberg lettuce.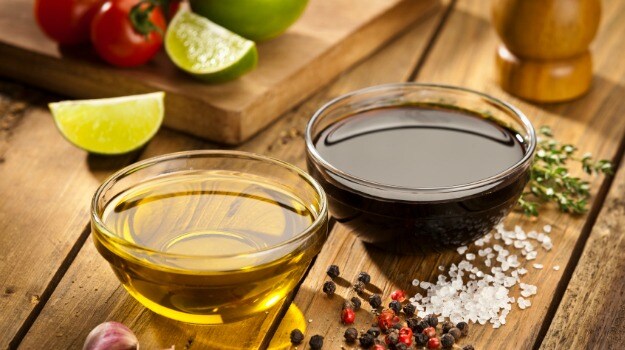 Spices & Cheese
Dried oregano is the most commonly featured spice in a Greek salad and for all the right reasons; it's aromatic and really lifts that Greek salad. There are recipes which call for fresh herbs and personally, I prefer those. Fresh mint, parsley, dil, rosemary, thyme- whatever you can get your hands on. One of the first reasons why I was drawn to Greek salad was that slightly salty and cloud-like feta cheese. The more feta there is in a salad, the more I tend to like it. You can either slice the cheese in nice small one-inch cubes or crumble it by hand. I recommend the cubes because that way you can lift them using your fork and understand how well the cheese works with fresh vegetables.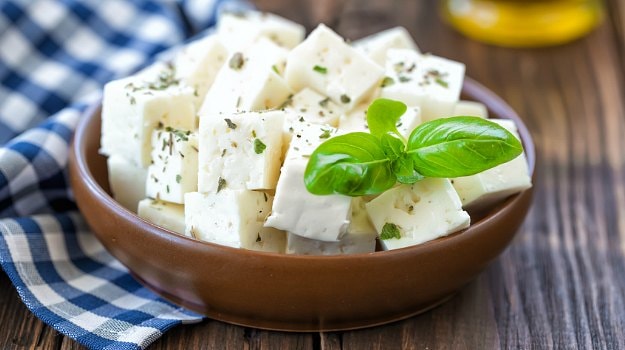 The Final Touch: Oils & More
David Tanis of the New York Times suggests that you don't even need vinaigrette and can make-do with a 'fruity full-bodied extra virgin oil' but I still like some vinegar just to give my salad a bit of edge. Red wine vinegar would be most recommended but even balsamic or apple cider vinegar can do the trick. A great way of preparing the mix is to put some oil in a bowl, add vinegar to it, a pinch of sugar, one clove of garlic chopped into really small pieces, whisk it real nice and drizzle it all over the salad. Some chefs also use white wine along with olive oil but I prefer mine in a glass!
Other Toppings
It's true that an original Greek Salad is mostly vegetarian but who's to say you can't give it your own spin. Chunky cubes of well grilled chicken go really well with both the feta and the olive oil. David Tanis makes a fantastic version of an original Greek salad by using shrimps and baking them in a clunky tomato sauce. Chef Vefa Alexiadou suggests adding a chopped hard-boiled egg atop the Greek salad and if an egg is what you desire, then try it out.
How to Make the Ultimate Greek Salad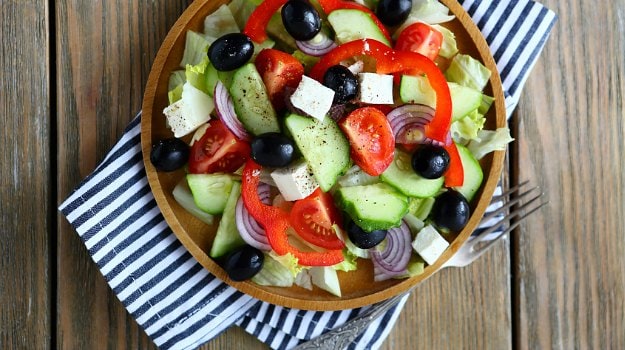 Ingredients
1 cucumber
2 medium ripe tomatoes
2 medium onions, sliced thin
1 medium-sized bunch of iceberg lettuce
1 small red bell pepper
1 small green pepper
1 small yellow pepper
10 black olives, sliced thin or chopped fine
40 grams feta cheese, big chunks
Fresh Parsley
Dried/Fresh Oregano
Dressing
2 tablespoon lemon juice
2 tablespoon red wine vinegar
2 cloves garlic, chopped
Salt
Black Pepper
2 tablespoon olive oil
Method
1. Peel the cucumber, run a fork through the sides and then cut it in big chunks. Dice the green, red and yellow bell pepper in thin long strands. Chop the tomatoes in big chunks and the onions real fine. Break the lettuce by hand into small pieces.
2. Take some olive oil, vinegar, lime juice, garlic, salt, pepper and whisk.
3. Put all the veggies in a big bowl, cover them with feta cheese and toss well.
4. Now, pour in the dressing and the oregano, mint and parsley. Toss well and serve.