The perfect kind of jam honours and celebrates the goodness of fruits. It preserves the taste of ripe and luscious mangoes, moist lychees and plump strawberries when they aren't in season. It makes a great spread on your morning toast, goes well atop a glistening scoop of vanilla ice cream and fits perfectly between cakes, crumbly pastry and oh, tarts! It gives us hope on a gloomy day and creates magic on a chilly morning. Jam just really gets us going.

So for our blind taste test, we ventured out to try and find store-bought varieties that would define the perfect mixed fruit jam - brightly coloured, sweet and sour, tarty and almost indistinguishable from home-made jams. While we found a few that really hit the sweet spot, the others just seemed to give jam a bad name. You know which ones we're talking about - the kind that taste of sugar, preservatives, jelly, all things synthetic and absolutely no fruit.

(The science and magic of jam-making)

The three basic ingredients that go into a shiny bottle of jam are ripe fruits, preferably the ones that are in season; granulated sugar, although some people use castor sugar; and lemon juice to give the jam an acidic tone. These three ingredients need to be combined, kept on a flame and boiled rapidly to get a thick and pulpy mix that's then dunked into sterilized jars. Yes, it's that simple!





What gives jam its gel like consistency? Pectin, a naturally occurring substance is what gives jam that thick, spread-able consistency. Some fruits like apples, cranberries and gooseberries are high in pectin but others like blackberries, pears and apricots have a low pectin content and need to be either combined with a high pectin fruit or fuelled with extra pectin which also has some sugar in it.

There was a time when jam-making was an exciting exercise for home-cooks and in many parts of the world it still is. If you happen to stroll through the farmers market in say Europe or Thailand, you'll find more than a few vendors with fresh and brightly coloured, home-made jams. Raspberries, mulberries, blackberries, blueberries, pineapples - you'll find everything your palette desires. But in India, a bottle of mass produced jam costs as less as Rs.50, which makes things remarkably convenient.

Sugar in Jams



There were certain brands of jam that gave away a distinct smell not of fruit but of sugar. Besides playing the obvious role of adding sweetness to jam, sugar actually brings together the fruit, pectin and citric content of the dish to create the gel-like texture. If you reduce the quantity of sugar in the recipe then there is a possibility that the jam won't set. But in store bought jams, sugar is often used to compensate for the fruit juices that evaporate with time.





(Make your own sweet chilli jam | Make Your Own)





Selection Procedure





This was a blind taste test and was conducted by NDTV's food team. We couldn't stop yammering about how excited we were to try different brands of mixed fruit jams but quite the test was an eye opener. We blind tasted six brands expecting a blizzard of flavour: beautiful fruit pulp with a touch of sugar, laced with an undeniable though incredibly delicious acidity. But very few brands delivered as per expectations.

The Contenders





1. Kissan





2. Tops





3. Cremica





4. Druk





5. St.Dalfour





6. Dana Criteria
The six brands we set out to try were a mix of Indian and imported, and the price range we picked was between Rs.50 and Rs.300. We tried all of the six store-bought jams with plain white and brown bread to see how they pair with a neutral base. The jams were also tasted individually with a spoon. They were judged on the below mentioned parameters -
Flavour - The right kind of jam has a fruity punch and can sometimes give a floral or berry-like flavor. It must be both tarty and sour, with an acidic undertone.
Texture - It must be rich, slightly sticky but part runny, consistent and not lumpy, and easy to spread on breads and desserts.
Sweetness - It cannot be too sweet but just enough to balance out the sourness. Test Results
It was one of those taste tests we were really looking forwards to. Fruits and sugar, what's not to like, right?
St.Dalfour, Four Fruit Jam
Score: 8/10
The best jam we sampled was St.Dalfour and it's the only one we still can't get out of our head. The balance of sweet and sour was just bang on and what we loved most was that it was packed with little plump black raspberries, full of flavor, just waiting to be eaten. One of the tasters did mention that it tasted more berry-like than fruity which is true because it's made with strawberry, cherry, blackberry and raspberry. It's got a gorgeous blackcurrant colour and was easy to spread, one you'll want to eat over and over again. It's also not too sweet which came to us as great relief.
Nutritional Information (per 100 grams): Energy 208kcal, Protein .7g, Fat less than .5g, Carbohydrate sugar 52g, Sodium 11mg. No preservatives, no artificial colours or flavours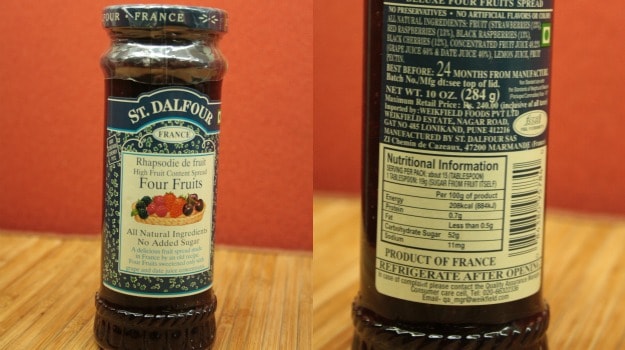 Dana, Mixed Fruit Spread
Score: 6/10
This was very marmalade-like and got us confused for a while there. It's super grainy and tastes more like oranges and pineapple, but was very pleasant indeed. There was a lot of water in the bottle and a gorgeous semi-set jelly like texture and spread like a dream on toast. The bottle clearly states it's got no added sugar so instead they've got pectin and citric acid acting as preservatives. The best thing about Dana was that it just fell of the spoon instead of sticking to the jar like glue.
Nutritional Information (per 19grams): Calories 32, 0% fat, Carbohydrate 8grams, Protein less than 1g. No sugar added.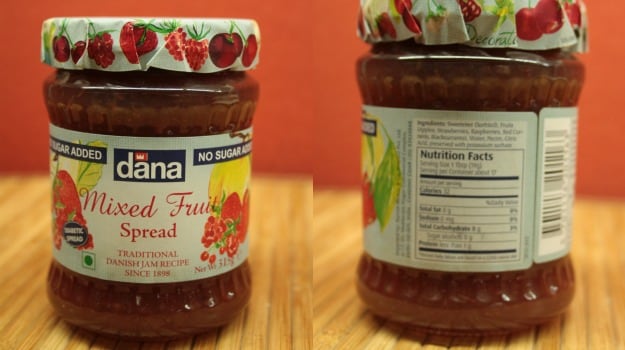 Druk
Score 5/10
It's a crowd-pleasing jam and a complete budget-buy. It has a well rounded flavour, although some of the tasters found it more sweet than sour. It had the best texture of the lot but fell a bit short on the fruit like flavour. We were impressed, but not blown away.
Nutritional Information (per 20grams): Carbohydrate 83.05grams, Energy 67.76 Kcal, Fat .004 grams, Protein .034 grams. Contains added nature identical flavours, synthetic food colours and preservatives.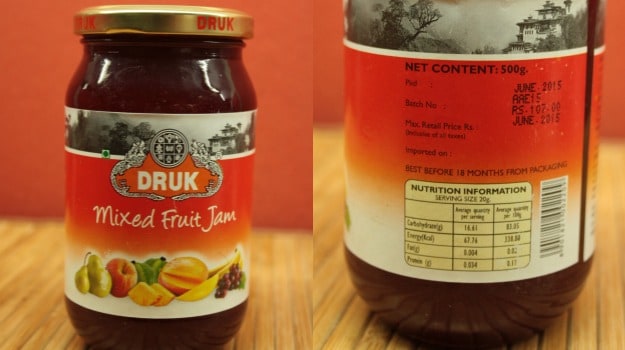 Kissan
Score: 4/10
Most of us have grown up eating Kissan jam and for a long time we never really considered another alternative. With great products in the market now, Kissan has its job cut out for it. The mixed-fruit jam tasted very sweet and if you check the nutrition label, it will help you understand why. There's a lot of sugar in each serving and that's probably the reason why the flavour of the fruits doesn't come through. The colour however was absolutely gorgeous with the bright red hue, a real treat for the eyes. It was also very jelly like in its texture and did not spread well, though it didn't stick to the bottle.
Nutritional Information (per 20grams): Energy 57 Kcal, Protein .1g, Carbohydrate 14.1g, Sugar 13.8 g, Sodium 4.8mg. Contains synthetic food colour, preservatives, artificial flavouring substances.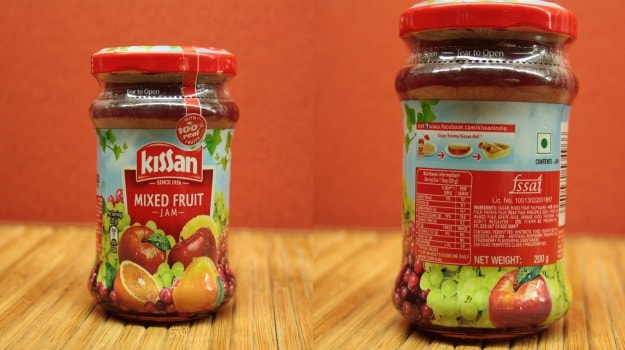 Cremica
Score: 3/10
Cremica was the most 'sugary' of the lot and very one-dimensional. It had a tough jelly-like texture and stuck to the bottle like glue. It was so sweet that we could barely taste the fruit, and it's probably what gave it a more artificial taste as well.
Nutritional Information (per 100grams): Energy 200Kcal, Protein 0 grams, Carbohydrates 50grams, Sugar 45grams. Contains synthetic food colour, added flavours and preservatives.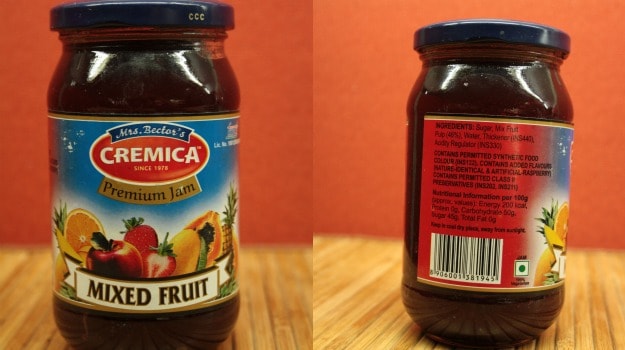 Tops
Score: 3/10
What makes great jam is that perfect fruit to sugar ratio and the minute you overdo the sugar all it'll taste of is sugar and not jam. One of the tasters said that "this was far too sweet and that the sweetness actually translated to an artificial flavour." One or two people liked it because of it's texture which wasn't too hard, maybe just about right. But this kind of sweetness isn't for everyone.
Nutritional Information (per 100grams): Energy 285Kcal, Carbohydrates 71.17 grams, Protein .10grams, Sugar 68grams. Contains permitted synthetic food colour and added flavor. Identical and artificial flavouring substances.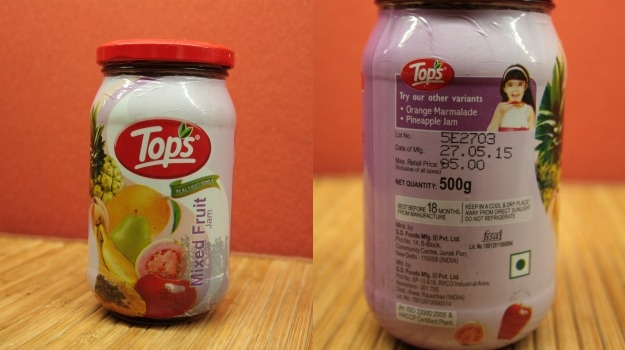 (Jam wars: Will reducing sugar destroy Britain's jam?)

CommentsDisclaimer
This taste test was in no way sponsored by any brand(s). All expenses were borne by NDTV. All reviews are strictly personal opinion of the authors. The same should not be construed as the opinion or policy of NDTV. Always do your own research on products and companies before using a product you choose. NDTV, its affiliates and its management does not claim responsibility for any of the products/ or companies discussed on this site.