Some things can spell magic in dire situations. A bite of pillowy, crisp
dosa
doused in coconut chutney and
sambar
can make most of us forget about the petty struggles of our routine. Are you one of those who finds the aroma of freshly made
dosa
spellbinding? Biting into this South Indian delicacy meticulously made into thin pancakes and stuffed with the choicest of filings is one of the simplest pleasures in lifeWhile nothing can beat the classic
masala dosa,
its
rava
cousins and others in the family offer a range of variety to the demanding palate. For those who love to experiment with their food, we decided to explore some of the most interesting and unconventional
dosa
variants that exist and you may not have discovered them yet. So, all the ardent lovers of the humble
dosai
out there, sit back and join us as we take you through a roller-coaster ride of
dosa
variants that are worth trying at least once.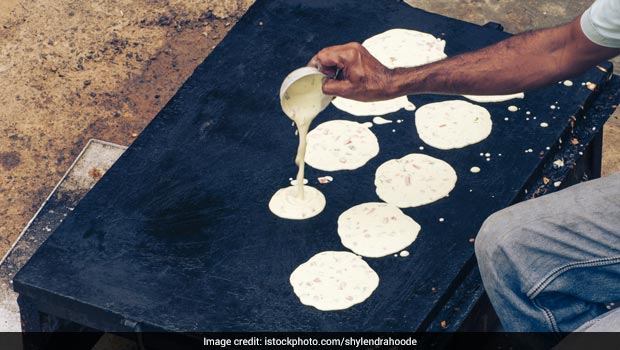 1. Mutton Dosa
From places like the United Coffee House, Indian Coffee House and the Delhi School of Economics students' canteen to restaurants like Mahabelly and Andhra Biryani House - muttondosa is served at multiple places in the capital city and is loved to an extent that many places are known just for and because of this meaty specialty.
2. Pao Bhaji Dosa
This could be an apt coming together of Maharashtrian flavours in a traditional South Indian preparation. If you live in Ghaziabad or are planning to head that way any time soon, do check out The Dosa King located in Surya Nagar, Ghaziabad. The eatery has many offbeat dosas and other South Indian delicacies that are sure wow your taste buds.
3. Noodle Dosa
College campuses and nearby areas are known for their exceptional eating joints offering a range of delectable street food and other items at unimaginable thrifty rates. If you are near Satya Niketan, do pay a visit to Bombay Brunch which offers a range of South Indian food items besides a long menu covering Chinese dishes and Indian street food items among other yummy delights. Here, you can also try the Noodle Dosa and other variants like Cheese Noodle Dosa and Schezwan Dosa.
4. Spring Roll Dosa
Dosa Plaza at the Ambience Mall in Gurugram is flooded with a range of innovative dosas that are not only delicious but also innovative. Must try the Spring Roll Dosa here.
5. Pizza Dosa
Call it a bizarre or innovative, but there's something about the fusion of Italian and South Indian flavours that will tempt you to try this version. Imly, a small eatery located in food court of the DLF Mall offers this and many more dosa variants that you will be tempted to try.
Happened to have tried some exciting dosa variants in the capital city? Feel free to share with us in the comments box below.