My aunt probably makes the best home-made Masala
Dosa
(or dose in Kannada). Malleshwaram is one the areas that has somewhat escaped Bengaluru's 21st century version of gentrification and I still remember days I've spent at her house in Malleshwaram during school vacations when I would be happy to eat Masala Dosa for
breakfast
, lunch and dinner. That hasn't changed much – I can still eat
dosa
three times a day except that the accompaniments might need to change depending on the time of day.The
dosa
might be seen as a traditional breakfast or a
tiffin
(that long time zone between lunch and dinner in cities like
Chennai
and Bengaluru where some seriously heavy snacks are wolfed down) snack but in many homes across South India, it is also a dinner time regular. The
sambar
, chicken curry or
fish
gravy from lunch is eaten with the
dosa
. It can taste very different depending on the age of the batter, the oil or
ghee
used (or not used) and the thickness. In Chennai for instance, it's common to find the thicker Kal Dosai with little or no oil at dinner. These
dosas
taste particularly yummy with spicy meat or fish gravies or even a
Vegetable
Kurma or a Kara Kuzhambu. The key to an authentic Masala Dosa is the Potato Palya (the filling) and a mildly spicy paste that is usually spread inside the
dosa
. Vidyarthi Bhavan in the Gandhi Bazaar area in Bengaluru continues to draw diners (since the 1940s) for its crunchy,
ghee
-soaked Masala Dosa that makes the perfect evening snack or early dinner dish.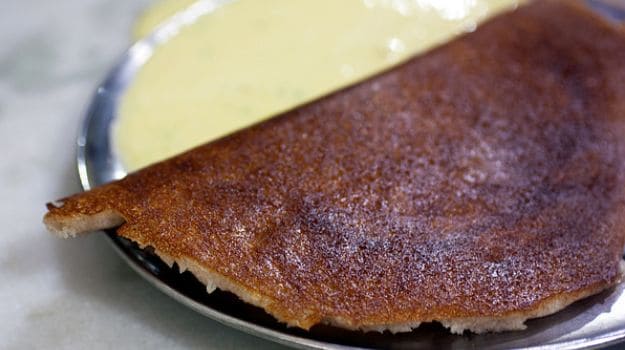 Dosa Side DishesWhile sambar and the conventional (white) coconut chutney are usually the most common accompaniments for the dosa (especially during breakfast), we've put together a bunch of recipes from across South India that make the perfect accompaniment for dosa.1. Potato PalyaThis dish is also served as an accompaniment with poori and occasionally Rava Idli in Karnataka. For a traditional Masala dosa, make sure the gravy is thick (almost dry).Ingredients500 gm potatoes
200 gm onion, finely chopped
200 gm green peas
4 green chillies, finely chopped
1 cup chopped coriander
1 tsp mustard seeds
1 tsp urad dal
1 tsp channa dal
8 cashew nuts
2 Tbsp cooking oil
Juice of one small lemon
1 carrot, grated
2 tsp chopped coriander (for garnishing)Method:1. Boil the potatoes and green peas until tender.
2. Mash the potatoes to a fine consistency. Add the peas to the mixture, along with turmeric and salt. Keep aside.
3. Fry (temper) mustard, urad dal and chana dal (one ingredient at a time).
4. Add cashew nuts, onions and green chillies. Sauté for 2-3 minutes. Add a pinch of salt and chopped coriander and saute on a low flame until the mixture turns golden brown.
5. Now add mashed potatoes and peas. Sauté for 5 minutes.
6. Add lime juice, grated carrot and coriander and cover the dish with a lid.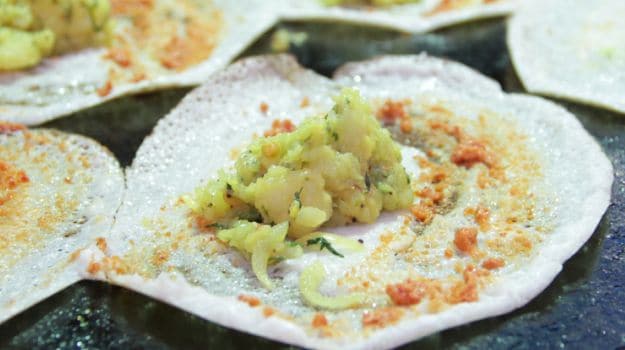 2. Nalikeram Ulli Chammandi (Coconut and Shallot Chutney)Simple yet flavoursome, this Kerala-style chutney is perfect when you need a quick accompaniment for dosa at breakfast.Ingredients10 shallots, finely chopped
2-3 dried red chillies
1 cup grated coconut
1 Tbsp coconut oil
2-3 sprigs curry leaves
Salt to tasteMethod:1. Fry the onions, chillies and curry leaves in coconut oil.
2. Add the coconut and salt, and grind to a smooth paste in a blender.
3. Chennai-style Vada Curry
Recipe courtesy: Mrs Latha Natarajan, Chennai
A favourite at many Chennai restaurants and also cooked at homes on special occasions (it involves a somewhat tedious cooking process). The use of channa dal dumplings is quite similar to Besan Khadi. It tastes delicious with dosa and is also a favourite with idiappam (string hoppers). This version is less 'calorific' because it uses steamed (and not fried) dumplings.
Ingredients
½ cup channa
dal
4 red chillies
1 tsp fennel
2 onions, finely chopped
3 tomatoes, finely chopped
1 tsp ginger-garlic paste
1 ½ tsp red chilli powder
1 tsp
coriander
powder
A pinch of turmeric
Salt to taste
2 sprigs of
mint
leaves
A small bunch of coriander leaves
1 sprig curry leaves
2 Tbsp oil
1 cinnamon stick, 1-inch piece
1 cardamom
1 clove
1 bay leaf
1 tsp cumin seeds
Method:
1. Soak channa dal for 3 hours and drain out the water.
2. Grind chilli, fennel and salt. Add the channa dal and grind coarsely.
3. Grease idli plates and fill the moulds with the ground mixture. Steam cook for 8 minutes. Break it into smaller pieces once it cools down
4. Fry (temper) the cinnamon, cardamom, jeera,
cloves
and bay leaf, adding one ingredient at a time
5. Add the onion and fry till the onions turn golden brown. Add ginger garlic paste and fry for a minute in medium flame. Add finely chopped tomatoes and the powders – red chilli powder, coriander powder and turmeric powder.
6. Add required
salt
for the gravy. Fry for a minute or until the masala blends.
7. Add 3 cups of water. Bring to boil and add the crumbled dal and simmer for 10 minutes.
8. Once the oil floats on top and the gravy becomes thicker, garnish with chopped coriander and mint leaves.
4. Chettinad Kozhi (Chicken) Curry
Recipe courtesy: Meril Antony Aricatt – Executive Chef, The Gateway Hotel IT Expressway, Chennai

Whether it's an all-day diner at a luxury hotel or a tiny hole-in-the-wall type eatery, nothing quite hits the spot when you seek comfort food at 1 am, like a Chettinad Chicken Curry served with kal dosai.
Ingredients
1 kg
chicken
(curry cuts)
50 ml refined oil
125 gm onions, finely chopped
2 gm cinnamon, cardamom and cloves
1 tsp saunf
20 gm
ginger
garlic paste
200 gm tomato puree
A few sprigs curry leaves
A handful chopped coriander
Salt to taste
2 Tbsp Chettinad masala powder
For the Chettinad Masala Powder
250 gm coriander seeds
250 gm cumin seeds
100 gm fennel seeds
160 gm peppercorns
60 gm kalpasi (Patthar ke Phool)
30 gm Marathi moggu (Kapok Buds)
5 gm mace
1 nutmeg
5 gm bay leaves
25 gm black cardamoms
20 gm cinnamon
20 gm cloves
15 gm green cardamoms
25 gm star anise
Method:
1. For the Chettinad masala, dry roast all the spices separately before blending them into a fine powder.
2. Heat oil in a pan, add cinnamon, cardamom, cloves, fennel, onion, curry leaves and fry till golden brown.
3. Add ginger garlic paste and
tomato
puree and cook well. Now add red chilli powder, Chettinad masala powder, required water and cook well.
4. Add chicken and cook till tender. Serve hot garnished with fried curry leaves and chopped coriander leaves.
5. Arachu Vitta Sambar
Recipe by Chef Aditya BalMixed lentils with drumsticks, coconut, tamarind and spices create this lip-smacking dish. This sambar recipe is made with urad dal, tur dal and a little channa dal. For the recipe, click here.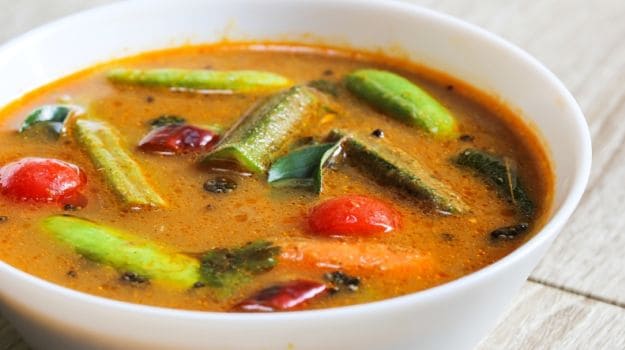 6. Meen Kozhambu
Recipe by Chef Bhatt, Southern Spice, Taj Coromandel, ChennaiChef Bhatt cooks up an authentic Tamil Nadu dish called Meen Kozhambu. 'Meen' means fish and 'Kozhambu' is a gravy preparation made with a lot of tamarind and chilli powder. For the recipe, click here.

7. Curry Leaves Chutney
Recipe by Chef Thomas Robin Gomes, Chutney, The Metropolitan, Hotel NikkoAn unusual but delicious chutney made with curry leaves, onions and tamarind pulp. For the recipe, click here.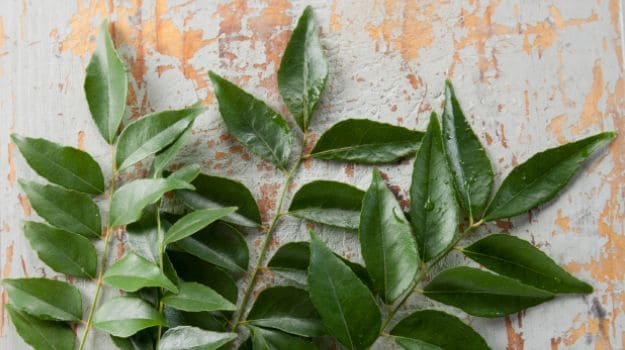 About the Author:
Ashwin Rajagopalan is a cross cultural training expert and lifestyle writer. When he's not writing about food, he thinks about gadgets, trends and travel experiences. He enjoys communicating across cultures and borders in his weekday work avatar as a content and editorial consultant for a global major and one of India's only cross cultural trainers.
Disclaimer:
The opinions expressed within this article are the personal opinions of the author. NDTV is not responsible for the accuracy, completeness, suitability, or validity of any information on this article. All information is provided on an as-is basis. The information, facts or opinions appearing in the article do not reflect the views of NDTV and NDTV does not assume any responsibility or liability for the same.
About Ashwin RajagopalanI am the proverbial slashie - a content architect, writer, speaker and cultural intelligence coach. School lunch boxes are usually the beginning of our culinary discoveries.That curiosity hasn't waned. It's only got stronger as I've explored culinary cultures, street food and fine dining restaurants across the world. I've discovered cultures and destinations through culinary motifs. I am equally passionate about writing on consumer tech and travel.