Whether it's for breakfast, as a coffee-time (and not tea-time!) snack or dinner at midnight, the ubiquitous dosa (dosai in Tamil Nadu or dose in Karnataka) is always in the mix. It's a quick fix, especially if you have dosa batter stashed away in your refrigerator. But it's the simplest things that are also sometimes the toughest to get right and it's not unusual for first timers to botch up a dosa – too crisp, too soft or even worse, a dosa that's more black than golden brown. For me, there are few things that work better than dosa as a comfort meal. Let me walk you through some key tips on how to get your dosa right:Get the batter rightIf you have the time and inclination, it's best to fix your own batter. Soak rice (4 parts) and urad dal (1 part) for about 4 hours and blend in a mixer or a designated idli batter grinder. The idli (boiled) rice works best and it's now no longer unusual for calorie watchers to make an all-dal dosa, similar to the Pesarattu from Andhra Pradesh made almost entirely with green gram (moong dal). Add salt (to taste) as you blend the rice and dal. You could add some puffed rice (rice: 3 parts / urad dal: 1 part / puffed rice: 0.5 part) if you'd like your dosa slightly crispy. The key is to make sure the batter is not ground too fine. Make sure you have a coarse texture.
Your batter is usually good for upto a week. Of course it begins to turn a tad sour towards the end of a week. One tip I've heard from a few seasoned experts is that the batter tends to sour slightly faster in a stainless steel vessel; so a sealed plastic or ceramic container might help. I love the slightly sour dosa when the batter is a few days old. You could also buy the dosa batter off the shelf, especially in cities like Chennai and Bengaluru. Look for batter with a shorter shelf life as it's less likely to have cooking soda or other additives.
The technique
The toughest part about crafting the perfect dosa is pouring the batter on to your non-stick pan or tava. Make sure the pan is warm before you begin. One simple trick to know if the tava is hot enough is to sprinkle some water. If the tava sizzles and the water is quickly absorbed, it is a clear indication that the tava is ready. It's a good idea to remove the batter from the refrigerator at least 15 minutes before you make your dosa. Take just the desired quantity and add a small quantity of water if you'd like your dosa slightly crispy and thinner. You could moisten the pan with a small quantity of oil before you start. I've seen some people use a half onion to spread the oil evenly on a hot pan. Start at the very centre of the pan and spread it out in a circular motion (almost like the flashback motion in old Bollywood flicks!). Use a sauce ladle (what you would use to serve dal or rasam) to spread the batter. You could add a smidgen of ghee or oil (gingelly oil works well) around the dosa if you want it crisper. You need to know exactly when to flip the dosa before it sticks to your pan. Wait for the sides and the centre to turn golden brown before you flip it. This is where I usually struggle! If you like your dosas thick and soft, you don't need to dilute the batter and you can also cook just one side as long as you cover the pan with a lid. For an ultra crisp dosa add a little more oil and cook it on a low flame for a longer period till it gets golden brown and then flip it.
Accompaniments
There are few snacks or staples that work with a plethora of accompaniments the way the dosa does. From chutney or
sambar
or even just the idli powder (aka gunpowder) with a spot of oil or ghee to a heavy mutton curry or
Kuzhambu
for dinner, almost everything goes. You could also innovate by adding some grated
cheese
(mozzarella adds an interesting texture) or finely chopped onions (works really well with a sprinkling of idli powder) once you have spread the batter.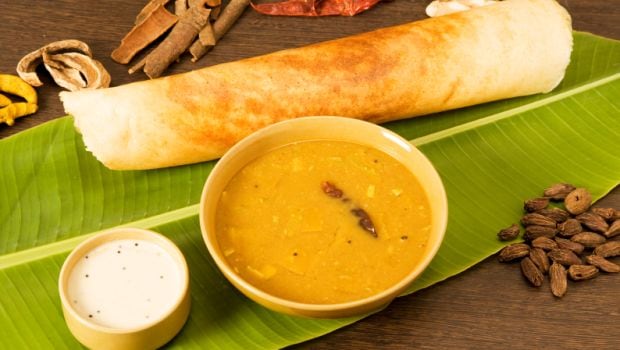 Innovate with the batter
Stuck with batter that has turned sour? Try your hand at the uthappam, a thicker version of the dosa. You can add chopped onions, fine tomato slices, green chillies or some cheese. The uthappam does not require the same deftness when you spread the batter on the pan.If you are running out of batter and quickly need to fix some dosas try making a rava dosa: 1. Here's what you'll need: old dosa batter 4 big spoons, 1 small cup fried rava, 1 cup
maida
, 1 big onion chopped into small pieces, 2 green chillies, 1 small piece ginger finely chopped. 2. Blend rava with maida in water and then add the batter. Fry mustard, jeera, green chilies, curry leaves, onions and add to the mixed batter.3.Dilute the batter before you pour it on to the pan, add oil to make it into a crispy rava dosa. The uneven texture of the batter lends the rava dosa it's unique consistency.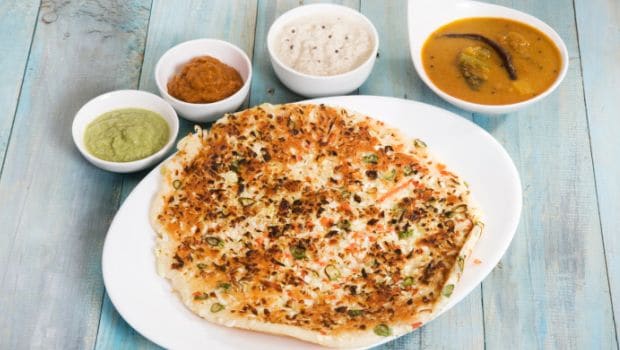 About the Author :
Ashwin Rajagopalan is a cross cultural training expert and lifestyle writer. When he's not writing about food, he thinks about gadgets, trends and travel experiences. He enjoys communicating across cultures and borders in his weekday work avatar as a content and editorial consultant for a global major and one of India's only cross cultural trainers.Disclaimer:The opinions expressed within this article are the personal opinions of the author. NDTV is not responsible for the accuracy, completeness, suitability, or validity of any information on this article. All information is provided on an as-is basis. The information, facts or opinions appearing in the article do not reflect the views of NDTV and NDTV does not assume any responsibility or liability for the same.
About Ashwin RajagopalanI am the proverbial slashie - a content architect, writer, speaker and cultural intelligence coach. School lunch boxes are usually the beginning of our culinary discoveries.That curiosity hasn't waned. It's only got stronger as I've explored culinary cultures, street food and fine dining restaurants across the world. I've discovered cultures and destinations through culinary motifs. I am equally passionate about writing on consumer tech and travel.