Nestle India Ltd slipped to a second-quarter loss as sales plunged after its hugely popular Maggi noodles were pulled off shelves over safety concerns. The unit of Swiss food giant Nestle SA said that the quarter was "extremely challenging", as it reported a net loss of 644 million rupees ($10 million), compared with a profit of 2.88 billion rupees a year earlier.Sales fell 20 percent to 19.34 billion rupees, and the company also reported one-off costs of 4.52 billion rupees in the quarter. "Nestle India is making all efforts and will continue to engage with authorities to bring Maggi Noodles back on the shelves," Suresh Narayanan, due to take over as managing director of the company in August, said in a statement.
(How Other Instant Noodle Brands Are Using the Maggi Noodles Controversy to Their Advantage)
Nestle has been at the centre of India's worst food scare in a decade after local regulators reported that some packets of the company's Maggi instant noodles, one of India's most popular snacks, contained dangerous levels of lead.
(Beyond Maggi Noodles: Some of the Most Shocking Food Controversies)
Etienne Benet stepped down as the company's managing director last week, days after India's food safety regulator banned Maggi noodles, calling them "unsafe and hazardous for human consumption".
(Why Does the Indian Consumer Feel Betrayed by Maggi?)
The noodles sell at roughly a dozen rupees per packet, and Maggi has long been market leader in India, even though its sales represent only 0.005 percent of Nestle's global revenue of about 92 billion Swiss francs ($96 billion). Nestle has maintained Maggi is safe, and appealed against the ban in court. But it has to continue with a nationwide recall of some 27,400 tonnes of the noodles until a verdict is reached.
(States that Have Banned Maggi Noodles: Story So Far)
Recently, there has been a lot of buzz on social media about Maggi noodles being back on shelves. Maggi lovers have been posting pictures of noodle packets indicating that it is still available.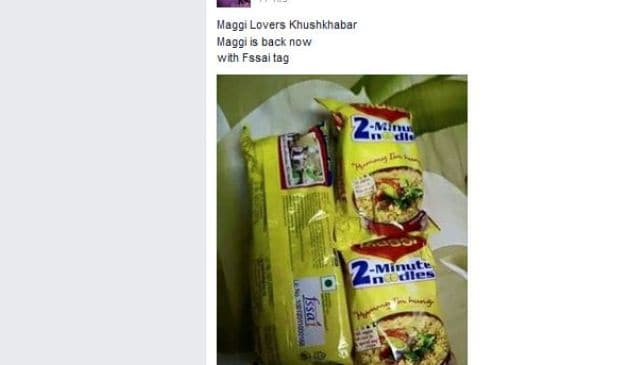 With inputs from NDTV Food
© Thomson Reuters 2015