Meet Hyderabad's Most Popular Cookies
IANS | Updated: November 21, 2014 18:37 IST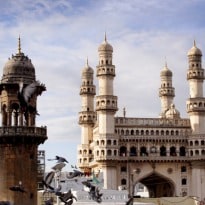 The historic city of Hyderabad is famous for the Charminar, Golconda Fort and many opulent palaces of the Nizams. It is also known for its ethnic wear and pearls. When we talk about Hyderabadi cuisine, dishes like the Hyderabadi Biryani, Haleem and Kebabs come to our mind. But there is a lot more to Hyderabadi cuisine that you may have not heard of, like Osmania cookies.

These soft tea biscuits with a unique taste are a part of daily life in Hyderabad. For Hyderabadis, a lot happens over Osmania biscuits and the popular Irani chai. There is no bakery or hotel which does not sell this delicacy. In fact, for most bakeries this is the fastest moving item on the shelf. At popular bakeries and hotels, tourists can be seen ordering Osmania biscuits in bulk. They offer a unique flavour with sweet and salty notes and a melt-in-mouth texture.

There are various stories behind the origin of this biscuit and how it got the name Osmania. Some believe that the biscuit is named after Mir Osman Ali Khan, the seventh Nizam and the last ruler of Hyderabad state. He used to love the biscuits made at a popular restaurant in the Abids and the owners of the restaurant named it as Osmania biscuit.

While others say that these biscuits were named Osmania as they were first made in Osmania Hospital, which was established by Osman Ali Khan in 1910. A group of dieticians at the hospital are known to have created them first as energy boosters for patients. Soon, they became popular due to the distinct taste and bakeries and hotels started making them.


Almost every bakery and hotel in Hyderabad makes Osmania biscuits, but few are especially known for it. Subhan Bakery, Nimrah, Karachi Bakery and Bahar Hotels are some of the most popular places for Osmania biscuits.

"What makes this biscuit so popular is that it is a mix of both sweet and salty flavours." says Syed Irfan from Subhan Bakery. This 70-year-old bakery located in Nampally teems with shoppers, especially during evenings when hot and fresh biscuits arrive on the shelves.

"We make more than one tonne of Osmania biscuits every day," says Irfan. They also supply these biscuits to cities like Chennai, Bangalore and Mumbai.

Though Osmania is eaten throughout the year, sales particularly go up during winter season when people enjoy these crisp bites with a cup of hot tea. Nimrah Cafe near the Charminar is another popular place.

The biscuit is made of maida mixed with sugar, salt, milk powder, ghee, baking powder and few other ingredients. "We don't compromise on quality and supply these biscuits hot and fresh," says Obaid Bin Aboos of Nimrah Bakery and Cafe adding that he has maintained the same quality and taste since 23 years.