Bollywood actor and model Nargis Fakhri is in great shape and we can't wait to see her with Sanjay Dutt in their next flick
Torbaaz
. The 35-year-old was filming with Dutt for the movie in Bishkek, Kyrgyzstan. The film, directed by Girish Malik, deals with the topic of child suicide bombers and Dutt plays the role of an army officer. Nargis' role for the movie has been kept under wraps though. The model is currently in California, where she seems to be in the mood of letting loose and enjoying while she can. At least that's what we could glean from her Instagram stories.
Fakhri posted a series of snapshots of herself trying to renovate her house while being hungover. But there was something in her Insta-story that gave us some serious healthy food inspiration. The beauty posted a picture of a delicious-looking avocado toast, saying, 'Trying to get my healthy on' and the toast was the definition of a nutritious meal.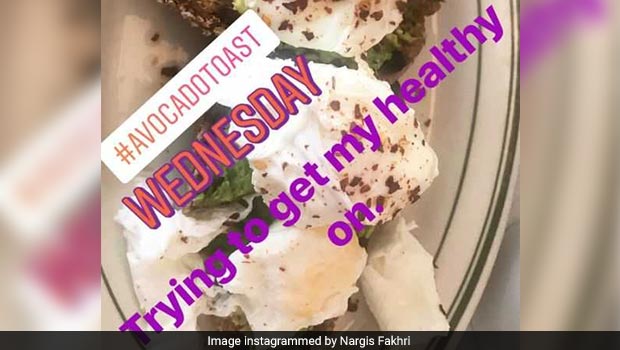 The toast is topped with mashed avocado and one perfectly poached egg, along with some seasoning for flavor. Avocado has emerged as a health food in recent times due to its varied health benefits. Avocado is rich in mono-saturated fats that are good for the body, as they help in increasing good cholesterol in the body. Avocado is a great sources of fiber, which helps you feel fuller for longer and also has a significant amount of vitamin C, vitamin B-6, potassium and magnesium. (Also Read: 5 Creative Ways To Have Avocado)
Poached egg is a great source of protein that is present in the egg whites, while the yolk is also rich in good fat that keeps hair and skin healthy. Moreover, the avocado toast is extremely trendy too. So basically, we just got schooled by Nargis Fakhri in the art of making the healthiest and yummiest toast.
But this doesn't mean that Nargis doesn't believe in indulging herself every now and then. In one of her Insta-stories today, we spotted a 'hungover' Fakhri attacking a burger with great gusto, while listening to a podcast in bed. Cheers to good food, Nargis!