If the estimates by WHO are to be believed, 1.6 million deaths are directly attributed to diabetes each year globally. The WHO has also claimed that by the year 2030, diabetes would be the seventh largest killer globally. Diabetes is a chronic, metabolic disease characterised by elevated levels of blood glucose (or blood sugar), which, if left untreated may also pose serious damage to the heart, blood vessels, eyes, kidneys, and nerves.Lack of awareness and late diagnosis often makes it difficult to manage diabetes. Diabetics need to be extra cautious of their diet. Sugary goods, drinks, trans-fats are a strict no-no for diabetics. An ideal diabetes diet should be a balanced mix of high-fibre foods, complex carbs and proteins. There are many healing herbs and spices that could help play a role in sustainable diabetes management too. For instance, fenugreek seeds are known to bring down elevated blood sugar levels. Neem is also one such herb that is fast gaining a name for itself in the realm of diabetes management.


(Also Read:6 Amazing Benefits of Chewing Neem Regularly)
Neem is a tropical plant that grows extensively across India. Neem trees are nearly 30-50 feet high, and almost every part of the tree is profuse with antiseptic and healing properties. Neem has been an integral part of Indian and Chinese medicine since time immemorial. Almost all parts of the neem tree- leaves, flowers, seeds, fruits, roots and bark have been used traditionally for a variety of treatments; be it inflammation, infections, fever, skin diseases or dental disorders. Some studies have claimed that certain compounds of Azadirachta indica (Neem) could be of benefit in diabetes mellitus in controlling the blood sugar. According to a study published in the Indian Journal of Physiology and Pharmacology, neem may also prove helpful in preventing or delaying the onset of the disease. In the journal Studies on Ethno-Medicine, neem leaf powder was found to control diabetic symptoms on non-insulin dependent male diabetics too.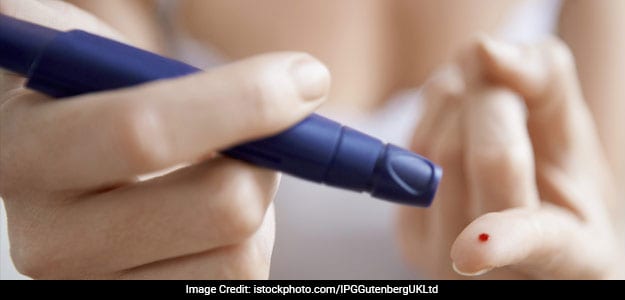 Some more studies are required to validate the evidence that neem can lower blood sugar levels. But experts are mostly in favour of the wonder herb. If you have diabetes, you can have neem sharbat daily, or just chew into a handful of neem leaves. Make sure you do not overdo it and do consult your diabetologist before including neem in your diet. Overeating neem leaves may have hypoglycaemic effect.


Neem leaves are loaded with flavonoids, triterpenoid, anti-viral compounds and glycosides, which may help manage blood sugar levels and ensure there is no surge in glucose.


How To Make Neem Water For Diabetes:


Diabetics are often recommended bitter foods to regulate their blood sugar levels. According to experts, neem juice has a few active substances with anti-diabetic properties.


1. Boil about 20 neem leaves in half a litre of water for about 5 minutes.


2. You would see that the leaves have begun to appear soft. The water will gradually turn deep green in colour.


3. Strain and store this water in a container. Drink this decoction at least twice a day.


(Also Read: 5 Vegetables You Must Include In Your Diabetes Diet)


Dr. Shikha Sharma, Wellness Expert and Founder of NutriHealth, also suggests a healthy mix to manage high blood sugar levels. According to her, "One can make a healthy concoction of neem powder, fenugreek powder, jamun seed powder, and karela powder, all in equal proportions. Consume about 1 teaspoon of this mix, half an hour before lunch and dinner along with water."


Diabetes management is no cakewalk, but wise and healthy choices could ensure that you do not have a hard time with your blood glucose levels. We would like to reiterate again that none of the above information should be seen as a substitute to your ongoing medication. Before making any major alteration in your diet, do consult an expert.
About Sushmita SenguptaSharing a strong penchant for food, Sushmita loves all things good, cheesy and greasy. Her other favourite pastime activities other than discussing food includes, reading, watching movies and binge-watching TV shows.