Oatmeal Sandwich Cookies: If You Give a Cookie Some Stuffing
Melissa Clark , The New York Times | Updated: April 11, 2014 15:45 IST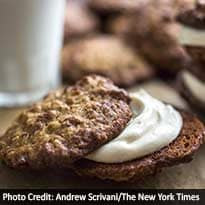 Forget all the bad, soggy oatmeal cookies you've ever had. Picture instead a moist-centered, butterscotch-imbued, crisp-edged cookie flecked with nubby oats. Add to this the fragrant nuttiness of toasted coconut. Then subtract any chewy raisins that may have accidentally wandered into the picture, and substitute sweet, soft dates that are guaranteed not to stick in your teeth.

This was what I was going for the last time I whipped up oatmeal cookies. The result was as fine a batch as ever was wrought on my well-seasoned baking pans. As good as they were, though, I wanted them to be utterly irresistible, something to woo the kinds of cookie eaters who never seem to look beyond chocolate chips.

Then I thought of my childhood neighbor's kitchen, overflowing with treats. While our house was a wasteland of whole grain rice cakes and other good-for-you snacks, our neighbor's was perpetually stocked with chocolate crumb doughnut holes and at least three flavors of ice cream.

It was there that I became acquainted with oatmeal sandwich cookies as fat and pillowy as cupcakes, but with the icing stuffed into the center. That was what my cookies needed to rise above all others: a tangy cream cheese filling lightened with a little mascarpone.
So I tried it, adding one more lily-gilding touch. Before baking the lumps of cookie dough, I rolled them in cinnamon sugar. The sugar was to make the cookies sparkle like jewels. Adding cinnamon brought out the spice notes already in the recipe, which echoed as the crumbs disappeared on the tongue.
The only downside to these cookies is that the moisture in the mascarpone-cream cheese filling makes them lose their crisp edges as they sit. So while all the components can be made in advance, the sandwiching itself needs to take place within a couple of hours of serving. But no need to chill the filling if you're using it the same day. It spreads best when left at room temperature.

These last-minute details are a small price to pay for delectable cookies. Make the recipe once, and it will banish those bad oatmeal cookie memories, leaving a very sweet taste in their place.

Oatmeal Sandwich Cookies
Time: 1 hour 15 minutes
Yield: About 36 cookies, for 18 sandwiches

For the cookies:

80 grams shredded sweetened coconut flakes (3/4 cup)

1 cup unsalted butter, softened

330 grams packed dark brown sugar (1 3/4 cups)

2 tablespoons honey

2 large eggs, at room temperature

1 tablespoon vanilla extract

190 grams all-purpose flour (1 1/2 cups)

7 grams fine sea salt (1 teaspoon)

3 grams baking powder (1 teaspoon)

8 grams ground cinnamon (4 teaspoons)

260 grams rolled oats (3 cups)

100 grams dates, pitted and chopped (1/2 cup)

65 grams granulated sugar (5 tablespoons)

For the filling:

6 ounces cream cheese, softened

6 tablespoons mascarpone

25 grams confectioner's sugar (3 tablespoons)

1 1/2 teaspoons vanilla extract

1. Heat oven to 350 degrees. Spread coconut flakes on a rimmed baking sheet. Toast, stirring occasionally, until lightly colored and fragrant, 7 to 10 minutes. Cool. Raise oven temperature to 375 degrees.

2. In the bowl of a mixer fitted with the paddle attachment, cream the butter until light. Beat in brown sugar and honey, then beat until very fluffy, about 5 minutes. Beat in eggs, one at a time. Beat in vanilla.

3. In a separate large bowl, whisk together flour, salt, baking powder and 1 teaspoon (2 grams) cinnamon. With mixer set on low, beat flour mixture into butter mixture until combined. Beat in oats, dates and coconut.

4. Line three baking sheets with parchment paper. In a small bowl, combine granulated sugar and 3 teaspoons (6 grams) cinnamon. Roll heaping tablespoonfuls of dough into balls, then roll balls in cinnamon sugar; transfer to baking sheet, leaving 1 1/2 inches of space between balls. Bake until golden brown, about 15 minutes. Let cool in the pan for 2 minutes, then transfer to a wire rack to cool completely.

5. Make the filling: Using the mixer fitted with the paddle attachment, beat cream cheese until smooth. Beat in mascarpone, confectioner's sugar and vanilla. Scrape down sides of bowl. Sandwich about 1 tablespoon filling between two cookies; repeat with remaining cookies.

Note: Measurements for dry ingredients are given by weight for greater accuracy. The equivalent measurements by volume are approximate.

© 2014 New York Times News Service