Permit Outdoor Seating in Restaurants: Delhi Law Minister writes to Deputy Chief Minister
Harnoor Channi-Tiwary, NDTV | Updated: July 14, 2017 12:21 IST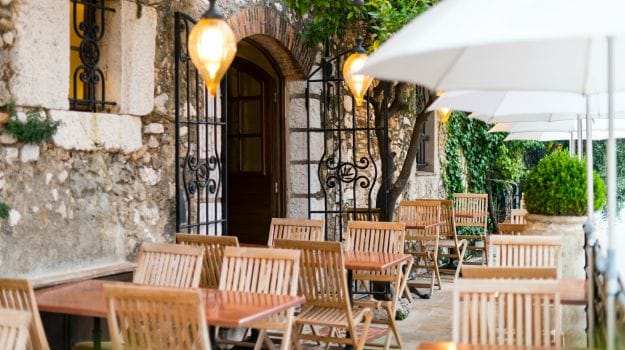 The al fresco seating in Bengaluru restaurants is almost poetic. Soft breeze in your hair, a nip in the air and delicious food (much more economically priced than Delhi or Mumbai) to indulge in. The sky-bars in Mumbai on the other hand are glamorous and perfect for sundowners. Then why should the capital of the country be far behind?

Kapil Mishra, Delhi's Law Minister, has written an official letter to Manish Sisodia, Deputy Chief Minister, Delhi, regarding this matter. In the letter, he suggests that the city has a lot of potential to attract tourism and become a world-class destination. Having been approached multiple times by the restaurant community, he suggests that food services in open areas and terraces be permitted. "There is a need to review the covered area conditionality of the license and permit food service in such areas", he writes. "These areas should include open spaces, terraces and gardens available to restaurants. It is pertinent to mention that the organised industry, which is compliant with hygiene/ safety requirements, is being denied this permission".

He also talks about the charm of dining at open-air cafes in International cities and questions why Delhi shouldn't enjoy such a privilege, especially when it is permitted in Mumbai and even the adjoining suburb of Noida.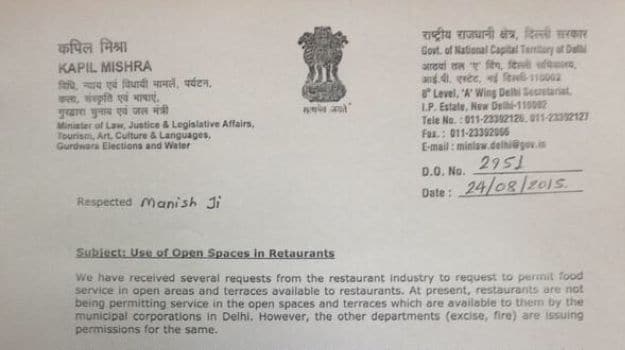 This letter has created ripples in the restaurant industry, which waits with bated breath for a change in permit rules to allow for innovation. "I think it's fabulous", says Zorawar Kalra, of Masala Library, Farzi Café and Punjab Grill fame. "Sitting outside is actually like free entertainment for customers, and it's great to get a dose of nature and some fresh air for a change. Take Paris for example, people only sit outside. And considering Delhi has very few opportunities when it comes to al fresco dining, we are welcoming this with open arms. Looking forward to launch outdoor restaurants soon"!
(Farzi Cafe, Gurgaon: World Cuisine Through an Indian Lens)

Priyank Sukhija, who owns more than 19 successful restaurants in Delhi (including Out of the Box, Raas and Fork You amongst others) adds, "The fact that al fresco seating hasn't been permitted is just outdated. It may be delayed, but I am so glad that Kapil Mishra is taking the initiative to legalize this. Eating out is actually a part of a city's culture, so it will definitely boost Delhi's tourism. And since we're blessed with great weather for 4-5 months a year, people would love to sit out and dine."

(Coming Soon: 10 Restaurants in Delhi Launching Near You)

"Al fresco seating adds a different dimension to a restaurant, it's like a cutting edge factor", says Jatin Mallick, who runs Tres. "The same product in a different ambience – may it be moonlit or under a cover, just elevates the experience of a diner. For restaurateurs, these small changes go a long way so I'm really glad it's finally being legalized. No reason why it shouldn't have been done in the first place".

The restaurant community has its fingers crossed and hopes that the government pays heed and passes laws which permit the same. Not only will it be great for all of us, with more exciting dining options to choose from, but it will also help boost the economy of the country by pulling in tourism, help the food and beverage industry and increase the revenue of the government.

(Jazzing It Up: Indian Restaurants that Serve Contemporary Food with a Twist)